Consumers who book hotel rooms for less than $100 a night face a vast range of accommodations. The bed could be covered with crisp, white linens or a quilted bedspread that seldom sees the inside of a washing machine. Guests could wake up to the inviting scent of a continental breakfast or the lingering smell of cigarette smoke. These things vary by location, of course, but several chains have reputations for bucking the seedy stereotypes associated with budget hotels.

Here are four top picks from Cheapism.com.
Microtel Inn & Suites (starting at about $80 per night for a double room) consistently ranks highest in consumer surveys among economy/budget hotel brands. This Wyndham-owned chain has relatively few locations -- about 300 -- but if you can find one nearby, online reviews assert you'll find excellent value for the money. Amenities include free breakfast and and free long-distance calling.
Days Inn (starting at about $70 per night for a double room) is another Wyndham property with a much larger footprint -- more than 1,800 locations in all. Reviewers appreciate the convenience and report that some rooms may have dated décor, but generally they're clean and comfortable. Frequent guests look forward to the complimentary breakfast.
What are the best inexpensive car rental companies?
Red Roof Inn (starting at about $70 per night for a double room) counts about 350 locations, more than 100 of which are recently renovated. Updates include flat-screen TVs and more modern bedding. Some locations feature free continental breakfast and the chain stands out for allowing pets at no charge, although some reviewers consider that more of a drawback than a perk.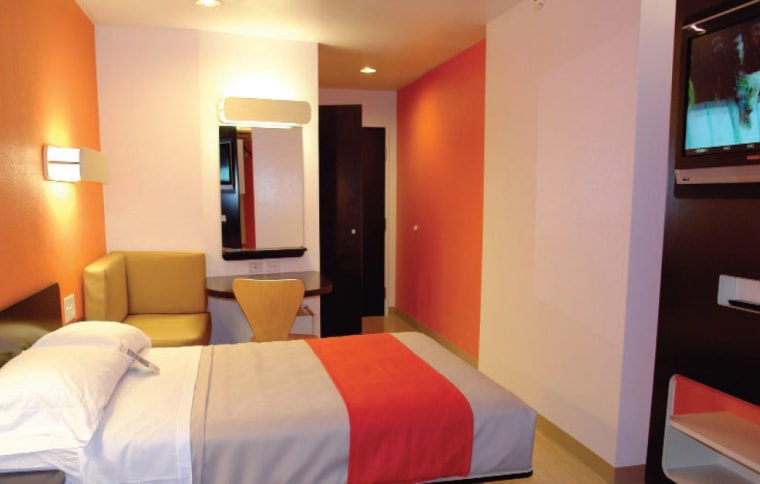 Motel 6 (starting at about $55 per night for a double) is basic, to be sure, but it's frequently the cheapest choice and many of the 1,100 locations meet or surpass reviewers' expectations for comfort, cleanliness, and service. Motel 6 is another pet-friendly chain ($10 per day) and serves free coffee in the lobby, although that's the closest it comes to free breakfast. Reserve ahead of time online for up to $30 off nightly rates.
Best cheap airline recommendations and comparison 
In its 2013 Hotel Wi-Fi Report, online magazine HotelChatter found that two-thirds of hotels now offer free Wi-Fi. Ironically, it's often the pricier chains loaded with amenities that charge $10 to $20 a day, while budget hotels including Microtel, Days Inn, and Red Roof Inn provide high-speed Wi-Fi on the house. (Take caution when taking advantage of this perk, however. Your room may be private, but the wireless network is not.)
One other thing to consider when staying in budget hotels: loyalty programs, which are free to join. Red Roof Inn sweetens the deal with free bottled water and express check-in for RediCard members. Microtel and Days Inn participate in their parent company's Wyndham Rewards program. That means nights spent in budget-priced rooms earn members points toward free stays in swankier Wyndham-owned digs.
More from Cheapism:
Complete guide to the best cheap hotel chains 
More from TODAY Money: