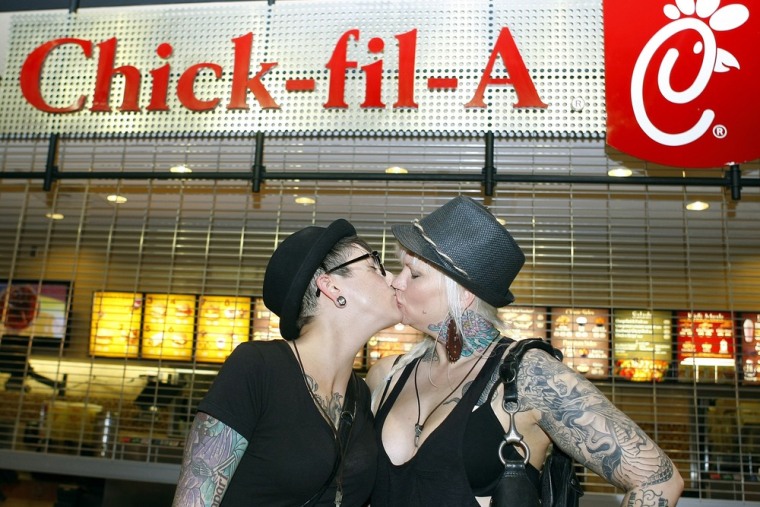 Today, an American branding war is being waged: chicken vs. coffee, waffle fries vs. skinny lattes.
It's Chick-fil-A vs. Starbucks -– although neither company is openly participating.
Based on recent social stands taken by their corporate leaders – including Chick-fil-A CEO Dan Cathy's public support for traditional marriage – the two companies are on the front lines of a battle between two distinct groups of consumers: supporters and opponents of same-sex marriage.
An organized campaign – not sponsored by Starbucks – sent gay-marriage backers into Starbucks stores across the nation Tuesday. Many posted photos of purchased beverages, along with pro-cause comments, on a Facebook page called National Marriage Equality Day. Images there include one photo showing a Starbucks cup in the foreground, tagged as "equality," with a Chick-fil-A sign in the background, tagged "discrimination."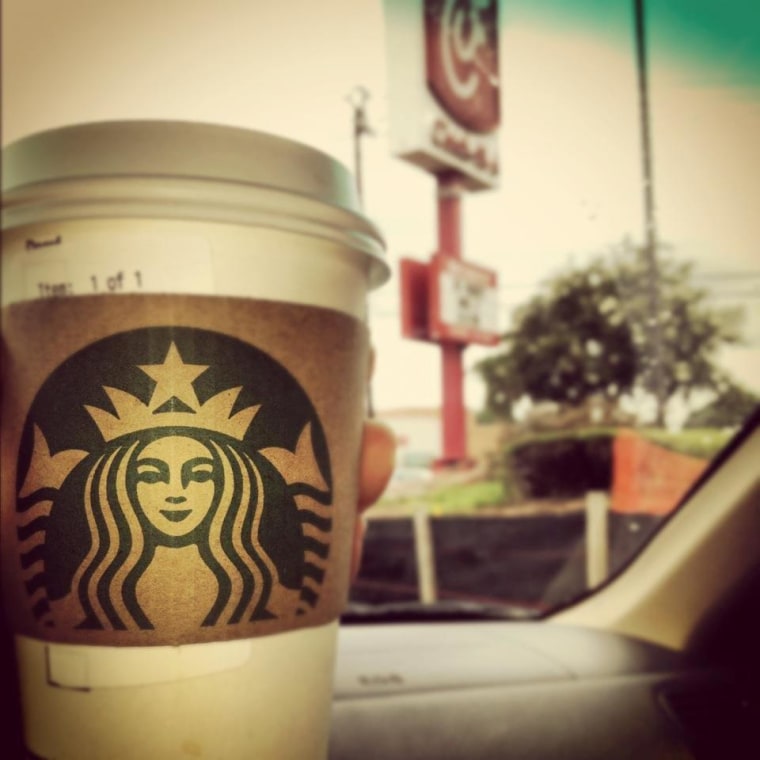 "I just thought, today, it was kind of a nice thing to support Starbucks, to give back to a company that supports equality and gay marriage," said Kacee Hayes, who snapped the image after making her purchase at Atlanta Starbucks. Last month, she married her partner, Suzanne Salak-Hayes.
Indeed, even though many consumer-facing companies try to avoiding political controversy, the business landscape is becoming crowded with companies "picking a lane" amid cultural debates, either doing it quietly or with some fanfare.
Seattle-based Starbucks made its move in January, when it joined several other Pacific Northwest companies in supporting marriage equality legislation in Washington State. Starbucks took the position, said company spokesman Zack Hutson, "through the lens of humanity and our commitment to embracing diversity."
"Starbucks has many constituents and, from time to time, we will make decisions that are consistent with our values and heritage but may be inconsistent with the views of a particular group," Hutson said.
Is it smart business for companies to choose sides on a divisive social or political issue? Don't such overt decisions alienate broad segments of the public or, maybe, even taint the brand for some buyers?
"Brands are about the business, so I always say, don't get distracted to your left or your right," said Rob Frankel, a Los Angeles-based branding expert who calls "cause marketing" a gimmick.
"Because ad agencies, PR agencies, and (internal) marketing departments have no idea what to do with their company, they look for these gimmicks," said Frankel, who has consulted with Disney and Burger King. "And very often political, philanthropic, social things become the darlings because these people can't come up with any other idea to promote the actual business."
But fellow branding expert Karen Post argues the opposite. Because today's brands are less contrived and "more human," she said, it's wise for a company to look at its core values, take stock of current social issues then "pick a lane."
"It's important for brands to be authentic," said Post, who said she has advised Johnson & Johnson, Bank of America and Pepsi, among others.
"Whether you agree with what (Chick-Fil-A CEO Cathy) said or not, he wasn't hateful about it. He just said this was what he thinks. But his organization welcomes all people. And if you look at their sales the day they had their 'Appreciation Day' (Aug. 2). they had an all-time best sales day. So it kind of worked in their favor."
Here are some other companies that have courted controversy:
Target
The Minneapolis-based retail giant donated $150,000 to a Minnesota GOP gubernatorial candidate who opposes gay marriage. In an email, Chief Executive Officer Gregg Steinhafel later assured employees at Target headquarters that the company's support for the gay community is "unwavering."
 J.C. Penny
The retail chain used an ad for Father's Day that featured a gay Texas couple and their two children. The company also uses openly gay talk show host Ellen Degeneres as a spokeswoman, which has angered some conservative groups.
Citi 
The financial giant is listed as a "Platinum Sponsor" for the Human Rights Campaign, which works "for Lesbian, Gay, Bisexual and Transgender Equal Rights," according to its website.
Amazon
Founder Jeff Bezos and his wife, MacKenzie Bezos, recently made a $2.5 million donation to the advocacy coalition, which supports same-sex marriage in the state of Washington. 
JTM Food Group 
The company delivers prepackaged meals to schools, restaurants as well as to the military and government organizations. Trucks used to make those deliveries carry pro-life mottos and photos of babies.
Virgin Atlantic Airways 
Owner Richard Branson teamed up with a condom company to distribute 100,000 free condoms to clinics in South Africa to help slow the HIV epidemic.
Curves 
Gary Heavin, founder of women-only fitness chain, has written checks to outfits promoting abstinence-only programs for teens. Heavin also withdrew his funding of the Susan G. Komen Breast Cancer Foundation and its Race for the Cure because the foundation supports Planned Parenthood.
Ben & Jerry's  
The Vermont ice cream maker is known for its support of liberal causes, even though it is now owned by consumer-products giant Unilever. The Ben & Jerry's website expresses "our deepest admiration to all of you who have initiated the non-violent Occupy Wall Street Movement and to those around the country who have joined in solidarity."
Frankel says Ben & Jerry's outspoken political views are a "huge, huge mistake."
"What do I advise companies? I can give you one fundamental: Stick to your knittin'," he said.
"These guys are absolutely shooting from the hip," Frankel said, referring to cause marketers in general. "They have no long-term brand plan and that's why they essentially resemble anything out of the Three Stooges than anything else."
Post disagrees. "Controversy and scandal often does generate priceless publicity suddenly on companies that have been on the down low," she said.
"Besides, anyone is living in la-la land if they think they can please every consumer on every given day. And today, because we have so many different channels and real-time media technology, the volume of these conversations is so much louder.
"As long as you've done your homework and your math and you know the group you are supporting is big enough to support your business, it is OK to choose a cause and build your essence around that."
More money and business news:
Follow NBCNews.com business onTwitter and Facebook