The record cold spell that has half the country in the deep freeze could cost the U.S. economy up to $5 billion.
That's because millions of Americans haven't been able to drive to work, fly or take a train to business meetings or vacations, go to the shopping mall or take the kids out for a movie and a meal. And they may also have to pay more just to keep warm.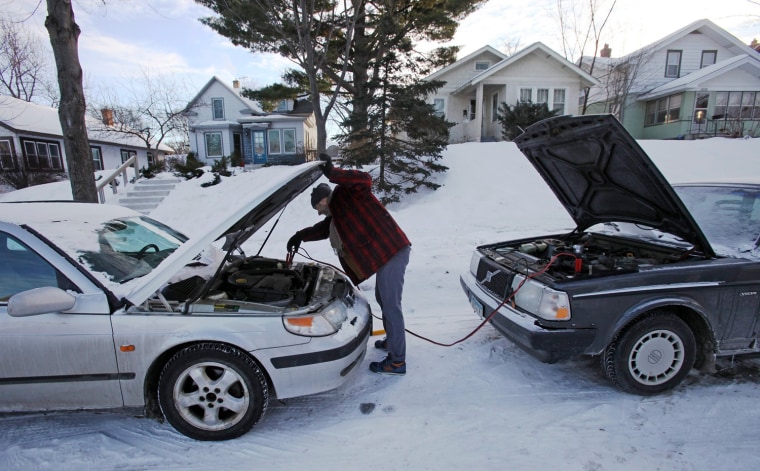 The huddled masses are huddling at home until an easing of the extreme temperatures that have been colder in some parts of the country than at the South Pole.
"We think that the problem will be short-lived, but we estimate it will cost about $5 billion because of the sheer size of the population affected — about 200 million people in the eastern two-thirds of the country," said Evan Gold, senior vice president at business weather intelligence company Planalytics.

He said the cold's impact would be apparent in lost productivity, lack of consumer spending and higher heating bills. "A similar situation in 2010 lasted a week, with back-to-back storms with snow and ice. We calculated that cost $25 billion to $30 billion.
"But that one lingered. This one is just very cold, so it should be a two- or three-day event," he said. 
Nariman Behravesh, chief economist for IHS Global, said the cold spell would at most reduce GDP growth by 0.1 percent to 0.2 percent in the first quarter, "and it will probably all be gained back in the second quarter.

"There is no question there will be winners and losers," he said, noting companies like airlines and restaurants will be affected by customers staying at home. About 7,000 flights total were canceled Monday and Tuesday. Amtrak operated a restricted service in the Northeast.
Chris Wadaga, co-owner of Wild Blue Frozen Yogurt in Grand Haven, Mich., where it was a brisk 10 degrees Tuesday, mulled closing because the schools were shuttered.

"We decided to just open anyway and I've had maybe three customers today so far," she said. One of those was a woman who had received a Christmas gift card, so she stopped by only because she was due a free yogurt, she said.
"We're a frozen yogurt store and people don't want to go out and have frozen yogurt at this time," said Wadaga, who counted 50 customers on Monday — down from an average of 200.
Goldman Sachs analyst Kris Dawsey said the cold weather could even affect this Friday's jobs report. Construction employment, for example, is hurt by cold weather. December auto sales — which came in weaker than expected — may have been another victim of the temperature, he said.
"We expect that colder-than-normal weather during the survey period for the December payroll report probably pushed employment growth below its recent trend," he wrote, noting his preliminary forecast is for a 175,000 gain in total payrolls to be released this Friday.

It's not all a cold, dark cloud, however. Planalytics' Gold said that, as in many disasters, some businesses benefit from the situation.
"There are some winners, when people are home-bound. Online retailers, for example. There was some $30 million in gift cards sold at Christmas and, if I am stuck at home, I will go online to buy that coat or sweater. And revenue is not recorded for the store until the card is redeemed," he said.
Gold said food delivery companies and on-demand cable services for movies should flourish with a house-bound audience.
Natural gas prices in New York City rose by nearly $60 per million BTUs on Monday as the record cold snap has driven demand for the heating fuel in the northeastern U.S. to an expected 5-year high.
The spike will hit consumers with hefty bills, which likely will put a damper on their discretionary spending for the next month or so — or longer if the bitter weather returns. "There will be a negative impact on spending in February," said Gold.

But for Heli Wiener, a stay-at-home mom of three kids, aged 5, 3 and 1, in Deerfield, Ill., where it was zero degrees Tuesday, it's all about keeping the family warm and fed.

"They've had a couple of play dates, where we've bundled them head to toe just to run them across the street, but that's as far as it's gone." The children go to school and pre-school, but it's been canceled for the past two days.
"It's been stressful – they have cabin fever so I try to keep it exciting with art projects, watching TV, a lot of movie days," said Wiener. "For me, my biggest outlet is exercise so while they've been napping or temporarily busy, I will go down to the basement and run on my treadmill and that gives me a little relief."
(NBC News travel writer Agnes Pawlowski contributed to this report)