Egg sticker shock at the grocery store could soon get even worse, one analyst warns.
Squeezed by limited supply because of the worst avian flu outbreak in three decades, egg prices have already risen sharply this year. But BB&T Capital Markets analyst Brett Hundley said retail prices could surge even higher.
An uptick to more than $6 for a dozen "would not surprise" him if bird flu returns later this year, something he predicts will occur as early as fall.
As of Friday, prices to consumers for New York large shell eggs stood at a range of $1.99 to $4.49 per dozen, USDA data showed.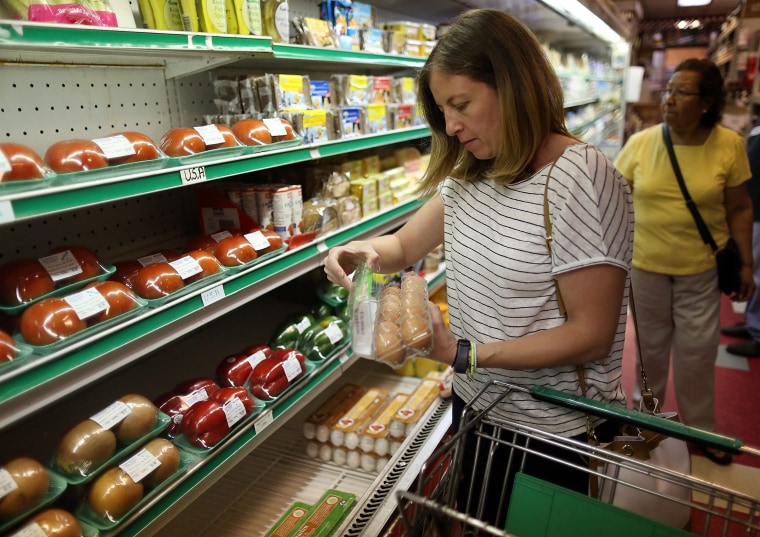 "It's almost scary to think about what could happen to egg prices," Hundley said.
Meanwhile, Midwest wholesale prices have risen 135 percent to $2.80 per dozen on Monday, up from $1.19 per dozen on April 22, according to prices from market research firm Urner Barry. Retail prices typically run higher.
"It's really a day-to-day market," said Brian Moscogiuri, market reporter for eggs and egg prices at Urner Barry. "It's been very volatile and unpredictable, for sure."
CNBC Explains: What is bird flu?
While the Midwest has borne the brunt of avian flu's impact, BB&T expects bird flu to hit its next target, the Southeast, this fall. Last detected in mid-June, the flu could crop up again by October or November as wild birds carrying the disease migrate to the area.
"We think that turkeys and egg layers are most at risk," Hundley said. "We think broilers are at risk but considerably less so."
Layers, or chickens raised to produce eggs, and turkeys live longer than broilers, or chickens raised for their meat. Therefore, they have a greater chance of contracting disease, Hundley said.
Already, the decreased egg supply has had ripple effects throughout the food industry. Last month, Panda Express said it was testing a new version of its fried rice that incorporates corn instead of the pricy protein. It also discontinued its hot and sour soup after its suppliers told the chain the egg shortage could last as long as two years. Another restaurant, Rita's,pulled its frozen custard made with eggs in favor of a soft-serve ice cream until it can get more eggs.
Latest victim of the egg shortage: Fried rice
If bird flu were to re-emerge in the Southeast this fall, several companies could be impacted, including poultry producers Sanderson Farms, Pilgrim's Pride and Tyson Foods, and egg producer Cal-Maine Foods.
According to its annual report, Cal-Maine Foods has a sizable presence in the South but does not have locations in two of the hardest hit states: Minnesota and Iowa. So far, a lift in egg prices has helped boost its earnings and share price, which has risen more than 40 percent year to date. But if bird flu gets closer to home for the company, this could change.
"The recent outbreak has, to this point, been a positive for the company, helping to raise industry pricing; however, its flocks could be infected in the future, adding risk to revenue and profit growth expectations," noted D.A. Davidson analysts in a late July note.