Despite the implosion of the "exotic" mortgage market, advertisements for risky home loans can still be found all over the Web. The ads, which critics charge are deceptive, offer deals like this one: "Mortgage rates fall again; $145,000 mortgage for under $499 a month."
Not only are such mortgage loan ads enduring, despite all the bad publicity surrounding the problems of the subprime mortgage market, they seem more aggressive than ever. If you clicked on one current ad for a deep-discount mortgage, you'd think even Oprah Winfrey was endorsing risky home loans -- at least those being hawked by credit bureau giant Experian.
"As featured on The Oprah Winfrey Show," proclaims the ad published by the Experian-owned company LowerMyBills.com.
Problem is, representatives of Oprah Winfrey's production company, Harpo Productions Inc., say they don't know anything about the ad. When informed of its existence by MSNBC.com, they weren't happy.
"We were not aware of this unauthorized use of Oprah's name and we have turned the matter over to counsel," said a spokeswoman, who asked that she not be named. "We have not endorsed this product."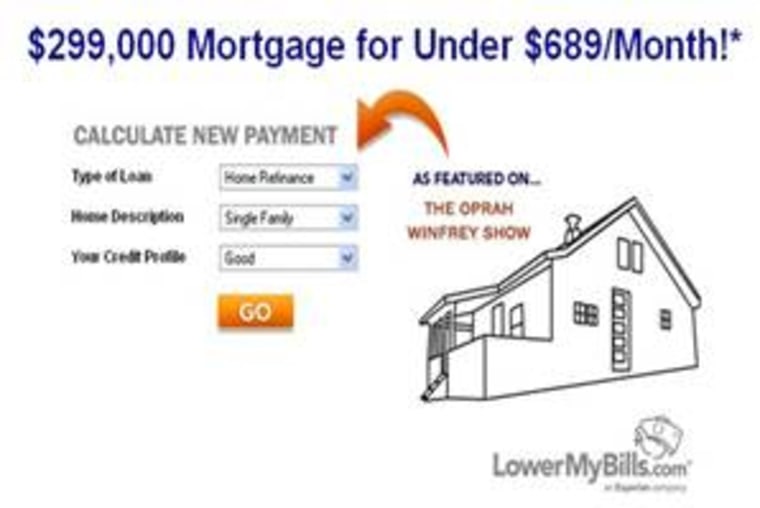 LowerMyBills was mentioned in an Oprah Winfrey program earlier this year, but that reference had nothing to do with mortgages. Winfrey's financial planning expert, Jean Chatzky, who also is the financial editor for NBC's "Today" show, recommended that consumers struggling with debt look for lower-interest credit cards by comparing rates on Web sites like Bankrate.com or LowerMyBills.com.
LowerMyBills.com did not respond to repeated requests for an interview.
LowerMyBills does not issue loans. Instead, it says on its Web site, it gathers information from consumers interested in getting home loans and sells these "leads" to some 500 lenders. That enables consumers to receive competitive quotes, the company says.
E-mail draws response from Countrywide
Consumers who fill out the LowerMyBills advertisement by answering basic questions about their desired mortgage may encounter another familiar name at the end of the process. When MSNBC.com responded to the ad last week, a solicitation from Countrywide Financial Corp. arrived almost immediately.
Countrywide, the nation's largest mortgage lender, is struggling financially as it deals with the fallout from just the kind of exotic, risky mortgages touted in the LowerMyBills advertisement.
Countrywide also did not respond to requests for an interview.
Consumers might not be familiar with LowerMyBills.com, but they would likely recognize its work. The firm's eye-catching ads sport dancing silhouettes on rooftops and other highly animated characters apparently exited about getting low loan rates.
(A detailed compilation of LowerMyBills advertisements can be viewed here.
The ads look silly, but they apparently are effective. Experian paid more than $300 million to buy LowerMyBills in 2005.
Experian did not respond to requests for comment about LowerMyBills and the advertising campaign.
The ads have been the subject of considerable media coverage, including a New York Times article earlier this year that said that many Internet users find the undulating characters and other attention grabbers highly distracting and disconnected from the product they are intended to sell. But the article quoted LowerMyBills co-founder and Chief Executive Officer Matt R. Coffin as saying that the company -- one of the biggest advertisers on the Internet -- closely tracks the performance of the ads and removes the ones that are not effective.
"If you keep seeing the same ads, that means they are working," he told the newspaper.
'The classic definition of a deceptive ad'
Michael Calhoun, director of the Center for Responsible Lending, said the kind of mortgage ads used by LowerMyBills.com and other companies are extremely misleading.
"This is a mockery of commerce and of lending," he said. "This is the classic definition of a deceptive ad."
The LowerMyBills.com "as seen on Oprah" advertisements can still be found all over the Web, including on MSNBC.com. "$145,000 Mortgage for under $499/Month!" reads one of them. "Think you pay too much for your mortgage? You probably are. In fact, you may be paying more than your neighbors."
Visitors who clicked on that ad landed on a page at LowerMyBills.com which displayed the same low-priced loan terms and the "featured on Oprah" message. This time, however, there was an asterisk attached to the price.
Far down on the Web page, after an unusually large amount of blank space, were additional details about the loan.
"By selecting this option, the loan has the potential for negative amortization," the small print says. It means the balance of the loan will grow over time, as the under-$499 payment is not enough to cover the interest on the loan.
Farther down, the cost of making interest and principal payments over a standard 30-year schedule is listed as $964.69 per month, or nearly double the advertised price.
Calhoun says mortgage lenders routinely use short-term teaser payments or implied endorsements in the competitive mortgage lead market. Active enforcement of Truth in Lending Act or advertising laws by the Federal Reserve, which is responsible for Truth in Lending provisions, or the Federal Trade Commission, which also can take action against deceptive advertisers, would curb these practices, he said.
"The (laws) are not enforceable by private individuals, only by government regulators, and there are just not enough regulators," he said.