After disrupting real-world retail for 20 years, Amazon is trying its hand at brick-and-mortar book and grocery outposts. But the online giant is finding out that "checking out" isn't the same as "shopping."
Amazon opened up its first New York City bookstore location last month, bringing its total number of physical bookstores to seven. And in Seattle, AmazonFresh Pickup opened to the public for the first time, allowing customers to place orders online and pick them up from a drive-in location.
While both boasted seamless transactions — for paying Amazon Prime users — each had a few quirks.
Bookstores with 'Butt Brush'
The bookstores have been described as "physically odd," "betraying inexperience with retail," and "not built for people who actually read," in the New Yorker and the New Republic.
For one, there's the "butt brush" effect from what some have said are the Amazon bookstores' overly narrow aisles. The theory says that if browsing shoppers are "brushed" from behind by other shoppers, tables, or merchandise, they're less likely to buy.
Retail consultant Paco Underhill, who coined the term, is doing some work for Amazon now.
He said he did a lot of work with bookstores in the 80's that "had the tendency to lay it out with straight lines and 90 degree angles." With those kinds of stores, Underhill tries to reallocate space based on different types of shoppers.
"If I'm shopping for novels I have someone who might go in and stand in a section for a while," said Underhill. "Why would it then be the same width as the business aisle where people know exactly what they want and go in and get it?"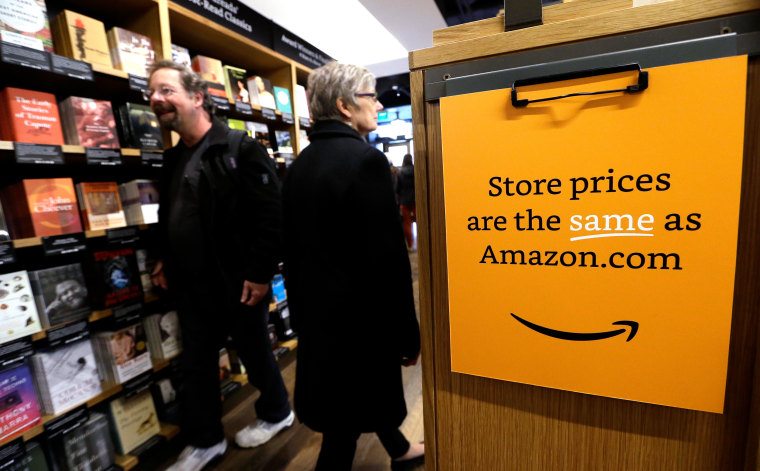 There are other oddities, too.
All the books face out, which is how it looks on Amazon.com, but not in other bookstores, because this allows them to stock more books. Traditional large chain bookstores carry 15,000 to 20,000 titles, while a large independent bookstore can stock 30,000 to 40,000 titles. Amazon's new Columbus Circle location stocks just 3,000 books.
No cash is accepted. Customers check out as a $99/year Amazon Prime member and receive discounted prices, or pay with a credit card and pay full list price.
Transactions are pretty seamless — as long as you are a Prime member and have downloaded and installed the app.
AmazonFresh Pickup: Not Crowded
Amazon's grocery pickup service seems to be getting more stars in its reviews.
Prime members are already able to get groceries at their home by paying $14.99/month for AmazonFresh delivery, but AmazonFresh Pickup takes the expedience factor even further by allowing customers to get their order within as little as 15 minutes. Customers place an order online, then drive to a depot to have the shopping brought directly to their car.
Prime Members who are not AmazonFresh members can also shop online and skip the $14.99/month charge, but may experience later pickup times.
We went to one of the two stores, both of which are in Seattle.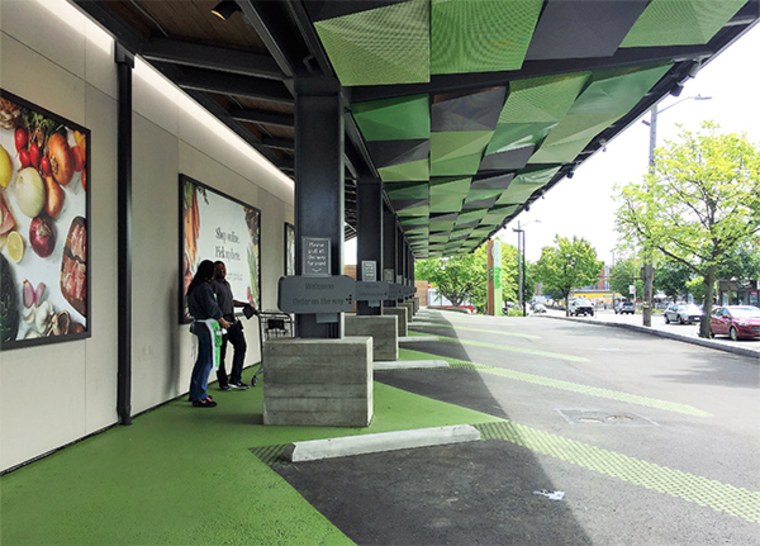 The pick-up center is laid out with angled parking slots, in the manner of old-style drive-in restaurants. There's a "Welcome" sign (with embedded cameras) at each parking spot and, instead of a server on roller skates, customers are greeted by an efficient Amazon employee wielding an electronic pad.
We confirmed our name and, within a minute, another employee was rolling out a small shopping cart with our order in two paper bags and loading the bags into our back seat. No tips were accepted. Like the bookstore, you have to pay using your Prime account or credit card.
Brendan Vaugn of Ballard, Washington, a 36-year-old data technology product manager, ordered some grass-fed flank steaks, plus limes, bananas, beer, and raspberry Talenti ice cream.
"Pretty effortless," he said. "Easy to order online, produce was great quality. Couple minute wait once I checked in." He was back again a few days later to pick up another order.
Part of the smoothness comes from the fact that there's nothing to sign. Amazon's systems automatically scan your license plate to recognize your car when you arrive. If that creeps you out, you can opt out and possibly have checkout take a little longer.
Other reviews are also positive, with customers calling it "slick," and "seamless," and praising how fast the whole experience is.
One reviewer did note that when ordering bread online there was only a handful of options, which for some reason included a tomato.
The stores are still clearly in the experimental phase. During a twenty-minute span after work one evening we only saw two cars pull in to the AmazonFresh pickup location.
Amazon Stores 1.0
Making a profit as a retail outfit seems almost an afterthought at some stores, second only to marketing and "shopping as theater."
Consider the M&M's store in Times Square, New York, or the Kellogg's cereal cafe, also near Times Square, and especially the Samsung Experience Store, in New York's trendy Meatpacking District, where you can't buy anything.
The trend is called "placemarking," said Underhill. "They're often money pulled out of print and broadcast and put into a physical location."
In other words, a walk-in billboard. But Amazon is up to more than just a gimmick.
"Amazon is sort of looking 5-10 years down the road that you need to have some kind of physical footprint out in the world," said Underhill. "When bricks and mortars catch up with the omnichannel world they're going to give Amazon a run for their money."
Amazon didn't respond to an NBC News request for comment.
Additional reporting by Harriet Baskas.