Easter is almost here, and it's shaping up to make retail history.
According to the National Retail Federation's annual Easter survey, Americans will spend $18.4 billion on Easter this year — 6 percent more than they did last year. It's an all-time high in the NRF's 14-year history conducting the survey. Plus, it's more than the NRF predicted shoppers would spend on Valentine's Day ($18.2 billion). So long, cupid. We're all about that Easter bunny now!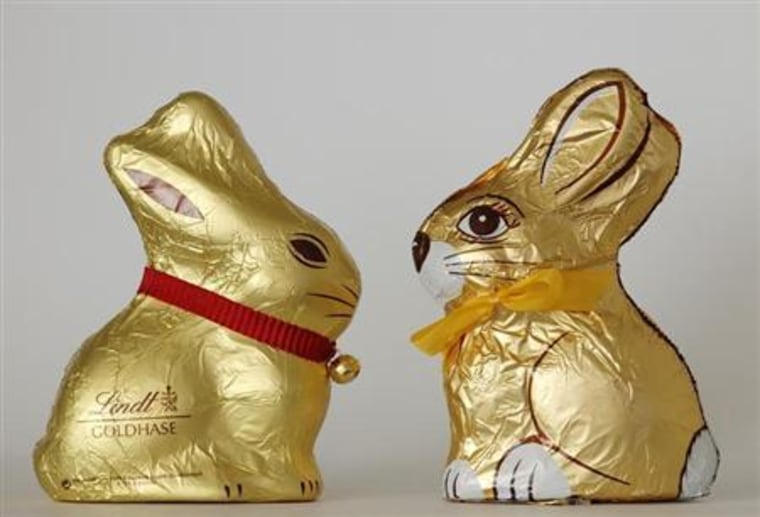 Part of the reason behind the surge in spending for Easter this year lies in the timing: It's a bit of a late bloomer, arriving three weeks later than it did in 2016, giving consumers more time to shop. But beyond that, brands and retailers seem to be upping their game around this eclectic holiday, giving shoppers more incentive to buy in.
"Easter has turned into a popular gift-giving occasion, which equals a major opportunity for retailers," said Courtney Jespersen, a retail expert at NerdWallet. "We're seeing lots of retailers with Easter gift departments online and in their stores."
Here are some of the best Easter items out there:
Chocolatey Peeps, Sour Patch Bunnies, and Retro Candy Tins
Easter is all about the candy! And while you can count on most any big box retailer to be vending the traditional fare like Peeps and Cadbury Eggs, there are a lot of other cute confections to consider, some of them just released.
Wait, did we just knock Peeps as traditional? We take it back. Just Born Quality Confections, the makers of Peeps, actually got pretty creative with famed foodie Katie Lee to create Peeps Filled Delights, which launched just in time for this Easter. These chocolate-dipped marshmallows sport a rich filling and come in Triple Chocolate, Vanilla Caramel Brownie, and White Fudge-Dipped Raspberry. They're currently on sale at Target for $1.66 a pack.
Related: This Is How Peeps Are Made
Hi-Chew, the chewy fruit-flavored candy is sort of a novelty in itself, given that it is most popular in its native Japan, and it isn't sold everywhere. This year the brand launched Hi-Chew Fizzies, available in Cola and Orange Soda flavors. Sold on Amazon, you can get a six-pack for $14.77. Not cheap, but a fun addition to an Easter basket for an older child who may roll his eyes at Hershey's.
Earlier this year Hammond's launched Mellow Fluffs, marshmallow snacks available on the Hammond's site in several flavors including Dusted Chocolate, Vanilla, and Peppermint. They go for $8.99 a box, and given the high price-point and the sleek look of the packaging, they may be best gifted to a grown-up, especially one watching his or her waistline (one of the selling points is that these snacks are just 100 calories — less than a cup of marshmallows).
Sour Patch Kids are great, but Sour Patch Bunnies are better! You can buy a box at Target for just a dollar. Also — Easter shopping or not — you should probably know that a new line of Sour Patch Kids dropped this year. It's called Sour Patch Kids Tropical, and a bag of 12 goes for $24.77 on Amazon.
You may also want to consider a nifty tin of candy to add a little something special to that Easter basket. Check out the vast selection over at Boston America Corp — they've got everything from Minion Fart Gun tins (the candies are cloud-shaped) to Nintendo Wii Controller Gum. To find where you can buy the product, enter your zip code here.
Now, if you're looking to fill a basket to the brim, you're probably not going to want to focus just on these unique but fairly pricey candies. Brent Shelton, online shopping expert at FatWallet recommends that those looking for mass bargains check out Dollar Tree which is touting "Build a Basket" Bulk Easter Candy for $1. Also, if you download Target's Cartwheel app, you can access some great deals on a variety of candy.
Kendal Perez, savings expert for CouponSherpa.com, notes some other timely deals including $5 off purchases of $30 or more at See's Candies with this printable coupon, through April 16. At Jet.com, save 15 percent off Snickers, Oreo, Hershey's and Lindt purchases for Easter through April 16 using the promo code EASTERCANDY15.
Coloring Books, Legos, and Happy Salmon Cards
If you want to avoid filling your kids' Easter baskets with sugary treats — or at least even it out with a toy or an activity book, you have plenty of options.
The popular game Minecraft has inspired several activity books including An Awesome Minecraft Coloring Booking For Kids, available at Barnes & Noble for $6.95. And while the insane fervor surrounding "Pokemon Go" last year may have cooled somewhat, plenty of kids are still into it and you can encourage them to think outside the app with something like the Pokemon Go Coloring Book for Adults and Kids: Coloring All Your Favorite Pokemon Go Characters, which is only $5.98 on Amazon. For a newer activity book that's perfect for a child who loves fashion and/or animals, the Victoria Beckham for Target collection has some adorable choices starting at $6, available at Target stores and online through April 30 or until supplies last.
Last February the American International Toy Fair in New York displayed some pretty cool toys that would be hitting shelves this year. Some of them are already out and they may make for mighty fine Easter gifts. And surprisingly, not all of them are out of budget. One of the most talked about toy lines debuted was the Hatchimals Colleggtibles, which would be awesome for Easter as they are priced starting at just $2.99 a pack, but darn it, they're not available for purchase yet. One reasonably priced brand new toy that is available is the card game Happy Salmon. This card game, both absurd and absurdly fun is on sale at Amazon for $11.99, down from $14.99.
For the kid who loves to build — and is a fan of the hit movie Moana, Disney Princess Moana's Ocean Voyage by Lego is a tough gift to beat. Made for ages 6 and up, this 307-piece set is actually on sale at Target for $27.99, down by 30 percent from its list price of $39.99. If you like the idea of Lego but want something simpler, cheaper, and Easter-themed, Boscov's is selling the Lego Easter Chick for $9.99, more than 35 percent less than what the same product is retailing for on Amazon, where it holds the status of bestseller.
Kids' Clothing
Kids are notoriously not psyched to get clothes as presents, but don't let that stop you: Easter is a prime time to buy children's apparel at a great price.
"The biggest Easter purchases are children's clothing, as kids have likely outgrown the finery they wore last year," said Ben Glaser, features editor with DealNews. "OshKosh B'Gosh is cutting 50 to 60 percent off children's Easter apparel, with an additional 25 percent off orders of $40 or more via coupon code OKBG3263."
Sears is also touting some significant savings on clothing, for both kids and adults, Glaser added. Use the coupon code EASTER, for an extra 15 percent off your order up to $49, or 20 percent off orders of $50 or more. CouponSherpa's Perez adds that The Children's Place is touting free shipping plus 60 percent off sitewide (no exclusions) through April 16.
If you're willing to dish out a little more for something Easter-themed, check out these adorable bunny suits for toddler girls, priced at $38, and these darling bunny collared tops for girls for $15, both by Victoria Beckham for Target, available online and in-store through April 30, or while supplies last.