A $10 bribe to keep her kid quiet on an airplane ride turned into a $450 App Store spending spree.
On the way to her parents' house, Jen Appel-Longtin, 43, told her 8-year old son he could spend a little extra real world cash in his favorite iOS game, "Clash of Clans." The money would let him buy virtual goodies to boost up his army, and would buy her a little peace on the long trip. Then she gave him her password. "He's a really good kid and I didn't think any of it," she said.
The next day she got emailed a receipt for $25. He had broken their agreement, but would have to pay it off with his chore allowance of $5 per week.
The next day she got nearly 30 different receipts for amounts from $20 to $50. At his current rate of allowance, he'd be almost ready to start driving.
"It was like any gambling," said Appel-Longtin, a marketing professional from Seattle. "Who has the power to say no knowing that they have a chance to get stronger and to win the game?"
Other parents have gotten bills for hundreds or thousands of dollars after their kids racked up charges for "Smurfberries" or "Gems" that let them speed up their advancement inside virtual games in exchange for real cash on the credit cards on their parents' iTunes accounts.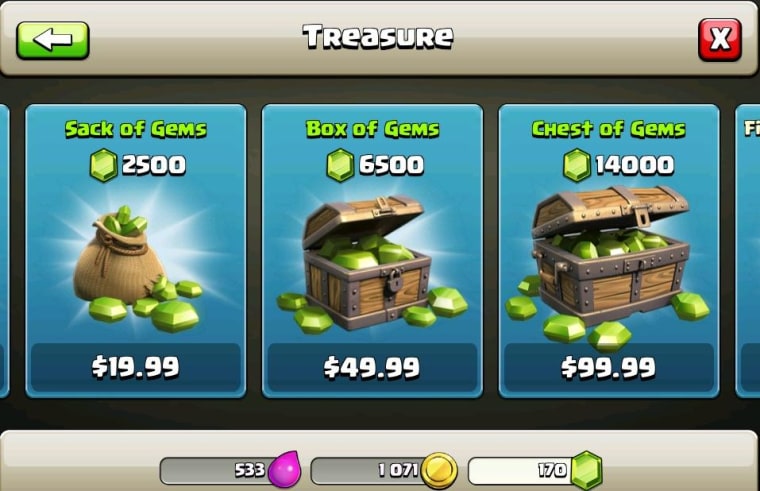 Now Apple is offering app amnesty.
Last week, as part of an agreement with regulators following the settling of a 2011 class-action lawsuit, Apple began emailing customers letting them know they can request a refund for any unauthorized in-app purchases minors have made on their account. Users continued to receive the emails through today.
"We've heard from some customers that it was too easy for their kids to make in-app purchases. As a result, we've improved controls for parents so they can better manage their children's purchases, or restrict them entirely. Additionally, we are offering refunds in certain cases."
Get a refund
To request a refund, parents need to first find their receipt by checking their email. They can also sign in to iTunes and click their Apple ID, then select Account, then Purchase History, then See All.
After that, they can go here, click on the "Email" button, and enter the title of the game they're seeking refunds for (or simply "refunds" as a subject line), along with the order ID. Then they can write "Refund for In-App Purchases made by a minor" in the Details section, followed by the receipts for the unauthorized in-app purchases for which they're seeking refunds. The company said it will email customers about the status of their refund.
Parents, though, will still have to have "the talk." Instead of Stranger Danger or The Birds and the Bees, this one is about apps.
After Daniel Nutter's son racked up $30 in "Bowling Bucks" in one of the App Store games, the 35-year-old web designer from Jacksonville, Fla., sat both his sons down and had a chat.
His 5-year old now knows not to push any callouts in the game, especially if they have a dollar sign next to them. His 3-year-old doesn't quite get the dangers of the in-game notifications, advertising that he can get extra lives for a few bucks or that his dragon is "hungry" and can be fed with a few dollars.
"But after we changed the settings he can't push them anyway," said Nutter.
Change your settings
He's right. Parents who want to restrict their children's ability to make in-app purchases have several layers of options.
Customers can disable in-app purchases entirely, make it so a password is required for every single in-app purchase, or prevent all purchases entirely by removing the payment method from the account. There's even a way to set up a monthly allowance of iTunes credits.
"You should really know how to operate the phone. You can turn all that stuff off," said Nutter.
But learning the ins and outs of their kids' new devices isn't at the top of most busy parents' to-do lists.
"We're trying to keep up with making sure the lunches are made and the homework, not the new ways that games are trying to get money," said Appel-Longtin.
Apple quickly gave her a refund after she requested one. But she's worried that even that solution sent her son the wrong message.
He still got to keep his points and in-game upgrades.
"That was so cool that we did that! I've got the best and strongest clan," her son reportedly said, making it the envy of all his friends.