NFL training camps began opening across the country last week, a sign that the football season is almost upon us.
Thinking about buying season tickets to your favorite team? The investment might only be worth it if you have the faith. Rams, Jaguars and Redskins fans, watch your wallets.
While most NFL teams choose to try to fill seats in advance (and possibly reward loyal fans) by offering discounts for package deals and season tickets, 10 teams overvalue season tickets on at least one tier, according to data from SeatGeek, an online ticket marketplace. So it's entirely possible that you could save money by waiting and buying tickets on the secondary market.
"Buying season tickets is an investment in how you think your team is going to do that season," said Clint Cutchins, an analyst at SeatGeek. Buy season tickets if you're feeling bullish. "If you think you're in for a down year, it's probably better to hold off and buy tickets on the secondary market," he said.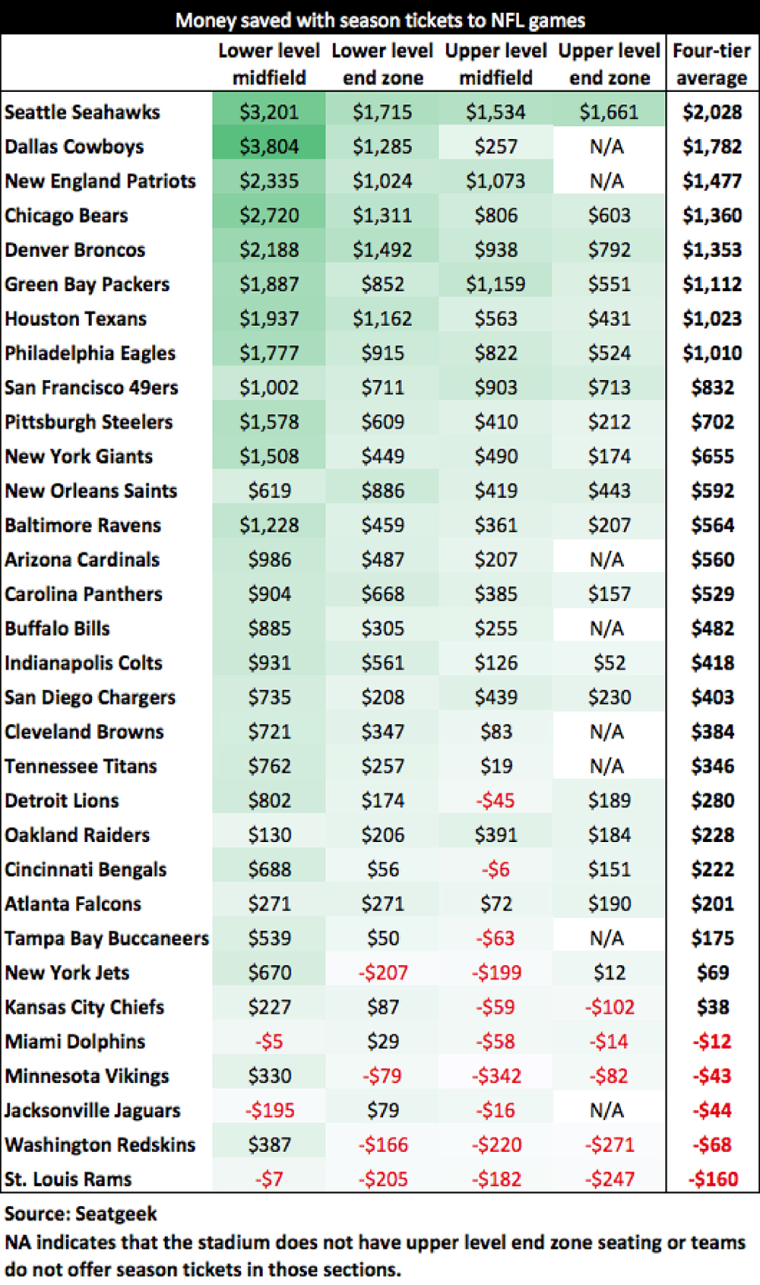 The figures are calculated by running average secondary-market ticket prices for all of a team's home games from last year and comparing to the 2015 season ticket price for that tier of seating. The four areas studied are lower level midfield and end zone; upper level midfield and end zone.
The best investment for football fans would be the lower level in midfield for the Dallas Cowboys. Fans could save $3,804 by buying season tickets for $3,400 rather than wait and pay $7,200 on the secondary market.
How the bettors' markets predict MLB's second half
The Seattle Seahawks — whose run at a second straight Super Bowl title last year was thwarted by Tom Brady's Patriots — had the most undervalued season tickets overall. Fans of the 'Hawks could save an average of $2,000 by buying in advance.
At the other end of the spectrum, a total of 10 teams sold season packages that would be bad investments, compared to the price you'd pay on the secondary market. The St. Louis Rams was the only team to overprice season tickets at all four tiers, by an average of $160 overall. The Dolphins, Redskins and Vikings—all of whom finished their 2014 seasons in the bottom half of the league—overpriced their tickets at three tier levels.
Of course, a team with a winning record will bring fair-weather fans out of the woodwork (Seahawks' 12th man, anyone?), which will drive up the average price of tickets on the secondary market.
"We ended up finding that for the teams that did better last year looked like they had better deals on season tickets," Cutchins said.
Buy season tickets if your team's a contender this year. If your football faith is waning, it's probably best to sit tight and scoop up seats from disillusioned ticket holders when the team is 0-6.
Players in this sport earn more than the others
Of course, SeatGeek's figures don't take into account additional benefits that season ticket holders are sometimes afforded, such as parking discounts and meet-and-greets with players. Also, many NFL stadiums have long waiting lists for season tickets or require Personal Seat Licenses (PSLs) in order to purchase season tickets.