Summer vacation is nearly over, meaning it's time to get your Back-to-School shopping game on. Fortunately, there are plenty of major sales surrounding one of the biggest retail events of the year.
"Back-to-school represents the second-heaviest shopping season for retailers, and last year's sales were underwhelming, so stores are feeling extra pressure to perform over the next couple months," said Kendal Perez, savings expert for CouponSherpa.com. "Consumers likely expect to see deals from department stores, big box retailers and office supply stores, but electronics retailers, home goods stores and specialty retailers will also offer savings."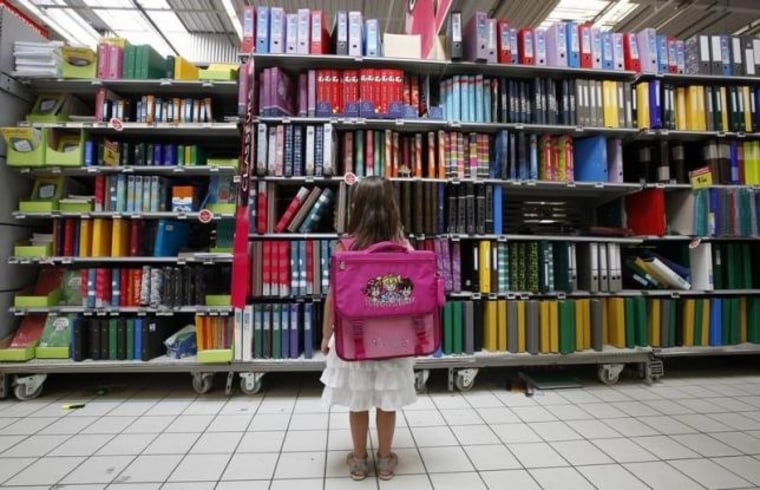 To make the most of your budget, you'll want to wait to do most of your shopping in August, as a new survey by Deloitte shows that those who shop later will save more than the early birds. And if you're in a qualifying state, take advantage of tax-free weekend. Moreover, always remember to price match.
"Staples has a 110 percent price match guarantee," said Courtney Jespersen, retail expert at NerdWallet. "That means if shoppers find a current lower price on a new, identical item and show proof, Staples will match the price plus discount it by 10% of the difference."
We've rounded up some of the best deals out there (they'll likely increase in value as the weeks pass), along with some more tips from retail experts.
Backpacks
"We saw no shortage of deals [on backpacks] in the past and this year will be no different," said Benjamin Glaser, features editor at DealNews. "Last year, Walmart offered a selection of packs in-store starting at $4, while Amazon had prices nearly as low. Other highlights included JCPenney, which had discounts of 20 percent to 77 percent off; Kmart, which took up to 40 percent off backpacks; and eBags, which knocked an extra 20 percent off packs already reduced by up to 65 percent off."
As expected, those retailers are delivering again this season. Over at Amazon, the SwissGear SA1908 Black TSA Friendly ScanSmart Laptop Computer Backpack is on sale for $46.63, down from $65.00. At JCPenney, a number of novelty kids' backpacks are on clearance, while those by brands like Jansport and Nike are also seeing markdowns. A Kmart spokesperson confirmed that until supplies last, Yak Pak backpacks are on sale for $20, down from $29.99 at participating stores.
A Staples spokesperson confirmed that Staples is offering 25 percent off school supplies when a backpack is purchased. Also joining in on the competition is Office Depot, which is touting a 30 percent off sale on backpacks.
Clothing and Uniforms
"In our research, we found that 76 percent of parents will purchase clothing for their kids for the new school year, and I'm seeing a few different trends," noted Sara Skirboll, shopping and trends expert at RetailMeNot, adding that graphic tees and movie/TV inspired clothing are hot items seeing chill prices.
Brent Shelton, online shopping expert at FatWallet, noted that big department stores, like Kohl's, JCPenney, Macy's, and Sears, now carry popular brands — with sale prices hitting rock bottom in August.
"These stores offer rewards that can stack up for significant savings on those bigger bulk purchases," added Shelton, pointing to the following sales:
At Levi's, take an extra 40 percent off sale styles; at Carters, take an extra 20 percent off a purchase of $50 of more on select items with the coupon code "FatWallet." Take an extra 20 percent off Macy's semi-annual clearance sale, and on eBay "Pokemon Go" gear starting at 99 cents. And, through RetailMeNot, take 15 percent off purchases at Express.
If your child's school requires a uniform, you're still in luck. Through FatWallet, Old Navy is touting 50 percent off school uniforms, while a Sears spokesperson confirmed that through at least July 30, shoppers can knock off 40 percent on Dockers uniforms for kids with items starting at $12.
Perez of CouponSherpa added that shoppers can always expect to save $5 off their $50 order with a Target promo code, and to look for "category-specific savings like an extra 20 percent off clearance on shoes, clothing, and accessories."
School Supplies
"School supplies first rolled out in July, and now that remaining inventory has had time to sit, prices are getting lower and lower," said Jespersen.
This is great news for the majority of parents out there, with Skirboll noting that recent RetailMeNot research has found that 78 percent of parents will purchase notebooks, pens, and pencils.
A Kmart spokesperson said that Kmart is offering a BOGO 50 percent sale on Crayola colored pencils, markers, and watercolor paints through August 17, as well as a "2 for 25 cents" sale on Wescott scissors and Crayola crayons, also through August 17.
Shelton added that online novelty retailer ThinkGeek is selling back to school supplies for up to 50 percent off, while an Office Depot spokesperson said this summer Office Depot and Office Max brought back its weekly "penny deals," featuring items like index card packs for a penny only. These deals are not only great for parents and students, but for teachers looking to stock up for the semester.