Oh, the joys of having a roommate. They can be...few and far between. After all, it's not like most of us are dying to shack up with a roomie — especially not if we've lived in college dorms, or shared spaces with siblings as kids. Usually we get a roommate out of sheer necessity: we can't afford a place of our own.
But in some cases having a roommate can be truly nightmarish. A new survey by RENTCafé polled over 1,500 adults in the U.S to learn what defines a bad roommate, and what people can do to avoid ending up with one in the future.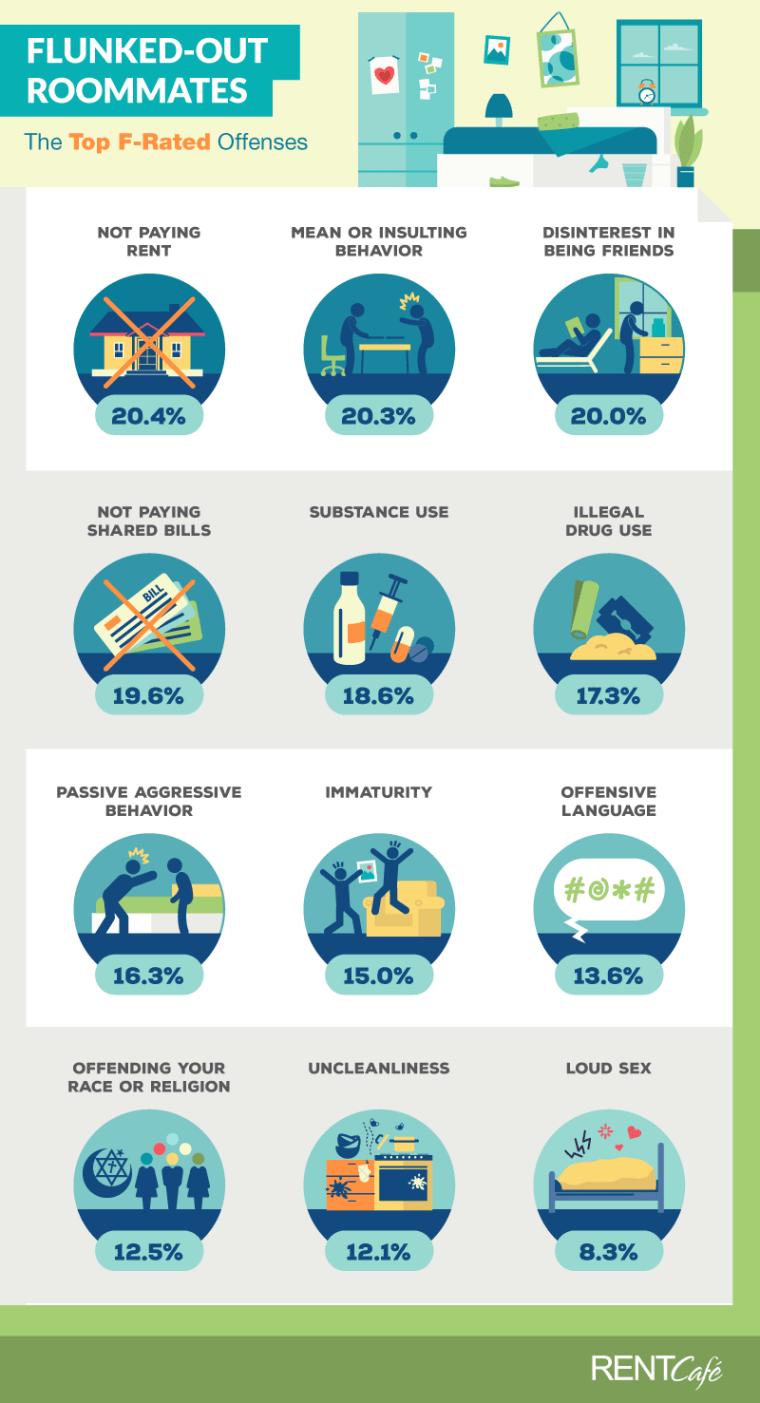 Amalia Otet, a spokesperson for RENTCafé said that the survey asked for people to grade most recent roommate experience. Participants' ages ranged from 18 to 66, with the majority of respondents falling more or less in the millennial category, between the ages of 21 and 35.
According to the results, the number one biggest roommate offense was not paying rent, with 20.4 percent of respondents grading this delinquency an "F." Considering that part of the whole point of having a roommate is to cut down rent costs, it makes sense that this would make the top slot of roommate fails. What was more surprising to the team at RENTCafé was what came in just a hair behind at second and third place: mean or insulting behavior (20.3 percent rated this the biggest offense), and disinterest in being friends (20 percent).
"You'd think other issues would be larger," noted Otet. Like perhaps not paying shared bills, which was deemed the worst offense by 19.6 percent of respondents; or being unclean, the top F-rated offense by 12.1 percent.
Tales from the Craigslist Crypt
RENTCafé didn't do any sociological digging to uncover why so many respondents cited insulting behavior and disinterest in friendship as the biggest roommate fail, but when you hear people's roommate horror stories, it makes sense that this is such a common concern. Let's face it, being late on a utility bill or lazy with the dishes does suck; but isn't nearly so traumatic as someone treating you terribly.
Erica Shiner, an educator and community activist, recalls having moved in with her then good friend at the age of 22. The roommate was upset that Erica wasn't buying toilet paper. One day Shiner noticed her face cloth was missing from the bathroom. She later found it in the dirty laundry hamper — the roommate had used it as toilet paper.
"I never had another roommate again," Shiner told NBC News.
Researcher and data scientist Ashley Warren remembers a roommate who was annoyed by how loudly she played her music.
"Instead of asking me to turn it down, she used to sit outside my room every day and blow into a duck caller," said Warren.
Someone Like You — But Not Your BFF
While the survey found that a disinterest in being friends is often considered the worst quality in a roommate, moving in with a friend can be ruinous.
As Shiner noted, her awful roommate was originally her friend. And when Georgette Lillian, a writer, moved in with her dear friend, their friendship nearly went up in flames.
"[My roommate] decorated the living room with Mexican death masks and a tapestry of Kali, Goddess of Chaos," said Lillian. "I never felt comfortable with them up. My unease was confirmed when she left a prayer candle burning in the bathroom beneath a shelf, igniting the whole wall, taking out all the towels, all the fancy bath products, and three pairs of my favorite jeans."
Remarkably, Lillian and the candle lover remain friends to this day, some 15 years later — but their roommate days are long over.
That your best friend could be your worst roommate is somewhat backed up by one of RENTCafé's findings, at least when it comes to women: 35.4 percent of women who gave their last roommate an A-grade noted that their roommate was someone who already lived in the home when they moved in, while 35.2 percent found their dream dweller through an online service or social media. The survey found that for men it was the other way around — they most commonly gave "A"s to roommates they previously knew as friends.
Finding the Right Roomie
It's always going to be a bit of a gamble when choosing a roommate, and sometimes you won't always have the luxury of taking the time to pick and choose, but try and put some thought into it. It could save you money and another move in the future.
Lior Rachmany, CEO of Dumbo Moving + Storage in Brooklyn, notes that in his experience helping Brooklynites move, roommates who got randomly stuck together tend to have the lowest success rate.
"We sometimes work with people who have found themselves in a situation where they have to move immediately," said Rachmany. "These people often end up with the 'random roommate' — someone who they know nothing about. They end up being too weird, or making them uncomfortable and then they have to move [again]."
There are a number of apps and sites you can use that can increase your odds of finding a compatible roommate.
"I am currently in the process of vetting new roommates and using a couple of different websites," said Paige Strott, a 24-year-old PR professional in the D.C area. "Some are sort of like Tinder for roommates."
Strott recommends a service called easyroommate.com, where you can "create a profile and it matches you with rooms that fit your criteria. The only downside is that you have to upgrade to the paid version to really get what you need."
RentHoop is a roommate-finding app that recently launched a feature called Dealbreakers, which lets roommates choose three things they don't want in a roommate. This kind of process of elimination helps "people set expectations up front," said RentHoop CEO Paul Burke.
Whether you use a service or wing it on Craigslist, you may want to consider a couple other findings from RENTCafé's survey. For instance, introverts and extroverts tend to fight more than when they're matched with people with similar personalities. Also, your line of work could come weirdly into play. RENTCafé found that women are more prone to argue with roomies who work in manufacturing, transportation and warehousing, technology, and broadcast and journalism. Men are apt to quarrel with roommates who work in construction, marketing and advertising, or legal fields.
Inspiration from the Real Life Golden Girls
We've seen a rise in the number of people taking roommates in recent years — and not just among millennials.
"We see a growing trend of roommates among Gen-Xers, with 1 in 5 roommates being over 40, according to a SpareRoom study from November 2016. This number is up by 23 percent in the past two years," said Nathan Miller, president of Rentec Direct.
We're also seeing more baby boomers open up their hearts and homes to roommates. Why not? Take it from what you could call the real life Golden Girls, Chelli Campbell and Shelly Lavender, or "Chellie and Shelley" as their friends call them. Sixty-six, and 68 years old, respectively, this pair hit the roommate lottery.
Related: Living Like Millennials: Baby Boomers Have Roommates, Too!
"I remember several years ago seeing an article in the AARP magazine that more women seniors were taking roommates and finding it a wonderful thing. And I'm one of them," gushed Campbell, who met Lavender at a monthly poker game.
"We've never had an argument, and we love our lives — separately and together," said Campbell. "I thought I was moving in for just a year or two, but we got along fabulously well, and I wanted to invest in my business rather than taking on a mortgage."
Campbell and Lavender have been roommates now for 23 years.
"The top three recommendations I have are: Have separate spaces and your own TV so you can retreat for alone time. Be respectful of each other, common areas, and always clean up after yourself. Be a cheerful person and choose a happy roommate (optimists rule)!"
So, it may take a while, but the perfect roommate is out there!