Happy National Seafood Month!
But do you know what's in your sushi or that basket of fish and chips? A recent report indicates you might not.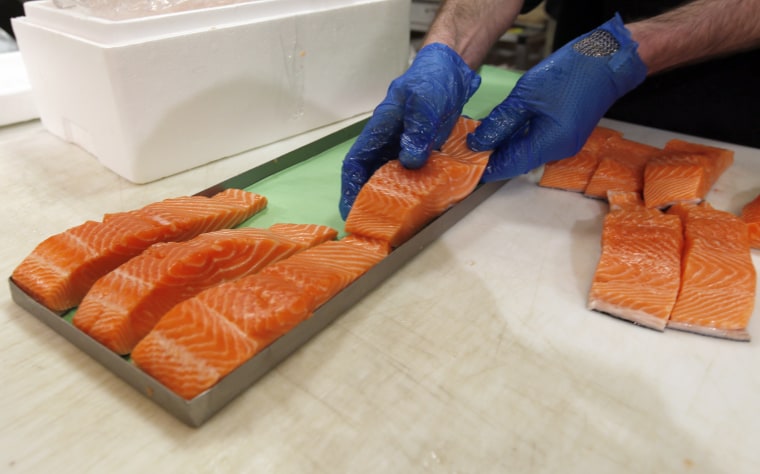 According to research compiled by ocean conservation group Oceana from 200 studies, 20 percent of seafood sold worldwide is mislabeled.
So that tuna you're enjoying might actually be whale meat, and the "wild-caught salmon" commanding the high ticket price on the menu may actually be cheaper farmed salmon. In other egregious cases, fish containing high levels of mercury are being sold as safer alternatives, and some "caviar" contains no animal DNA whatsoever.
How can this happen? "Seafood fraud is one of those issues that isn't always under one [government] agency," Beth Lowell, senior campaign director at Oceana, explained to NBC. "There's this patchwork of fish management laws, wildlife trafficking laws, food and drug laws."
Oceana defines mislabeling as "species substitution where one fish was sold as another." And, according to their research, it's rampant.
Fishy methodology?
But not everyone agrees that the problem is as widespread as this report indicates. The National Fisheries Institute, a non-profit organization dedicated to education about seafood safety, sustainability, and nutrition — and which promotes dietary guidelines recommending Americans include fish and shellfish in their diets twice per week — responded to the Oceana report criticizing their methods.
The NFI cited FDA research that shows the percentage of mislabeled (primarily domestic) seafood is 15 percent, focusing on the varieties at highest risk for mislabeling and/or substitution, including cod, snapper, and grouper.
Others in the industry think all of these numbers are overstated. "My belief is that it's very, very small," Wayne Samiere, a marine biologist and owner of Honolulu Fish Company, told NBC. "In seafood, reputation is everything. Who would risk their reputation?"
"You can always go to a restaurant and find something, always dig up some kind of thing going on, but is it going on on a large scale?" he said. "There's simply no way. A high-end chef in a large restaurant group, these are the guys that will be the most afraid, they have the most to lose. The benefit is very small."
Net proceeds
Yet a special report by the Boston Globe found "the vast majority" of restaurants and stores were mislabeling seafood. A 2012 investigation — which followed the newspaper's expose in 2011 — turned up countless cases. At a popular Boston restaurant, Symphony Sushi, the $15.95 crispy red snapper meal was actually tilapia. The restaurant didn't respond to half a dozen calls from the Globe. Meanwhile at Boston Children's Hospital, a "cod" sandwich turned out to be less-expensive pollock. The hospital attributed the mislabeling to a clerical error.
Whatever the number, the U.S. government is taking action. Following a gathering of ocean leaders from around in the world at the Our Ocean Conference in September, the President's Task Force on Combating Illegal, Unreported, and Unregulated (IUU) Fishing and Seafood Fraud is set to release a rule that would require traceability for 13 "at-risk" types of imported seafood.
This "boat to border" rule is a "bold first step," Lowell said. "But we need traceability for all seafood sold in the United States, not just select imports. And we need to extend it throughout the entire supply chain from boat or farm to plate and pair it with more information available to consumers so they can make more informed choices."
In the meantime, what's a seafood lover to do? "As a whole, support these efforts to have more transparency and traceability in supply chain," Lowell said. "Let congressional leaders and the president know you want to know what you're eating. In the interim, it comes down to asking questions and having more trust in places you buy seafood."
Don't be afraid to ask
Samiere agrees on that front. "Ask the server or chef, or the guy at the seafood counter, what region is this fish from? Who's the provider?" he suggested. "They should be really happy to say [for example] it's from southern California, from so and so fisheries. If you get an enthusiastic response, the fact that they have a location and provider is a good indication that it's a legitimate source and is what it says it is."
And, he added, "use your common consumer sense. You're not going to find lobster for nine dollars. Good seafood is expensive." Lowell agreed. "If the price is too good to be true, it probably is," she said.
The good news is some outlets are voluntarily selling traceable seafood. "Sometimes it's a QR code you can scan [on the package], or you can go to a retailer like Whole Foods that already requires it," Lowell said. A general rule of thumb, she went on, is "the more hands it passes through and the further it gets from looking like a fish, the more opportunity there is for seafood fraud."
Bottom line: If you buy a whole fish from the market it's hard to mislabel, but by the time it's filleted, "you put something in lemon butter sauce it's hard to tell what it is. It's easy to pull a bait and switch over people," said Lowell.