Barbie will appear in the swimsuit edition of Sports Illustrated, photographed like a toy version of a Heidi Klum or Tyra Banks and wearing an updated version of the black and white bathing suit in which she first appeared in 1959.
Coupled with a new hashtag campaign, "#unapologetic," it's a way for Mattel, which recently reported Barbie's worldwide gross sales were down 13 percent, to stir up and seize back an ongoing cultural conversation over Barbie's body image.
For the magazine's 50th anniversary edition, the doll appears alongside other Swimsuit cover models who have built successful business empires. She'll also star on 1,000 cover wraps distributed at the American International Toy Fair, being held this week in New York.
Having their iconic doll featured in a magazine criticized for showcasing living Barbies is a calculated gamble by Mattel.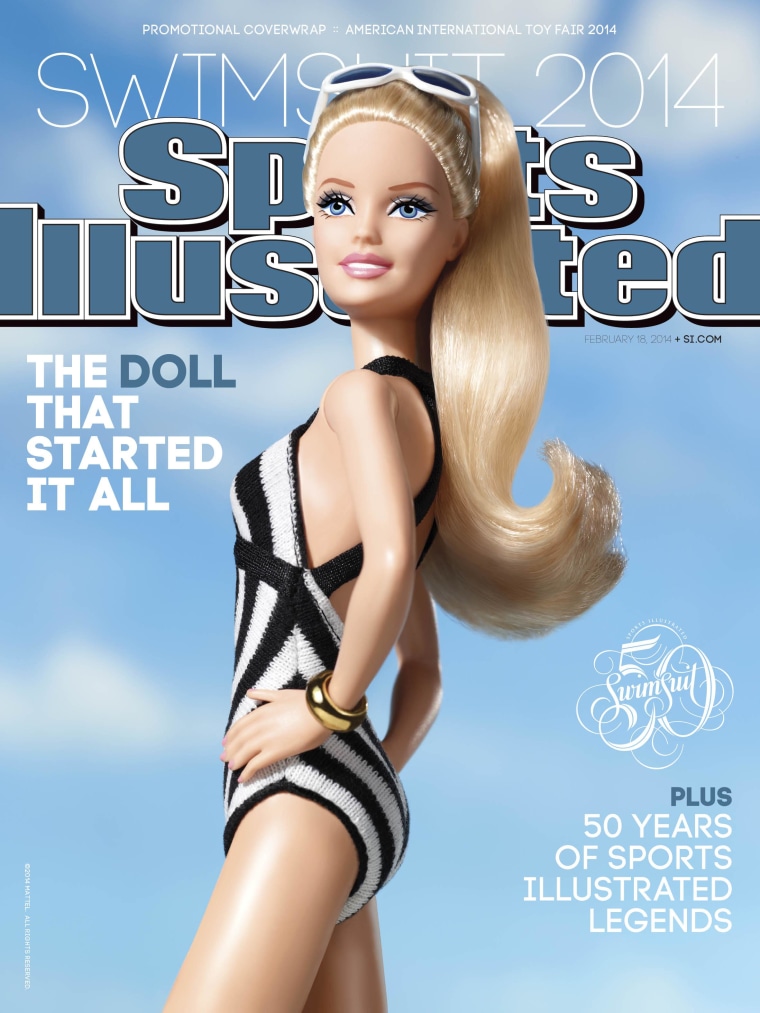 "Barbie has always been a lightning rod for controversy and opinions," said Mattel spokeswoman Michelle Chidoni. "Posing in SI gives Barbie and her fellow legends an opportunity to own who they are, celebrate what they have accomplished and show the world it is OK to be capable and captivating."
While seeing a girl's doll given the same photographic treatment as their real objects of desire could turn off some male readers, lads aren't the real target.
According to Sports Illustrated, over 17 million women read the Swimsuit issue, more than most major fashion magazines combined, and sales for items the models wear get a significant boost.
And the effort isn't even really an attempt to sell more dolls to anyone's daughters or nieces.
"This program is not targeted toward girls, it is targeted towards society at large," said Chidoni.
Besides the Swimsuit issue, the campaign includes a collector's edition of the doll on sale at Target, a Times Square billboard, and @Barbie tweets with the hashtag "#unapologetic" on Twitter. The word, Mattel execs told The Associated Press, is used extensively internally at the company, but this is the first time it's being introduced into the public conversation.
In recent years, the brand has had to contend with increasing competition from the younger, edgier "Monster High" and "Bratz" doll brands.
The effort reignited an online debate over what the 55-year-old figurine represents.
While some praise the doll for fostering imaginative play and celebrating the ability of women to take on any career they want -- she's had over 150 -- others have criticized her for modeling an unattainable, sexualized, physical ideal.
That's a heavy burden for an 11.5 inch toy to shoulder.
"Barbie sort of has been taken hostage," said Drake University marketing professor Natalie Ross Adkins. But, she said, by flaunting the same aesthetic for which she's gotten flak it communicates that "despite her haters and naysayers, she's comfortable with who she is," — no apologies.