If the Senate hearing for former FBI Director James Comey this Thursday has got you reaching for a stiff drink, several bars across the country have got you covered, complete with themed cocktails.
Many of the bars open will be in Washington D.C., fitting for a town soaked in politics.
There, Duffy's Irish Pub will turn all 15 of its screens to the live testimony and offer a special "Covfefe Cocktail."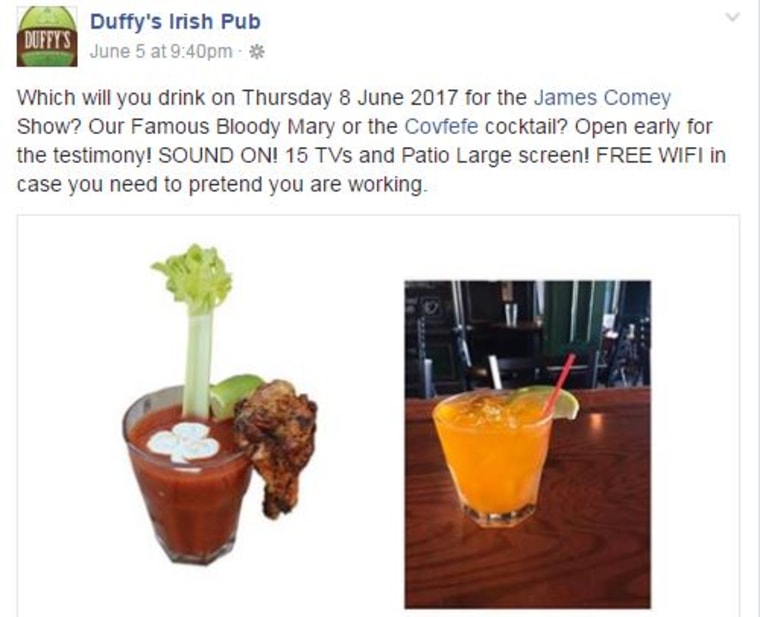 Shaw's Tavern will also offer "The Comey Hearing Covfefe" cocktail and $5 vodkas.
Meanwhile, The Partisan will also host a viewing party and sell "The Last Word" and "Drop the Bomb" drink specials.
Elsewhere, in Houston, Texas, Alexrad's beer garden will open its doors early and sell "impeachmint" and "bad hombre" cocktails for what it is billing as the "Super Bowl of Washington."
And several San Francisco bars will reportedly be opening their doors as early as 6 a.m. PDT to show the testimony, including Clooney's Pub, Ace's Bar, and Gina & Carlo's.
"Is it good for the bar business?" Ace's Bar bartender told the SF Gate. "Everything is good for the bar business. When things are good, you drink. When things are bad, you drink. That's what alcohol's for."