Most people find their way to BillFixers.com after they've taken a trip to a place familiar to us all — Wit's End. They've been overpaying for cell phone service, pay television or Internet access and have been sitting on hold, for hours, without getting anywhere. They want their money back, but more than anything, they want their sanity back.
That's where BillFixers.com comes in.
The Kurland brothers — Julian, 26, and Ben, 23 — started the business on a whim two years ago after they helped a friend negotiate lower cable TV rates. Both are good at things many people seem to hate — waiting on hold and repeating themselves — so they decided to make a simple offer on Reddit: They'd negotiate for folks who were frustrated, and keep half of any savings they were able to squeeze out of companies. Within days, they were so swamped that had to hire help, and an ingenious startup was born.
After a few fits and starts — Julian was finishing law school at Notre Dame — the brothers moved in together this summer and decided to focus 100 percent on their venture, which they run from a basement office space in Nashville, Tennessee.
"Normally, people send us PDFs of their bills and we are off to the races," said Ben. "But one woman named Nancy — she was the sweetest woman in the world — actually mailed us a package of every one of her bills for the past decade. She said, 'When I found you guys, I found what the cable company had taken away: hope!"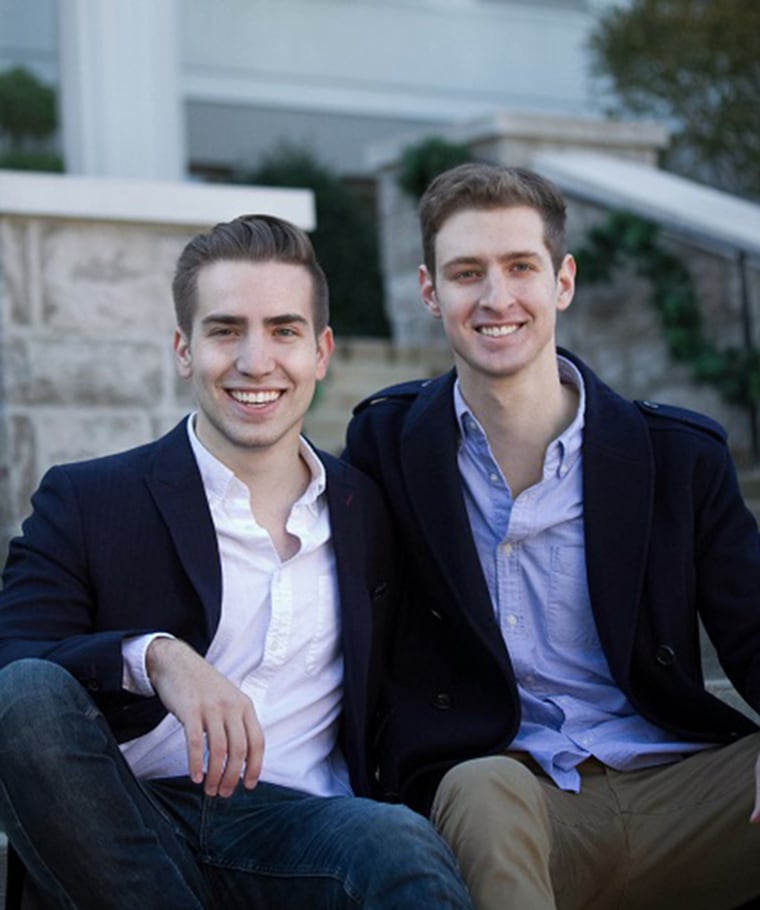 The brothers say they say they've helped 1,200 clients save about $300,000 already, and now have seven negotiators working for them. They say an average client saves $300 and their success rate is 94.9 percent. While most of their work involves easier targets like pay TV, cell phone or Internet access bills, the brothers say they'll take on almost any kind of billing dispute.
In order to get the best deals, the BillFixers use a bit of subterfuge. The brothers say that when they first started they called companies acting as third-party advocates, but found though companies weren't as willing to work with them. So now they often call up the businesses posing as the customers themselves. This technique is disclosed in a recently-added item to the BillFixer's online FAQ but they admit not all customers may be aware of the ruse. BillFixer clients do have the options of adding the negotiators as authorized users to their account, but the company says most customers are more interested in the swiftest path to savings. After a Times profile raised questions about the negotiating tactic, the brothers says they plan to be more up-front about it in the future.
Related: Goldman Sachs to Pay $5 Billion in Mortgage Settlement
The BillFixers are one of a small but growing number of startups trying to capitalize on consumer frustration.
BillCutterz.com has a similar business model, taking complaints and keeping part of the "winnings" from negotiations.
A new app named Service approaches the problem the other way around. It is trying to automate complaints — consumers open the app and click what kind of problem they have and what solution they want. Service then uses an automated process to obtain resolutions from companies involved.
With any of these tools, consumers have to cough up considerable personal information in order to get help. For instance, sometimes the BillFixers need the last the four digits of a consumers' Social Security number to get past authentication tools. But users haven't complained so far, and the brothers promise to use state-of-the-art security.
Meanwhile, the victories they score are sweet. Nancy, for example, was paying for a second cable modem she didn't need — really, almost no one needs a second cable box. Another consumer was paying $40 per month for an international cell phone calling plan he hadn't needed in years. In both cases, the boys got service credits for most of those overpays, and got both consumers into cheaper monthly plans.
Related: See Which Companies Made Consumers Reports' 'Naughty & Nice' List
Another BillFixer consumer, Gary Witzgall, had spent a few months in Wit's End when he found the BillFixers. Witzgall's subscription to the Major League Baseball package wasn't working, but he was being billed by Comcast for it anyway. He also says he was also charged for tech visits when he was promised they'd be free. After three phone calls, the BillFixers got him more than $500 in refunds.
"We apologize for the experiences Mr. Witzgall had," Comcast said of the incident. "We're taking a look at what happened to see where we could make improvements to ensure this doesn't happen again."
BillFixers can't help everyone, of course. Sometimes the customer isn't right.
"One woman sent in her credit card statement and basically said, "I don't want to pay this," Ben said. "We had to email her and say 'there's nothing we can do on that'."
Most of the 5 percent failure rate is attributable to smart consumers, however — those who've already shaken every tree trying to get refunds. Ben says the brothers are well aware people can do this for themselves. In fact, they don't mind giving away some of the practical knowledge they've picked up along the way.
Here are three free pieces of advice:
1. Get the same number twice
After any negotiation, hang up, then call the firm back immediately and make sure whatever deal you struck "sticks." Sometimes — OK, often — companies promise to place credits or discounts on consumers' bills, but they never appear. (How often? Ben guesses that happens about one-third of the time).
"Either customer services agents promise things they can't really do, or they make a mistake, or they are just saying something to get people off the phone," Ben said. "It used to be terrible when we'd tell people we got them a discount, but then it wouldn't appear. It was a real customer service problem for us."
Now, as soon as they complete an interaction, BillFixer negotiators hang up and call the company back. And if the numbers don't match, they hang up and call a third time, then a fourth, and so on.
"We do it until we get the same number on two consecutive calls," he said. "Doing this has totally changed how to do business."
2. Timing is everything
When BillFixers first started, the brothers were calling on nights and weekends, and that "was really slow going." To avoid long hold times, the best time to call is between 9 and 11 a.m. on weekdays. Call on lunch hour if you have to, Ben says.
3. All good things come to an end
Even consumers who are good at negotiating their own deals often trip up when their "introductory" rate expires, which means TV or Internet access bills can suddenly double. So BillFixers now sends alerts to consumers the month before the expiration.
You can do it yourself with a calendar service.
"We do have automated warnings, but we are careful not to automate too much, because that's the problem we are attacking in the first place," Ben said.
You can see more BillFixer stories at The BillFixer Files on Bob Sullivan's website.