If you're holding tight to your purse strings until Black Friday, you might want to let go: Some of the best deals are already available.
Amazon launched its Black Friday store on Tuesday, offering lower prices on "tens of thousands" of online items, plus "Lightning Deals" that pop up between now and December 22.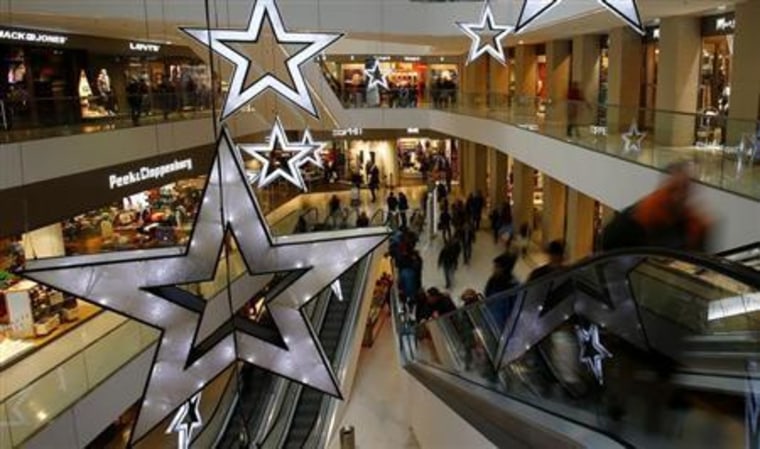 It's part of a larger trend, said retail industry analyst Marshal Cohen, noting that the "Black Friday effect" is so strong that its savings are spread out throughout the entire month.
"I now call it Black November," he said.
"By shopping before the Black Friday-Cyber Monday weekend, you're able to spread out your spending," agreed Sara Skirboll, shopping and trends expert at RetailMeNot.
"Another great perk — the best [products] haven't sold out yet. I definitely recommend getting started as soon as possible. Shopping earlier in the month means skipping the crowds, less stress, and getting more focused attention from sales associates, she told NBC.
So what's on sale this month? We've compiled a list of the categories that will see major savings this month, along with more exclusive tips from retail experts.
Laptops
"November is the best month to buy electronics such as laptops," said Courtney Jespersen, retail and shopping expert at NerdWallet. "We also expect massive electronics deals at Target, Wal-Mart, Best Buy, Costco, and more," said Jespersen.
After Apple's launch last week of a new line of Macs, prices on previous generation models are likely to dip. But how low will the Apple laptop discounts go? Benjamin Glaser, features editor with DealNews thinks not so very.
"If you want a new MacBook, stick with 11" MacBook Airs," said Glaser. "Even following [the recent] MacBook update, we probably won't see big discounts on the older generation 15" MacBook Pros. And don't shop at the Apple Store, discounts are always better at stores like Best Buy and Micro Center."
You'll find some great deals on PCs. Dell is offering the New Inspiron 15 5000 for $540.89 to members, down from the list price of $749.98. Lenovo has the Yoga Laptop 2 (11 inch) Haswell on clearance for $299.99, down from $499.99 (with the e-coupon CLEARANCE41, and at Walmart, the Refurbished Toshiba Brushed Black 14" Satellite Radius E45W-C touch screen 2-in-1 Convertible Laptop PC is going for $319, down from $499, with free shipping.
Beauty Products
"The Thursday before Thanksgiving (this year it's 11/17) historically has some of the deepest discounts on beauty, as much as 70 percent off," said Skirboll. "In 2015, many drugstore retailers offered up to 25 percent off; and brands like Sephora, The Body Shop, Clinique, Jo Malone, and Aveda offered free samples or products with purchase."
Sephora has already dropped some deals, selling an array of beauty products for $5, with free two-day shipping for a year. On Amazon, you can now get a $25 Amazon credit for free with luxury beauty purchases of $50 or more (with coupon code LUXPRIME25. And via RetailMeNot, you can save $10 off orders of $75 or more from Perfumania, from November 1 thru November 30, Skirboll confirmed.
Wedding Dresses
"Fall is an ideal season to purchase a wedding dress," said Jespersen. "Retailers are beginning to clear out existing dresses as they make room for new inventory. Beside shopping the clearance rack, brides-to-be should also consider renting their wedding dress or buying a white dress that isn't labeled as a wedding dress at all."
One must-stop-shop in this category is David's Bridal, which is currently touting various deals including $50 to $100 off wedding dresses, including those by designers; buy one get one half-price on select hair accessories, veils, bras, slips, and lingerie; and up to $500 off clearance weddings.
Veterans Day Sales
"Most retailers participate in Veterans Day sales, and falling on a Friday this year will create a three-day weekend of discounting on a wide variety of items like fall clothing and home and kitchen items at stores like JCPenney, Macy's, Sears, Target, Kohl's, and Walmart," said Brent Shelton, online savings expert at FatWallet. "It will also be an excellent weekend to save money on dinnerware, tupperware, home accents for the holidays, and grocery needs for upcoming cooking events."
Shelton added that for veterans, there will be additional discounts and free membership incentives at many stores, "as well as free meals and other perks at restaurants," so be on the lookout for those if you're eligible.
Sandwiches and Nachos
"November 3 is National Sandwich Day," said Jespersen, adding that Subway has already announced a deal — one free sub for each sub purchased, plus a meal will be donated to Feeding America.
In addition, November 6 is National Nachos Day! Restaurants such as Salsarita's Fresh Cantina have already announced deals, so stay tuned into Twitter and other social media pages of your favorite eateries to see if they'll be joining in on the action!