While the economy has managed to make it through the recession, cities around the nation are still living lean, with essential services diminished, or cut entirely.
Streetlights and fire-fighting services were cut in Colorado Springs, Colorado in 2010 and its per-capita budget hasn't rebounded to 2000 levels yet. The US Conference of Mayors announced that it would take the Greater Cleveland Area until 2019 to recover all of its lost jobs. And to the extent that budgets have recovered anywhere, they've had to contend with ever ballooning pension costs and dwindling state support.
So in some some cities certain services have had to go by the wayside or fall back into the hands of its citizens. Like picking up garbage.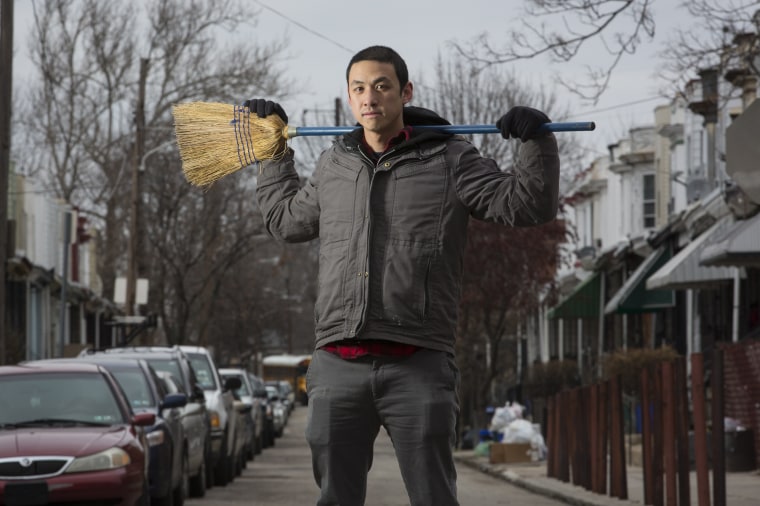 The sidewalks and streets on Will Tung's block are, save for a few particles of debris, as clean as any maintained neighborhood in Manhattan.
Philadelphia is the only major American city without a comprehensive street cleaning program. But they do loan out brooms.
But that's mostly thanks to the neighbors and Tung himself, a 33-year-old block captain who organizes neighborhood cleanups in his home town of Philadelphia, the only major American city without a comprehensive street cleaning program.
That leaves much of the job to residents like him who have the gumption to get neighbors together to clean the areas themselves. Without them, neighborhoods accumulate trash at spectacular magnitudes, earning the city the reputation as the dirtiest in the country, and a sobriquet: "Filthadelphia."
"We have a pretty involved block captain community in our tiny section of the city," said Tung. "But there's whole sections of the city where there's no block captains whatsoever and no one's involved, no one organizes cleanings."
Under the block captain program, the Streets Department supplies organizers like Tung with cleaning materials like bags and brooms three times per year to marshal neighborhood cleanups. Citywide the captains organize about 6,000 cleanups per year.
Gloria Turner, captain of a block adjacent to Tung's, demonstrates an empty lot of the sort that act like a garbage magnet. A few bags and wrappers float around the grassy lot. In other neighborhood, lots like these can come to look like small landfills.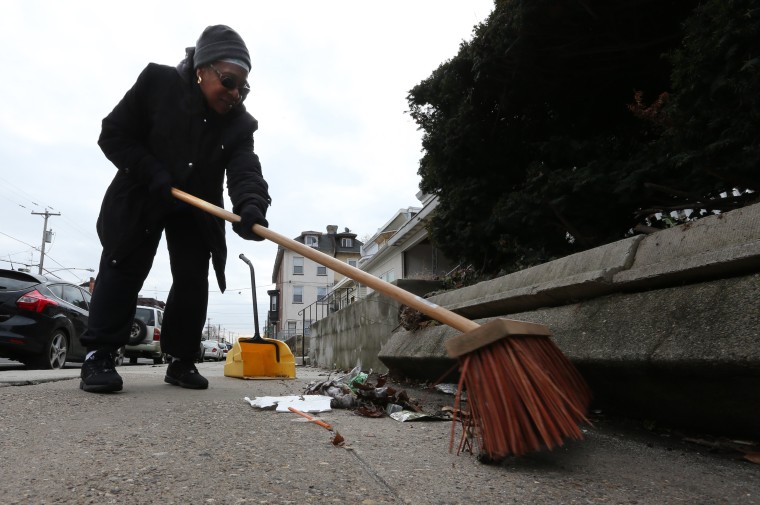 The city's Streets Department still utilizes mechanical sweepers for its commercial downtown and other business corridors, but not for neighborhoods like Turner's and Tung's.
The lack of any major cleaning services in the rest of the city is largely a persistent aftereffect of budget cuts in 2009 amid the recession, said Donald Carlton, deputy commissioner of the Streets Department. He estimated that the cost to bring back a city-wide program would cost $18 million in one-time capital outlays and $3.25 million per year thereafter.
That's not a lot of money in most cities for a service some consider essential, but in a city regularly forced to plug budget shortfalls, address rising pension plans and a perpetually underfunded school district, it can be a hard sell.
"When you have a city with a school system that's struggling and you tell people, 'I'm going spend $18 million on mechanical equipment and $3 million on staffing while the schools are struggling,' you have to be careful on saying that that doesn't sound a lot," said Carlton. "You'll get individuals coming back lashing at you saying, 'Give that money to the school board.'"
The city has also run into a problem that at times seems more intractable than the cash shortfall: residents who don't want to move their cars to make way for the mechanical cleaners.
Tung recently moved to Philadelphia from New York, a city as dense with vehicles but still has managed to force residents to move their cars twice a week for cleaning.
Jim Kenney, Philadelphia's mayor-elect who took office on January 1, has decided to directly ask neighborhoods whether they want their streets cleaned and if they're willing to move their cars.
"I'm not forcing people to have a clean street," he said. "We should clean the city at least twice a year with a massive clean-up, which we're planning. But in the meantime, on a bi-monthly or monthly basis, I'm not going to have people screaming and yelling that they don't want to move their car from one side of the street to the other because it's such an inconvenience, when they do it in Manhattan twice a week."
That has forced residents and the city to come up with a patchwork of alternatives. In 2009, Mayor Michael Nutter launched the 'Spring Cleanup,' an annual effort to rally residents to pick up trash and beautify neighborhoods. Carlton said that this year, residents worked on 700 different projects around the city and collected more than a million pounds of trash.
But just as Tung's block finds itself replete with garbage within a few days of sweeping, the annual cleanup needs additional ad hoc stopgaps until a full cleaning program is instituted. The Streets Department also sends people out to the most trash-strewn neighborhoods to give them a clean slate before handing out citations. And the Department devised a policy that puts city workers who are currently off work due to injuries or other problems on smaller cleaning projects throughout the city.
"This was just something you did--you get up and you sweep... I guess something of these things are going out the window."
Until a wider program is put in place, the city still relies on people like Turner, who recalled moving to the area in 1976. "This was just something you did--you get up and you sweep, you clean your neighborhood, you take care in front of your property," she said. "And I guess something of these things are going out the window."