Getting your flu shot seems exceedingly simple. But the path to its existence is anything but: Your vaccine may go through several countries and a chicken egg before it gets to your arm, all in a six-month race to be ready for influenza season.
That time of year is upon us, and the Centers for Disease Control and Prevention said manufacturers are distributing more flu vaccine in the U.S. than ever: a projected 171 million to 179 million doses this year.
That's up from 147.8 million distributed last year, amounting to $1.61 billion in revenue, according to industry researcher IMS Health. Globally, manufacturer CSL estimates the market for influenza vaccines at $4 billion.
"Flu is unpredictable, but you can predict that the single-best thing you can do to protect yourself is to get a flu vaccine," CDC Director Dr. Tom Frieden said at a news conference last month.
The market's been growing along with a public health push for vaccination; rates in the U.S. have been steadily rising, and five years ago the CDC expanded its recommendation for the flu shot to everyone in the U.S. older than 6 months.
That's even as the vaccine proves to be just about 50 to 60 percent effective most years; still, public health experts emphasize flu can be a serious illness, and the vaccine cuts down on infections and complications. Each year, millions of people get flu, more than 200,000 Americans are hospitalized with complications, and the virus kills thousands of people.
What You Need to Know About the Flu Shot
Now, an estimated 44 percent of American adults get vaccinated, according to the CDC. Among kids, the rate is even higher, at 59 percent.
What does that mean for business?
There are a few major makers of the vaccine in the U.S.: Sanofi Pasteur is the largest, supplying a projected 65 million doses or more this year, followed by Australian company CSL, at up to 54 million doses (after acquiring Novartis's flu vaccine unit in August), and GlaxoSmithKline, at up to 38 million doses.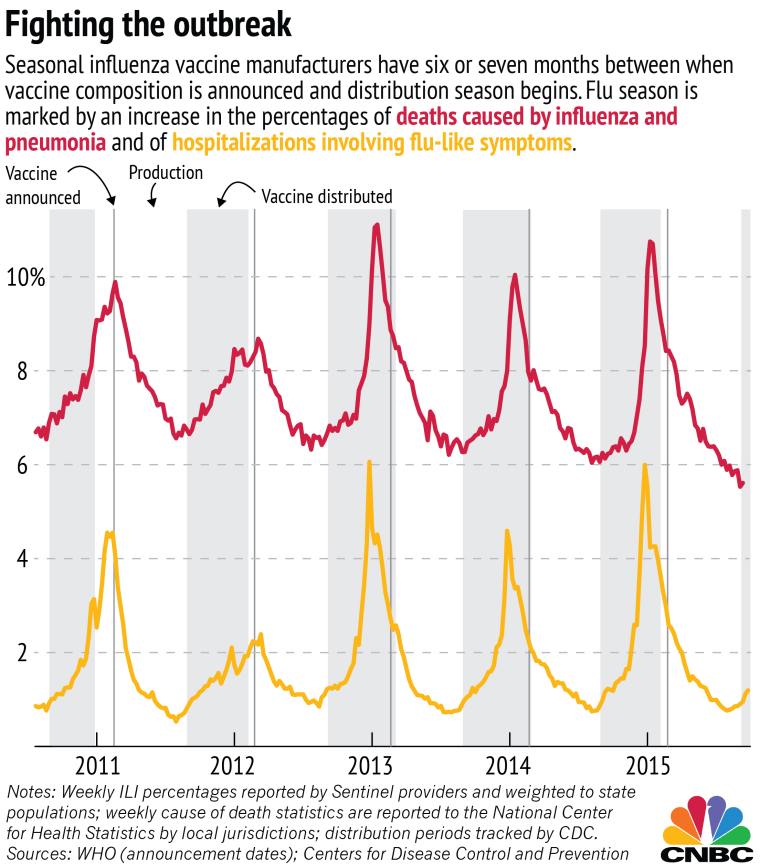 And competition can be fierce, which is why that six-month manufacturing window is so crucial.
Flu vaccines are unique because they change every year based on which strains are in heaviest circulation, making the process more complicated and imposing a time crunch on manufacturing.
"Every year, the world has to reassess if those strains in the vaccine are the right strains or not and adapt the vaccine," Moncef Slaoui, chairman of vaccines for GlaxoSmithKline, said in an interview. "You cannot start manufacturing until you know for sure."
The fickle flu virus
Last year's vaccine wasn't as well matched to the strain that turned out to be heaviest in circulation, making that vaccine much less effective.
"Flu is fickle," Dr. William Schaffner, medical director of the National Foundation for Infectious Diseases, said last month. "Last season was unusual because not only did we have one strain of influenza that caused almost all of the reported flu cases, but it was different — it had mutated — so it was different than the strain that was represented in the vaccine."
The process of putting the flu vaccine together begins in February, when the World Health Organization determines which strains of the virus should be included, based on what's circulating around the globe.
"What's nice is we have a Southern Hemisphere flu season and a Northern Hemisphere flu season," said Phil Hosbach, vice president of new products and immunization policy at Sanofi Pasteur. "They're able to look at strains circulating in the opposite hemisphere and can kind of predict what will be circulating" next in this one.
Public health agencies then provide seed viruses to manufacturers, which can decide whether to make a trivalent vaccine — including three strains — or, more recently, a quadrivalent — including four.
GlaxoSmithKline switched this year to make only the quadrivalent vaccine, citing customer demand, and has mounted a direct-to-consumer advertising campaign for it that says, "Choose More, Choose Four."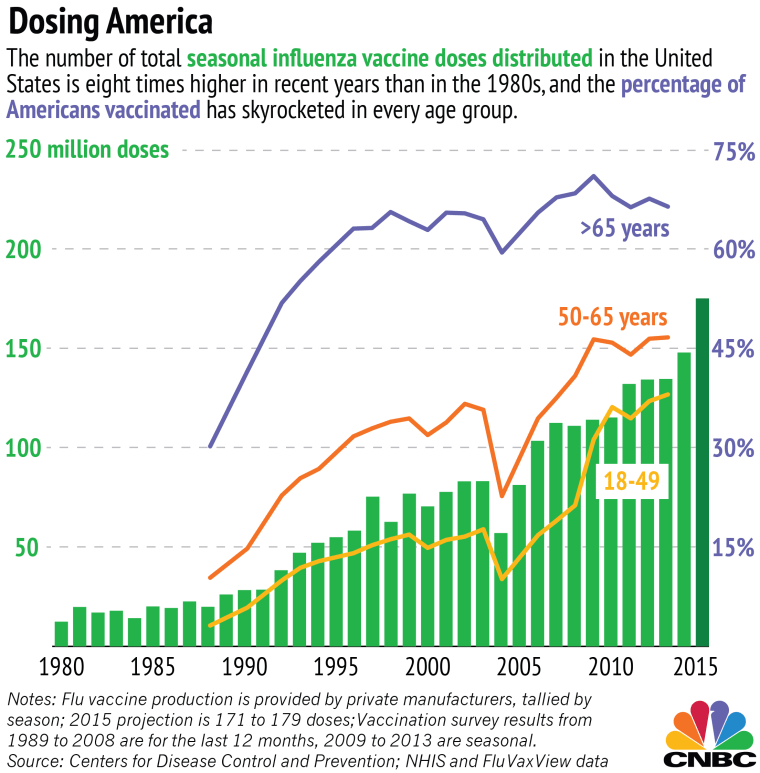 With the protection against the extra strain comes the ability to charge more: GSK's Fluarix and FluLaval cost $16.05 and $15.05 a dose, respectively, according to the CDC. That compares with $10.69 for Sanofi Pasteur's Fluzone. Sanofi also offers a Fluzone Quadrivalent, for $16.15 per dose.
GlaxoSmithKline, like many others, uses chicken eggs to manufacture its flu vaccines.
"The egg is actually a manufacturing facility," Slaoui explained. "It's fully sterile, totally equipped, and all you need to do is put it at the right temperature and put virus into it."
Each year, hundreds of thousands of eggs arrive at GSK's plants in Germany and Canada for vaccine manufacturing. The birds are kept in isolated flocks with tight biosecurity to protect them from the threat of bird flu — the main vulnerability, Slaoui said, of using eggs for the manufacturing process.
The manufacturers take fertilized eggs, check them for infection, make sure they indeed contain embryos — an important element of the egg as a factory — power-wash them, and inject them with virus. The eggs are then left to incubate at 37 degrees Celsius (98.6 degrees Fahrenheit) for four to five days for the virus to multiply.
The virus is then extracted and killed, and shipped to GSK's facility in Pennsylvania to be outfitted into syringes.
Flu Season Is Coming! Time to Get Vaccinated
"That's what makes the vaccine," Slaoui said. "That's what you receive in your CVS or supermarket."
Companies have from February until about June, he said, to complete the manufacturing process, execute quality controls and get Food and Drug Administration clearance.
"It's very, very important to be very fast in the manufacturing because, for instance, in the U.S. the retailers want to have the flu vaccine very early in the season, in August, and they negotiate access to doses during the early summer," Slaoui said. "If you don't have your manufacturing and you don't have the doses, they don't commit to you; they commit to your competitor."
The biggest competitor in the U.S. is Sanofi Pasteur, which offers four kinds of vaccine among the 65 million doses it's distributing this season. In addition to Fluzone and Fluzone Quadrivalent, Sanofi Pasteur has an intradermal vaccine with a smaller needle, just for adults, and a high-dose vaccine for people 65 and older. Sanofi said it's 24 percent more effective in preventing flu in older people than its original vaccine.
Not all flu vaccines are manufactured using eggs; for people with egg allergies, there are manufacturing processes using recombinant technology. And for those who don't want a shot, there's a nasal spray, FluMist, made by AstraZeneca's MedImmune. AstraZeneca said it would ship 15 million doses of FluMist in the U.S. this season.
Many people worry getting the flu vaccine will actually give them flu; the CDC says that's impossible. With the shot, the viruses have been killed, or inactivated, and with the spray, the virus has been weakened, or attenuated.
How's Your Heart Doing? You May Want to Read This
"That's a common misconception and it's an absolute myth," said Dr. Leonard Friedland, director of scientific affairs and public health for GSK Vaccines. "It's impossible to get flu from the flu shot, absolutely impossible."
The holy grail for flu: A universal vaccine
The holy grail for flu, researchers say, is to find a universal vaccine that would render remaking the vaccine every year unnecessary. GSK's Slaoui said he's been thinking about the potential for a universal vaccine for almost 30 years, and some promising approaches have emerged recently.
The flu virus, he said, is "like a stem with a little balloon at the top of it." That balloon is the part shown to the immune system, and it's also the part that changes from strain to strain, enabling the virus to escape the immune system.
"The stem remains substantially the same," Slaoui said. "So the technology that we are all pursuing now is to try to avoid the immune system looking at the balloon, and rather looking at the stem."
Work is also being pursued at the National Institutes of Health. Dr. Anthony Fauci, director of the National Institute of Allergy and Infectious Diseases, said he's optimistic a universal vaccine is five to 10 years away.
"I think that we are making extraordinary progress and we can sort of see that light at the end of the tunnel," Fauci said in an interview. "If we can successfully induce a response against that stem part of that protein, we're going to be very close to developing a universal flu vaccine."
Meanwhile, public health researchers said in September that this year's vaccine is tracking well with the circulating viruses. And they emphasized the best thing the public can do to avoid spread of the flu is to wash hands, cover coughs and sneezes … and get vaccinated.
—CNBC's Jodi Gralnick contributed to this report. Graphics by CNBC's Mark Fahey.