Here's a proposition you don't hear every day: Buy a new car, put no money down, and walk out of the dealership with a check for $5,000. Is it possible? Yes. It is a good idea? Almost certainly not.
There's a dirty little secret of the new car sales business -- one that helps dealers but can really get drivers into financial hot water. Dealer-friendly lenders will allow consumers to take out new car loans that actually exceed the value of the loan -- in some cases by up to 20 percent. That means when you buy a $25,000 car, a friendly lender might loan you up to $30,000.
These are called negative equity loans, and they are a necessary evil in a world where consumers often drive onto new car lots with old cars that are "upside down" -– meaning they owe more on their current loan than their old car is worth. They also don't have the means to make up the difference with a cash payment. It's a widespread problem. J.D. Power and Associates estimated in 2009 that one in four new car buyers with a trade-in were upside down.
How can a dealer sell a new car to a person who can't pay off their old car loan? The dealer finds a way to roll the payoff amount into the new loan. Such negative equity car loans came into vogue during the go-go lending days before the financial crisis.
While in rare cases this can be a practical alternative for a buyer, it's easy to see how this could lead to a long-term pattern of bad financial behavior.
A recent financing deal being heavily advertised by the largest Hyundai dealer in the United States takes the idea of a negative equity loan one large step forward:
"You can put no money down and we'll send you home with a check for $5,000," say the radio ads, which blanketed the New York metropolitan area recently.  "No money down, no payments for a year, or a check for $5,000, only at Brad Benson Hyundai."
Famous athlete, famous ad man
Brad Benson played on the offensive line for the New York Giants for 10 years during the 1980s, winning a Super Bowl as a key part of their 1986 team. Like many athletes, he turned his football fame into a successful business career. His radio and television advertisements, which he narrates himself, poke fun at current events and have developed a mild cult following. In one ad last fall, he offered controversial Pastor Terry Jones a free car if the pastor ended his plan to burn a Quran on Sept. 11. In another, he promised to stay celibate until his dealership became the largest in the country.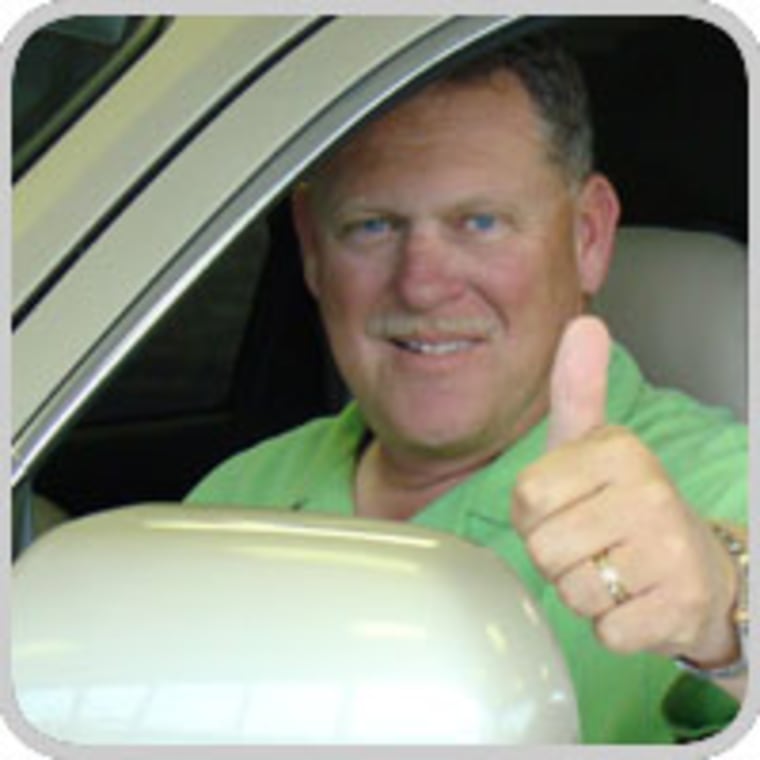 The promise of getting a $5,000 check for buying a new car might be his boldest yet. And while it is possible to get what is essentially a small, unsecured loan and a new car at the same time, personal finance experts say it's probably a terrible idea.
"These 'deals' really target people who aren't very sophisticated about money," warned Liz Weston, author of "The 10 Commandments of Money." "They'll wind up overpaying for the car and paying too much for the loan as well,"
A closer listen to the ad's fine print gives some explanation how the deal works. Here's the critical line.
"All offers based on customers paying posted dealer price and may result in financing being greater than vehicle," the ad says.
There are two obvious problems with that fine print. Experienced car buyers know that most consumers don't pay full MSRP when they buy a new car -- there's almost always room for negotiation. Some dealers, however, have learned to really take advantage of inexperienced buyers by adding what's sometimes called a "second sticker" to their cars, jacking up the price a few thousand dollars above the sticker price. These often come with a vague explanation like "local market conditions," but rarely do consumers need to pay these higher prices. 
But consumers who want Brad Benson's $5,000 do.  Anyone who wants one of these $5,000 checks forfeits their right to negotiate the price, according to the ad.
The perils of being upside down
Problem No. 2 is the "financing greater than vehicle" part. That line describes a negative equity arrangement.
"Being upside down on a loan is a miserable place to be," said Weston, who also is MSN Money's financial columnist. "If the car's stolen or totaled, you won't get enough from insurance to pay off the loan. Instead, you'll have to cough up the difference between the car's value and the loan balance, unless you bought insurance to cover the difference."
Benson told msnbc.com that most car buyers don't actually take him up on the $5,000 check offer -- they apply the money to a down payment on the car. (That's the right move, personal finance experts say). He also said the ad is chiefly designed to get attention.
"Our ads are usually wacky, to cut through the clutter," he said. "The car business is a tough business. … It's tough right now and we want to try to come up with the best deal to give people alternatives."
The dealership's general manager, David Canton, estimated that one out of 25 customers opted for the cash-back arrangement.
Hyundai of America spokesman Jim Trainor said dealerships operate independently, and directed all questions to Benson's firm. He said he was unaware whether if any of Hyundai's other 800 dealers around the country had similar offers. Hyundai's financing arm, Hyundai Capital America, does made loans to Benson's customers, but Trainor was unsure if it was involved in any of the $5,000 check loans.
Jeff Bartlett, deputy online auto editor for Consumers Union, said this isn't the first cash-and-car deal for purchasers, but it's probably the most aggressive offer he's heard. 
"Every now and then you hear some dealer trying something innovative to stand out," he said. "In a down economy, people are susceptible to these tactics. ... It might mark the emergence of a new trend involving innovative deals."
While Bartlett wasn't a fan of the Benson offer, he wasn't as down on it as others. He said he could imagine a scenario where the $5,000 loan comes with cheaper terms than any other loan a consumer could obtain -- car loans to credit-worthy buyers generally come with interest rates that are about half as expensive as unsecured personal loans.
"At first it sounds silly, but it would depend on the specifics of the interest rate and the loan," he said. "People are increasingly finding themselves in precarious positions and this might be the answer some people need. But for most people this is a bad idea."
Cheaper than a home equity loan?
But Benson argued that a $5,000 loan attached to the car purchase could be a sound financial choice; buyers with good credit can borrow the money for an interest rate that's much lower than a home equity loan, he said.  Good candidates for the loan might be someone who has just gotten married , has medical bills, or is receiving a structured settlement and would be able to pay off the loan in a short time, he said.
There is another problem with the offer, however. Generally, consumers who are attracted to such loans have poor credit, so they don't qualify for the best loan terms.  
"Negative equity financing typically isn't cheap," Weston warned.  "You'll almost certainly be paying a higher rate for a loan when you make no down payment or take money out."
Interest rates, for example, could jump from 5 percent to 10 percent for a consumer with bad credit.  A buyer who walks out of a dealership paying for an extra $5,000 loan at 10 percent interest is a boon for the dealer -- which earns commissions on loans it brokers -- but a terrible deal for the driver.
Edmunds.com analyst Jessica Caldwell shares the concern about high interest rates. She offered one theory for the new tack taken by Benson's dealership. Generally, the credit worthiness of Hyundai buyers is below industry standard, she said, so the firm may have trouble moving inventory with standard "0 percent financing" campaigns -- many Hyundai buyers simply don't qualify for such loans. Cash-and-car promises may appeal to buyers who are struggling with other kinds of expensive, short-term financing such as credit cards, she speculated.
Benson defended his method of advertising from critics, something he's done before with other dramatic ads.
"I would question how (critics) think I should advertise…It's easy to sit back and take the philanthropic view of automobile business, but on the dealer level, the competition is tough," he said.  "I think most people are sophisticated enough to understand it, and we fully disclose it… If people understand it, why do they think it's a bad idea?"
As a general rule, when a dealer offers an upfront cash rebate or a special financing arrangement, consumers should apply that rebate to the down payment, Caldwell said. A smaller loan is almost always better than a bigger one.
"At the end of the day, a customer has to calculate whether the $5,000 check is better than obtaining a lower interest loan (somewhere else)," Caldwell said.  Edmunds has a series of online calculators that help consumers do the math, including the "Low APR vs. Cash Back" calculator on this page.
Become a Red Tape Chronicles Facebook fan and follow RedTapeChron on Twitter.