America is infamous for wasting food, chucking out between 30 and 40 percent by the USDA's estimations. But a new dining trend aims to change that — by transforming waste food into delectable and delicious dishes.
Just opened at Selfridges on London's Oxford Street, the new wastED pop-up restaurant is spearheaded by Dan Barber, chef and co-owner of Blue Hill and Blue Hill at Stone Barns in New York. A dazzling list of celebrity chefs including Gordon Ramsay, Alain Ducasse, Clare Smyth, and Yotam Ottolenghi (to name a few) are bringing their culinary talents to the table, as are renowned mixologists and pastry chefs.
Dozens of local food purveyors have been working with Barber and the other chefs in an effort to recreate iconic British dishes with a trashy twist. Cabbage cores, cover crop sprouts, and waste-fed pigs will all be on the menu.
So, how exactly does this matter for the U.S, when it's happening in the UK? Consider that a version of this same pop-up was actually first held in New York's Blue Hill in 2015, and was a big success.
"The first wastED really opened the eyes of guests and chefs around the world," said Michael Young, executive chef at Sheraton Kauai Resort. "As chefs, we always have an eye on waste and how it affects our bottom line, but wastED takes it a step further."
While the British incarnation is designed with the English palette in mind, it espouses the same eco-friendly values and employs a less than gentle nudge, as though to say, "Hey dummy, what you've been calling 'waste' is actually nutritious and delicious!'"
Plus, with a line-up of superstar chefs (and big name sponsors Sonos and Spotify), foodies from all over are going to be paying attention. They'll also be paying good money if they were able to nab a booking at the sold-out event, which runs through April 2.
High-Priced Scraps Makes Sense With These Chefs
Afternoon tea starts at £32; small plates are priced at £15, a spokesperson for Selfridges confirmed.
That's sounds like a lot of money to fork over for "waste" food, but not if you consider the culinary talent whipping it up.
"Good cooks have the ability to take 'waste food' and make something special out of it," said Zachary Chancey, head chef at RYE in Louisville, Kentucky. "When you go to a high-end restaurant, sure you pay for the food, labor, and service — but you're also paying for skill level. You're paying for the ability to take 'ugly food' and make it into something beautiful."
Ugly Food Is a Chef's Best Friend
Chancey adds that chefs have been taking ugly food and making it beautiful for "quite some time now."
Rye features a small menu that rotates daily, "so everything gets used somewhere," said Chancey, adding that as a small business, the restaurant makes a point of trying to use "every piece of produce/veg scrap that comes through the door.
"We like to use protein leftovers for sausages and rich stocks for soups. Vegetable scraps are used as well. Take cauliflower for example, everyone thinks of florets, but the stem is delicious pickled and added to a charcuterie board or salad. Smoking, curing, con-fit, and pickling are various methods we use to keep food from going to waste and becoming usable in a dish."
Over at Terra Cotta in Los Angeles, chef Danny Ye, formerly of Nobu, also makes the most of every food that comes in the kitchen. This kind of thinking not only fuels artisanal creativity, but is economically smart.
"Ugly food makes good business sense, and none of my guys want to be the ones to throw things away," said Ye. "We make a green goddess dressing and a lot of purees utilizing [ingredients] that are pretty ugly and not so fresh looking, but are still good to eat. We try to use the stems and blanches which contain a lot of liquid. We use carrot and beet tops to garnish green salads, and also use pickling which stretches things out and also gives dishes an artsy feel."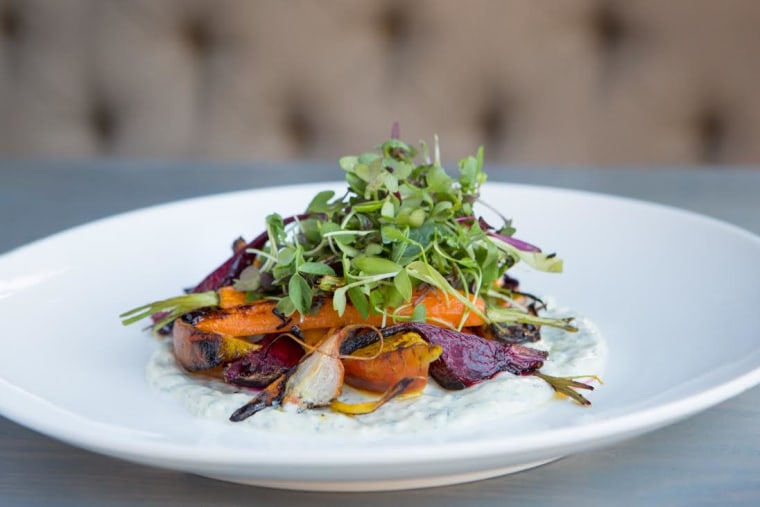 John Lechleidner, chef de cuisine at WP24 by Wolfgang Puck uses misshapen cucumbers to make cucumber consommé and unsightly tomatoes to create tomato sorbet. Ugly squash is used for the hot and sour soup, and ugly peppers are used in stir-fry.
"We are not talking about food that is about to spoil, but food that is not good to look at, [creating a] cost effective intermezzo," said Lechleidner. "Would the customer know that it was not a 'perfect' piece of produce? No."
Sea Bass Is Hideous, But Rebranding Made It Hot
Other chefs are using "trash fish," aka ugly fish that has been maligned by commercial fishermen for its undesirable looks.
"Commercial fishermen don't want to catch a fish they can't sell, and so popular species like striped bass, cod, tuna and others are subjected to additional fishing pressure," said Kerry Heffernan, executive chef of Grand Banks in New York. "If we can introduce them to dishes like Montauk sea bream ceviche we can make a difference for sustainability."
Considering that fish served in a restaurant is always prepared to look presentable, it's rather ridiculous that ugly fish are frowned upon (one could also argue that all fish are sort of creepy looking).
"However a fish looks in the net or on the hook, once it has been filleted, steaked, or otherwise prepared it becomes beautiful," said Heffernan. "Sea robins are a great example of a fish that is regarded as 'trash fish,' but make excellent table fare. Bluefish, too, have an undeserved reputation as bad table fare, but with creativity and proper preparation, it's an excellent choice. My bluefish crudo is very popular".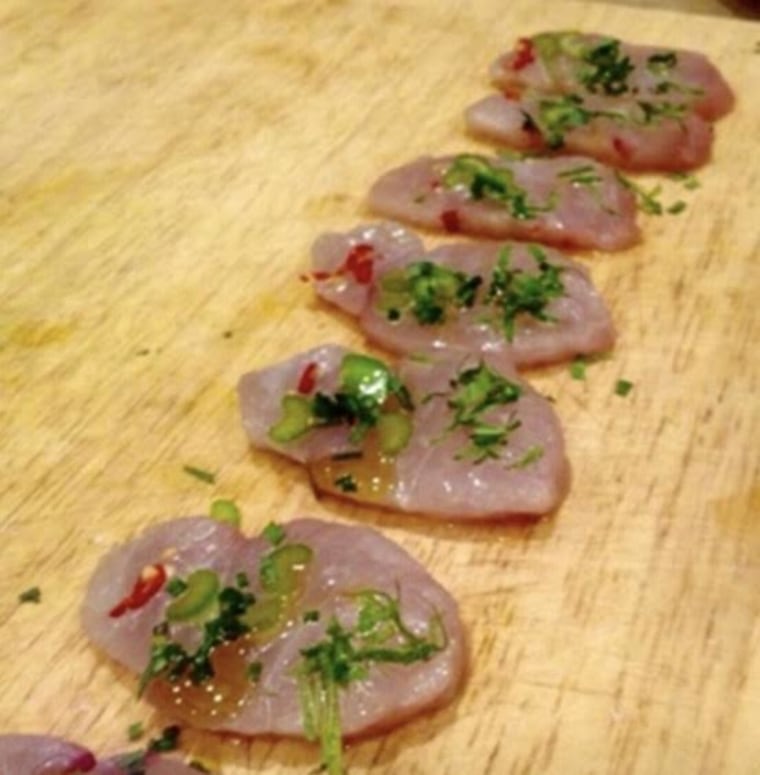 And it's not as though chefs are just catching on to the idea of pulling a Pygmalion makeover on ghastly seafood. Take the sea bass, for example.
"So-called ugly fish like the Patagonian toothfish was re-named Chilean sea bass," said Heffernan. It's now one of the most popular fish on menus across the world.
A 'Waste' Restaurant in the Future?
The wastED London pop-up may end up being hugely successful both in serving up innovative new foods, and in proving its ethical point, but could a full-time restaurant of this nature be something consumers want?
Quite possibly, yes — so long as talented chefs and smart marketers are at the helm.
"Absolutely this concept is sustainable — through the passion and drive of a kitchen team," said Lechleidner. "Knowing that they are cooking something and making it better than anyone expects it to be [is key to diners]. I hope that Ramsay [and the other chefs] succeed; It takes someone who is high profile to get people to understand that it is ok to eat things that are not perfect."
Still, people may not be willing to pay quite as much as what wastED is charging.
"You can't charge the same price for a throwaway dish as you do for a steak, so I don't see people necessarily paying more, [but] if it's priced accordingly and if it's delicious, consumers will buy it," said Chancey.
And it may take some time. While the ugly food movement isn't new (in a sense, it predates all other trends — our shrewd ancestors would surely scoff at our modern day pickiness), it is only recently becoming a crucial focal point of consumers.
"Ultimately the hope is to normalize what we call ugly food and incorporate it into the daily conversation and not have to celebrate its use in an international pop up," said Young.
"There isn't an overnight solution but we have as responsibility as chefs and consumers to help divert the waste and be more economical with our food. With a surplus of food production there is no reason for people in this country, or others, to go hungry. We may just now be making a dent in the actual problem but raising awareness is key."