Chicken soup is the flavor that pairs well with winter and cold and flu season, and now Campbell's is altering one of its classic recipes in a new way.
Gone are the potassium chloride, disodium inosinate and monosodium glutamate, and other ingredients. Remaining or being added are dehydrated onions and chicken broth and water. The new recipe, known as "Star Wars Healthy Kids Shaped Pasta with Chicken in Chicken Broth," will have 20 ingredients instead of 30.
While the recipe change is for now limited to the "Star Wars"-branded version of its chicken soup, Campbell's CEO Denise Morrison indicated in a speech to investors in July that many more recipe changes will be coming as a result of the company's "real food that matters for life's moments" philosophy.
"We anticipate this approach will lead to, or accelerate, meaningful changes in our products, including replacing certain artificial ingredients," she said. "And that's just the beginning. These are critically important steps with far-reaching implications for Campbell. I believe these actions will strengthen our relationships with loyal consumers, rekindle the connection with people who have long loved our brands but may have found alternatives and establish strong new connections with new generations of consumers."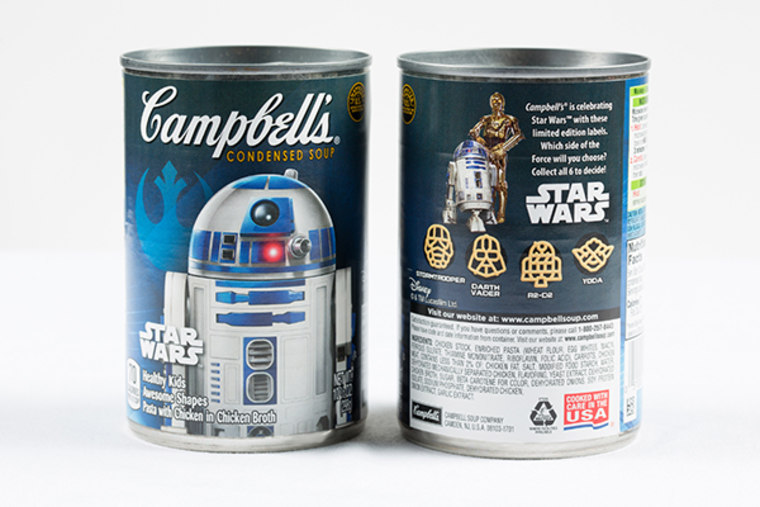 That said, here is the complete list of ingredients in the reformulated chicken soup, according to Campbell:
OUT:
Egg whites; potassium chloride; monosodium glutamate; chicken flavor, maltodextrin, celery, cornstarch; disodium insosinate and diosdium guanylate; lactic acid; flavoring (consisting of soybean oil and soy lecithin)
IN OR STAYING IN:
Chicken stock; enriched pasta; carrots; chicken meat; chicken fat; salt; modified food starch; water; dehydrated mechanically separated chicken; flavoring; yeast extract; dehydrated chicken broth; sugar; beta carotene for color; dehydrated onions; soy protein isolate; sodium phosphate; dehydrated chicken; onion extract; garlic extract.
The point of all these changes is to create a "clean" taste, said Marion Nestle, an NYU nutrition professor.
"This means natural, free of artificial ingredients, and fresh," she said. "To the extent that canned soup can be."
The tweaks, two months in the making, were made to respond to the shifting tastes of the American consumer, said Campbell spokesperson Anna Burr.