Rumors of a Champagne shortage have fans of the fizzy in a tizzy, as harvest reports from France's Champagne region put production down by about 70 percent due to problems including frost, gray rot, and mildew.
But don't cancel that engagement party or birth announcement or new job just yet: the Champagne houses have reserves, and the market wouldn't see an actual shortage for two to three years, said Scott Harper, a Master Sommelier at Bristol Bar & Grille in Louisville, Kentucky. While these are maintained in order to blend the harvest of multiple years to help keep a consistent product, makers can also pull from the reserves in time of crisis. Like now.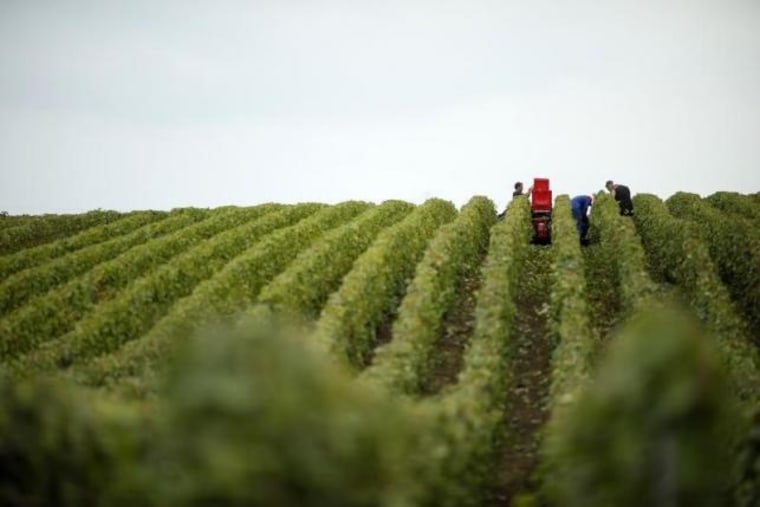 However, the rising bubbly panic may lead to stockpiling, which in turn leads to increased prices, Harper said, so even without an actual shortage, prices could start climbing soon.
"What the Champenoise need to be mindful of is if they raise their prices, people may try other sparkling wines," Harper said, "and they may not go back."
How much are we talking? Prices could increase catastrophically, he said, "if — and that's the big question," the harvest is as bad as is reported. At minimum, he said, the uptick number would match the drop in production. So that $100 bottle just leaped to $170.
But "it might not be as bad as we think," Harper said. "It's not going away forever, and there are plenty of alternatives." Recently back from Italy, Harper especially enjoyed Franciacorta, "Italy's answer to Champagne." While we all know Prosecco, this sparkling wine from Lombardy (east of Milan) is "closer to Champagne, with more depth, and more complexity," he said. It's also less expensive.
Bubbly fans can get their fix in other ways. If you're ready to branch out on your sparkling wine cocktails, bartender Andrew Olsen from bluestem in Kansas City has some suggestions that may introduce the Champagne set to a new favorite.
Whiskey, Meet Bubbles: The Hey Hey
1 oz. J. Rieger Co. Kansas City whiskey
0.5 oz. Ginger honey syrup (2 parts honey: 1 part water)*
2 dashes The Bitter Truth lemon bitters
Topped with Prosecco
Garnished with a lemon twist
Combine all ingredients in flute and garnish
*To make the ginger honey syrup, steep a small handful of chopped ginger root in 16 ounces of water for 10 minutes. Simmer and strain before adding honey.
The New Mimosa: The Ombré Français
1 oz. Pineapple juice
0.5 oz Yellow Chartreuse
Top with Argyle Brut (US)
5 dashes of Peychauds bitters
Build all ingredients into a flute except bitters. Gently garnish with 5 liberal dashes of bitters on top so that it floats atop the rest of the cocktail.
But before we toast au revoir to Champagne, we should remember this isn't the first time everyone feared the end. At the turn of the millennium "they thought people would drink so much Champagne they would run out," Harper said.
While revelers around the world indeed welcomed the year 2000 with overflowing glasses of bubbly, "did we have empty shelves?
"Not so much."