If election anxiety has got you wanting to check out, these hotels want you to check in.
Election stress is a real thing. The American Psychological Association released a survey this month that found more than half of U.S. adults felt "very" or "somewhat stressed" by the election.
One therapist in Washington has even dubbed it "Election Stress Disorder" — and other therapists, both mental health and massage, report their clients have been bringing up this election more frequently in their sessions.
To cope, the APA recommends limiting your media consumption, avoiding political discussions, and channeling your feelings into something positive.
Like travel!
Several hotel chains have put together special "election escape packages" that help guests tune out and detox from the election coverage by removing the politics pages from their newspaper, seizing their smartphone, and preventing them from seeing TV news coverage.
"Clients are looking to escape a lot of noise right now, whether terrorism, the election, or the economy turning south," John Clifford, the founder of International Travel Management, told NBC News.
Hotel chains are known for putting on special promotions centered around Valentine's Day or tax season and using clever marketing to drum up business during seasonal lulls — like in early November, typically a slower period that's in between when kids are going back to school and the holiday rush kicked off by Thanksgiving.
Some travel destinations have always touted their lack of internet or cell service as their way of helping you unwind. But actively censoring news coverage as a way to relieve anxiety takes it to a new level.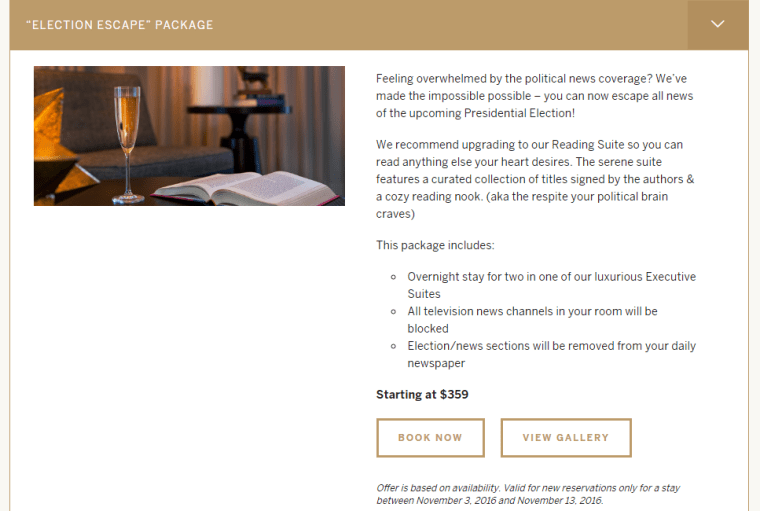 Boston's Hotel Commonwealth will take out all the election pages from the newspaper delivered to your room and also block the news channel.
At the Kimpton Taconic in Manchester, Vermont, rates are 45 percent off through November 13. Management will also confiscate your cellphone (if so desired) and replace the television from your room with an adult coloring book.
Travel advisors like the family-run Virtuoso are also curating special selections of destinations that, while not offering specific "election escape" packages, are great spots to get away from all of the toxic noise. You may even end up not using your return ticket.
No televisions at the Koh Rong Archipelago in Cambodia either, where from your room perched on a dock on the Gulf of Thailand you can soak up the sun and escape the political chatter.
"That's part of the magic of what hotels do," said Clifford. "They take us out of normal reality and routine and give us a different window to look into our lives. And if that needs to be edited to get rid of this divisive banter, then it's a creative way for the hotelier to handle what is typically a slower time period."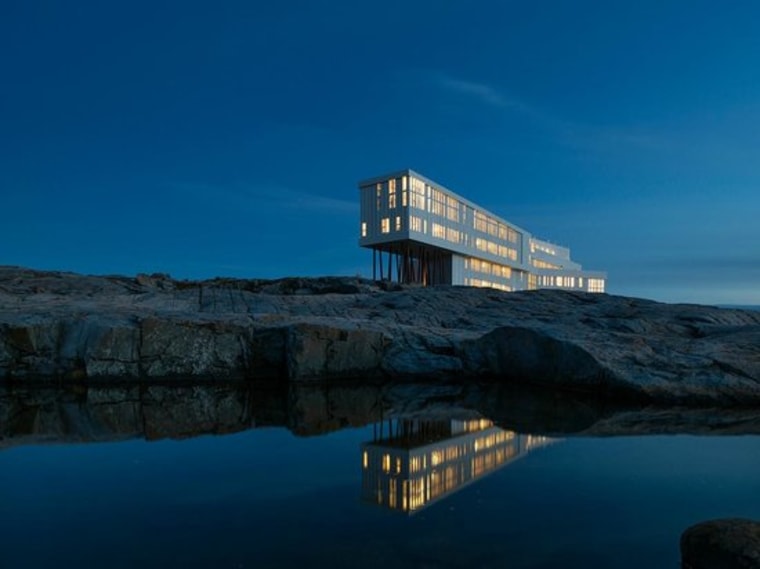 But if you really want to get away, try the deal at the Fogo Island Inn. Located on a remote rock off the coast of Newfoundland in Canada, travelers thinking about moving up north if their candidate doesn't win can simply extend their stay.