It's not even Halloween yet and the nation's retailers are already looking forward to the all-important holiday shopping season. And if the predictions are correct, American consumers are planning to spend significantly more than last year.
The National Retail Federation expects sales in November and December (excluding autos, gas and restaurants) to jump 3.6 percent from last year to $655 billion. The NRF's Holiday Forecast 2016 has non-store sales — 90 percent of which is e-commerce — growing by seven to 10 percent to as much as $117 billion.
"We think this forecast is a very realistic one and a very, very positive one for the industry," said Matthew Shay, NRF's president and CEO, during a recent teleconference. "All the fundamentals are in a good place."
An improving economy — steady job growth and higher income — has resulted in greater consumer confidence and a willingness to spend more, Jack Kleinhenz, NRF's chief economist, pointed out during the teleconference.
"They have more money in their pockets," he said. "They've had expanded use of credit, but they haven't overleveraged themselves… which gives them the ability this holiday season to use a little bit more credit if necessary."
Kleinhenz also noted that there's been "a considerable amount of deflation" in the retail market in the last few years. This means shoppers can buy more with fewer dollars.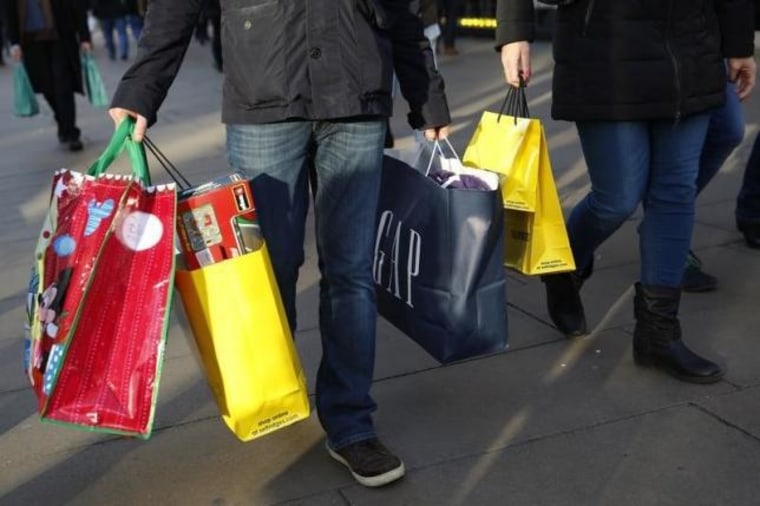 Will the election be a factor?
Many people are focused on the election right now, but retail analysts don't expect this to have a negative impact on holiday sales. Americans appear to be shrugging off the gloomy picture of the economy painted by some candidates, they say.
"Once the election distraction is over, we kind of get back to normal, and nothing cures the uneasiness of a crazy election better than a great sale," said Marshall Cohen, chief industry analyst with the NPD Group.
According to The NPD Group's 2016 Holiday Purchase Intentions Survey, stronger holiday spending intentions – up three percent from last year – are a sign that even this year's intense election cycle has done little to dampen consumer confidence going into the holiday season.
"The biggest issue is the absence of new and exciting products," Cohen told NBC News. "Consumers are going to have more anxiety over what to buy than how to pay for it."
When people don't know what to buy, they tend to turn to traditional items, Cohen said. That's why he predicts clothing, fragrances, toys and electronics – even liquor and wine – will be some of the big winners this year.
The digital component
Technology is changing the way we shop and the way we engage with retailers, making it easier to get the information we need to make smart buying decisions. Retail experts expect this digital component to be an even bigger factor this year.
"It's shaping the overall experience," said the NRF's Kleinhenz. "Consumers really possess substantial amounts of information and power that makes it incumbent upon retailers to find new ways to engage with really customized, personalized, meaningful kinds of opportunities in order to make customers and shoppers feel like that's the retailer for them."
Digital interactions, regardless of the device, will influence two-thirds (67 percent) of every dollar spent in-store this holiday season, according to the annual shopping forecast from Deloitte.
"The trend to watch is the way that online, mobile, and store channels influence each other," said Rod Sides, Deloitte LLP vice chairman, in a statement. "Large e-commerce players and digital platforms such as Facebook and Pinterest are shaping what people think a great shopping experience is – a fast, highly curated assortment with access to visuals, information and buying sources."
Have you started shopping yet?
While most people don't get serious about gift shopping until closer to Thanksgiving, millions of Americans have already started.
In fact, a survey of 1,000 adults by CreditCards.com conducted in mid-September found that 14 percent had done some holiday shopping. One percent said they had already finished! Extrapolate those results, as the website did, and that means 34 million Americans have started holiday shopping – and one million are already done.
The NPD Group finds that earlier shopping correlates with bigger spending. Twenty-seven percent of heavy spenders (those who expect to spend $750 or more) had already started shopping by September. This compares to 24 percent of midlevel spenders ($300-$749) and just 17 percent of low spenders.
"Just because you shop early doesn't mean you're not spending carefully," Cohen told NBC News. "Earlier shoppers tend to take advantage of the sales and often buy things for themselves."
Early shoppers in the NPD Group survey were more likely to comparison shop than late shoppers (45 percent vs. 21 percent). They also plan to buy all of their gifts on sale (38 percent vs. 21 percent of late shoppers).
The ghosts of holidays past
As we all know, good intentions don't always translate into action. It's not uncommon for people to spend more on holiday gifts than they intended.
For example: 16 percent of the people in the NPD Group survey said they'd planned to cut back on spending last year, but more than 20 percent said they wound up going over their budget.
Another noteworthy finding: Twenty two percent of the shoppers who used credit cards to make some of their holiday purchases last year are still paying off that debt.
Greg McBride, chief financial analyst at Bankrate.com, says it's really important to develop a budget and stick to your plan.
"There's a real risk for people who get a little euphoric at the holiday season and then get a nasty surprise in January," McBride said. "An entire year of good work on the financial front can be squandered in the last month or so of the year, if you go overboard with your holiday spending."
Herb Weisbaum is The ConsumerMan. Follow him on Facebook and Twitter or visit The ConsumerMan website.