Thanks to recent minimum-wage hikes in about three dozen cities and states, there's a good chance the barista pulling your double nonfat latte got a pay raise this year.
And depending on where you live, those higher wages might have added a few pennies — or a few quarters — to the price of your morning caffeine fix.
Economists have a rule of thumb that says when fast food wages go up by 10 percent, prices should increase by an average of 0.7 percent – or only about a penny more on each dollar of food.
But coffee seems to be a different animal. While some coffee shops have held prices steady after minimum wage increases, prices for a cup of joe or a cappuccino have in many cases risen much more than anticipated by the economists, a spot check by NBC News shows.
Based on the formula, for example, a cup of coffee in Oakland, California, should cost about 2.5 percent more after a 36 percent minimum wage increase to $12.25 earlier this year — one of the biggest jumps in the country.
But Farley's Coffee raised prices 10 to 20 percent — 50 cents for a cup of coffee, compared to about a dime predicted by economic models — at its three San Francisco Bay Area locations, said owner Chris Hillyard.
"Obviously our costs to do business went up significantly with the wage increase," said Hillyard, who worked with other small businesses on a campaign to educate customers about impending price increases. "The revenue had to come from somewhere."
We found more examples of steeper-than-expected increases in the price of coffee in other cities with higher-than-federal minimum wages.
In Chicago, where the minimum wage hit $10 on July 1, the first step on the way to $13 an hour by 2019, Ipsento Coffee increased prices 6.7 percent, well above the 1.4 percent predicted by the economists' formula. To reduce the sting for customers, owner Tim Taylor now offers an 8-ounce latte for the same price he used to charge for a 12-ounce cup.
"It's sort of like a tax we have to pass on to our customers," Taylor said. "It affects everybody, and I think that's the intent, to share the burden."
Taylor and other independent coffee shop owners say they are increasing wages faster than required and passing some of those costs on to customers, who are generally supportive.
In Seattle, for example, Zoka Coffee expects to start most employees at $15 by next year, several years ahead of schedule, said Alen Fikic, the company's president. Zoka recently raised prices at its three locations by a quarter across the board, or about 8 percent on a latte, and a second 25-cent increase is probably inevitable, Fikic said.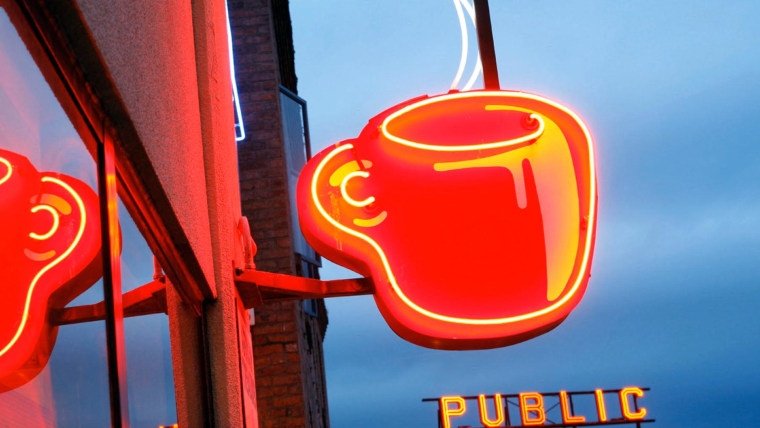 Starbucks also introduced modest prices increases this month, despite the falling cost of coffee beans. The company did not say whether higher minimum wages were a factor, but it hiked prices 3.5 percent in the Seattle area compared to only 1 percent nationally, the Seattle Times reported.
The relatively steep price increases weren't anticipated by economists like Daniel Aaronson, a Federal Reserve Bank of Chicago expert who has studied the effects of minimum wage increases.
Since coffee shops tend to have fewer workers making the minimum wage than the typical fast-food restaurant – the industry expected to be most impacted by the wage increases – it figures it should have less of an impact on them, he said.
The predicted price increase for fast-food outlets "is very much an upper bound estimate for coffee shops," he said. "I would expect the effects to be smaller there."
Informed of the price hikes uncovered by NBC News, he speculated that they could reflect "pent-up demand for raising prices" to cover rising costs in addition to labor. A public event like a minimum wage change gives businesses an excuse to implement overdue price increases, he noted.
"It's announced — all firms have to raise wages for their lowest wage employees on this date — and it kind of gives this nice reason to the public as to why you're raising your prices," Aaronson said.
But the coffee equation is complicated, and shops in some other cities where wages have been jacked up have held the price line.
"No employer is happy to pay more, but on the flip side, it's real important to be able to retain your staff and not have huge turnover."
Mark Warmuth, owner of Swing's Coffee Roasters in Washington, D.C., where the minimum wage is up 27 percent from two years ago, said the summer's wage increase was "kind of a non-event for us."
While coffee drinkers would be expected to pay just under 2 percent more as a result of the D.C., minimum wage increase to $10.50 on July 1, Warmuth noted that his company has historically paid workers at its two cafes and roastery more than the minimum.
"No employer is happy to pay more, but on the flip side, it's real important to be able to retain your staff and not have huge turnover," Warmuth said, echoing predictions by some economists that reduced turnover among workers could offset up to a quarter of labor cost increases.
In the long run, though, the biggest change at your local coffee shop as a result of the higher labor costs might not be the extra quarter tacked onto the price of a latte, but who's making it.
Duncan Goodall, the owner of Koffee? in New Haven, Connecticut said he expects to raise prices to pay for higher wages under the state's new $9.15 minimum. But he also might invest in systems that allow him to scale back the number of employees.
"It's going to give people like me the incentive to use less and less labor," Goodall said.