We've come a long way from the soda fountain: Drugstore giant CVS announced Thursday it's cutting back on candy in favor of healthy food.
CVS Health's retail division, CVS Pharmacy, unveiled a new store prototype that shrinks the amount of space allotted to sugary snacks in the overall footprint and particularly at the front of the store, giving that real estate to healthier food, "health-focused" items like vitamins and supplements, and cosmetics with more natural ingredients.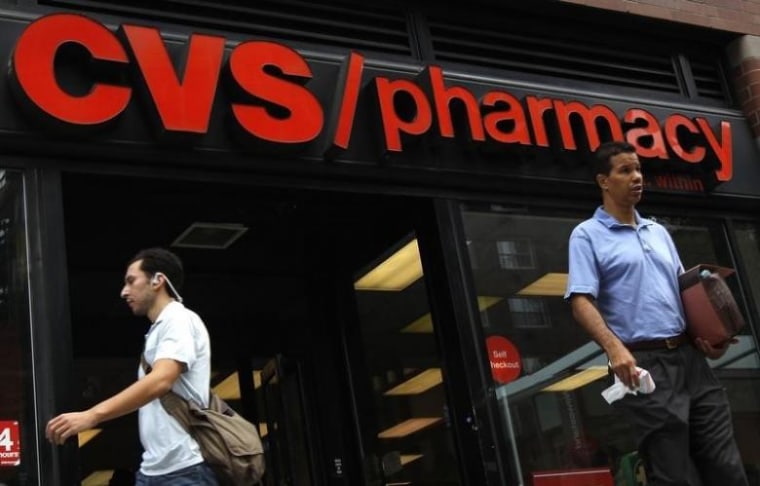 CVS Pharmacy president Helena Foulkes said in a statement that the new layout, which devotes about 100 additional square feet to these health-conscious categories and will be in hundreds of CVS stores by next year, was a response to changing customer preferences and shopping habits.
"As we identify key elements that resonate, such as new product assortments, health services and other in-store experiences, we will find ways to bring them to life," she said, drawing a parallel to the chain's decision to stop selling tobacco products three years ago.
Sugar Is the New Tobacco
"It seems pretty clear that CVS has a fairly serious approach to trying to create a healthier environment in its stores," said Marion Nestle, a professor of nutrition at New York University, pointing to the 2014 tobacco ban.
"If they're looking at ways in which they can promote sales of healthier items, more power to them," she said.
Matthew Harding, associate professor of economics and statistics at the University of California - Irvine, said that a more diverse customer base and an influx of millennials — who are picky about what foods they eat, but not where they buy them — were challenging nontraditional food outlets like pharmacies and convenience stores.
"How can you stand out not in what you sell, but how you sell it, is the big issue every retailer is looking at," said Jeff Lenard, spokesman for NACS, the National Association of Convenience Stores.
"There is no sugar or anti-sugar customer," he said. While a customer might come into a convenience store today seeking a nutritious snack, "They also may come in the next day and want a candy bar," he said.
Mixed Messaging
In addition to the new store footprint, CVS says it plans to roll out more and better signage that will indicate to customers which foods and other items are better for them.
"Products that fit nutritional and dietary preferences including heart healthy, good source of protein, gluten free, sugar free, organic and non-GMO project verified, are highlighted with shelf tags," the company said.
NYU's Nestle said these kinds of cues can be helpful, since much of the messaging consumers get about health and nutrition is based on marketing and can lead to misguided choices.
"If you put organic on a label, people think it has fewer calories…"
"A great deal of choices of these kinds aren't made on rational grounds," she said. "If you put organic on a label, people think it has fewer calories… that's a sort of immediate reaction you're not conscious of," she said.
"It's very hard for us as consumers in an industrialized production setting to know what's going on," Harding said. While a grocery store in the middle of the 20th century might have had a few hundred different items on the shelves, today that number is more likely to be around 50,000.
This barrage of messages has shifted America's dining habits, although not always for the better: Bottled water sales grew nearly 9 percent last year, eclipsing those of soft drinks for the first time, a watershed moment in a secular decline that has soda giants like Coca-Cola and Pepsi searching for new beverage offerings to offset lost market share.
So What Is Healthy?
But while Americans might have gotten the message that carbonated sugar water isn't good for you, there's still a lot of confusion about what is good for you — a determination made all the harder by the enormous amount of processed food we buy and consume.
"Another major trend that we're seeing in the market is the number of health-related claims being made on products by manufacturers has increased quite dramatically," Harding said. "I think consumers are becoming more and more responsive to those kinds of claims but it's all very relative."
As a result, we tend to categorize food in ways that make sense to us but might not add up from a nutritional standpoint. "Things aren't necessarily good or bad in an absolute sense… so we choose some reference point," Harding said.
This is why you might be dismayed to discover that your granola bar has as much sugar as a candy bar — or that a fancifully colored "Unicorn" Frappuccino from Starbucks could have as much as 76 grams of sugar, as many social media users were this week when the coffee giant announced the limited-edition beverage. (Sugar or not, though, Starbucks was quick to point out via Tweet that the drink's vibrant hues come from natural, not artificial, sources.)
This disconnect is because of a common "mental shortcut" we take to help us evaluate what we eat, said David Just, a professor of economics at Cornell University who works within the school's food and brand lab.
"Unfortunately, we pay much closer attention to the gist of a product than we do to the nutrition content. We use the marketing, the name and social norms of a product to determine whether it is healthy or not," he said.
By thinking coffee instead of milkshake (the Unicorn Frapp's culinary cousin), for instance, "We can rationalize these foods and ignore the sugar," Just said.