If your undying passion for Disney movies has been the real obstacle to finding true love, a new dating site may be just what you need.
MouseMingle, which launched earlier this week, touts itself as "the place to connect people who love Disney and who want that same magic in their relationship."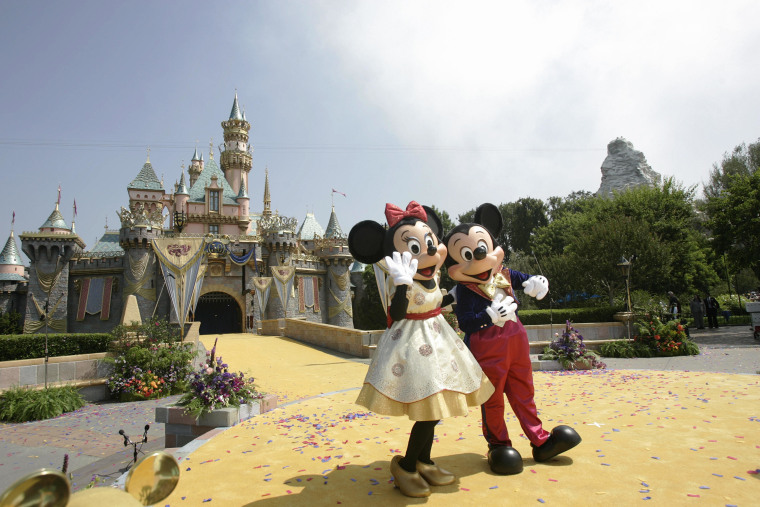 The site is the brainchild of Dave Tavres, a longtime Disney fan and former Disneyland engineer. "I found it hard to find women who were as interested in Disney as I am," he told Los Angeles Magazine, explaining that the idea for MouseMingle came from his frustration that other dating sites had "no way to narrow down the searches to find women in the right distance and age range who loved Disney."
Response to the site has been so overwhelming that it was unable to keep up with new registrations for a time this week after its launch on Monday.
"We are far more popular than we planned for -- on the second day!" read a note on the site's Facebook page, addressing the glitch.
'Star Wars'-Themed Lands Coming to Disneyland, Disney World
"Waiting patiently," wrote one of many soon-to-be MouseMinglers as the site was under repair.
The site works on a "freemium" plan – it's free to browse, but costs $12.55 to make contact with a member. The "55" is a reference to 1955, the year that Disneyland, the company's first theme park, opened in Anaheim, California.
Upon joining the site, members are asked to indicate whether they're just looking for a "Park Pal" or a more serious relationship. They also need to confess their "Disney nerd level" -- ranging from "I'm THE Disney person at work" to "I still have a lot to learn."
Members can check off various settings to help zero in on the best match, including identifying their favorite princes and princesses, listing any annual park passes or other Disney passions (Cruise Line, Cosplay, "Star Wars," etc.), and defining their Disney paraphernalia shopping habits.
Some non-Disney devotees are nonplussed by the idea of an all-Disney dating site.
Dating Site Scammers Tear Up Hearts, Empty Wallets
"There are several things I look for in a partner," Alicia Fico of Afton, New York, told NBC News. "Having similar interests is definitely a big one, but I don't think limiting the dating pool to ONLY people who love Disney is going to do me any favors. Loving Disney shouldn't be a make or break -- for any couple."
But for people who love Disney, the site seems a no-brainer. "Great idea!" wrote MouseMingle fan Traci Riley on the site's Facebook page. "I was always afraid someone would think I'm nuts with my Disney love."
MouseMingle may be the only Disney-oriented dating site, but it is far from being the only niche site. In addition to the now-famous Farmers Only, JDate, and ChristianMingle, newcomers to the specialized dating market include GlutenFreeSingles (where you can enjoy life with a gluten-free partner) and 420singles, where "we take away the awkwardness of revealing your love of Cannabis."