DealDash, one of the largest and best known "penny auction" websites, has been accused of operating an "illegal gambling site" and using a "widespread deceptive marketing campaign to lure customers" to the site, according to the advertising watchdog group Truth in Advertising (TINA.org).
Earlier this month, TINA.org filed complaints against the company with the Federal Trade Commission and with attorneys general in Connecticut, Massachusetts, Minnesota, New York, Pennsylvania, and Washington, D.C.
"DealDash's marketing claim — that consumers can generally expect to win items on the cheap — is simply not true," Bonnie Patten, TINA.org's executive director, told NBC News.
And in April, a California man filed a federal lawsuit against DealDash that also accuses the company of using deceptive marketing, and running what it calls "perverse lotteries in which U.S. consumers have lost tens of millions of dollars in [a] fraud-induced pursuit of sham merchandise."
Here's the deal with DealDash
Millions of people looking for bargain prices on a wide assortment of products — home appliances, jewelry, luggage, art, even drones — find their way onto DealDash.com, which markets itself as "the fair and honest bidding site."
But DealDash's auctions function very differently from eBay or a typical auction you might have seen in the movies.
Unlike auctions where only the highest bidder pays, everyone who participates in these "all-pay" auctions ends up paying, even if they don't win the item.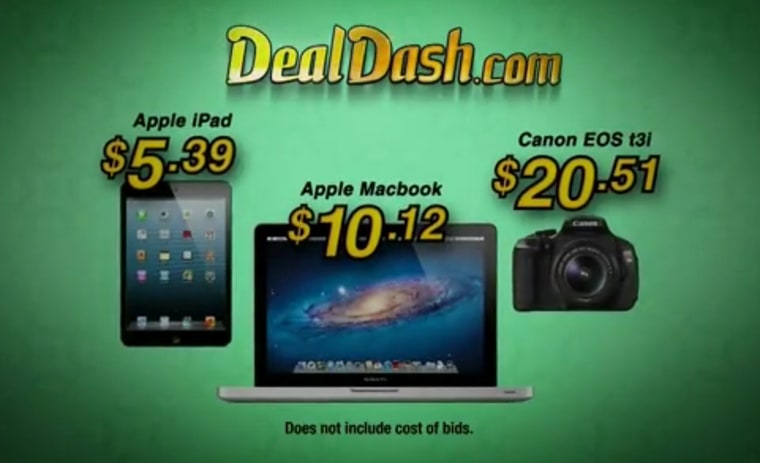 Meanwhile, DealDash can make hundreds of dollars in excess of the item's value.
It's a little confusing but here's how it works:
The savings advertised on TV, in online ads and social media posts seems incredible — "up to 90 percent or more" on high-quality electronics and other consumer goods. One TV ad shows three brand name items that sold for a fraction of their retail price: an iPad for just $5.39, a MacBook for only $10.12 and a Canon EOS camera for just $20.51.
But in order to make any bids, customers must buy from the site "bid packs" — bundles of several hundred to several thousand bids sold for 13 cents apiece.
Every auction starts at $0. Let's say you pay make the first bid on a digital camera with the retail price of $100. That moves the final auction price up one cent.
Then you walk away from your computer and come back and other people have up bid the price to $20, representing 2,000 separate bids.
You make another bid and the price moves up to $20.01. No one else places another bid before the auction ends and you win.
The final cost to you is $20.26, the final item price plus the cost of the two bids you placed at 13 cents apiece.
All the other customers, at a few cents or dollars at a time, then will have collectively paid $260 in bidding fees to DealDash and gotten nothing in return except for the thrill of the chase. They can also press a button to have their bids refunded and buy the item at full retail price.
TINA.org says very few bidders actually get a deal on DealDash. And it claims the company's ads are misleading because they don't show the actual out-of-pocket cost winners paid to buy the merchandise.
A customer can even pay more than the item is worth. TINA noted the case of $100 gift card that sold for over $115. DealDash could have grossed $1,497.47 for the $100 gift card while the non-winning bidders who didn't opt to then buy it at full retail price lost the money they spent playing.
DealDash's video ads often have a small disclosure that reads: "Does not include the cost of the bids," but those ads never say how much the winner actually paid for that item.
"You can walk away having lost money, even if you don't win the item," Patten told NBC News.
During its investigation, TINA.org found that the 2015 edition of the DealDash terms of use cautioned users that they were "likely to spend more money than [they] may receive in merchandise value," a statement that has since been removed.
Quality concerns raised
Grant Pstikyan, who spent thousands of dollars on the site, claims DealDash promotes huge savings on quality goods, when many of the "luxury brands" sold on the site are actually cheap generics.
In his lawsuit, Pstikyan states that he won the auction for a travel bag made by Bolvaint – Paris with a retail value of $2,900. He says he spent more than $878 to buy the bag ($164, plus the approximately $714 on bids).
"This Bolvaint bag does not have a 'value' or regular price of $2,900 as DealDash represents to consumers, nor is it even worth the approximately $878 that the Plaintiff spent on it as a DealDash 'Winner,'" the lawsuit contends.
"We think they're getting generic items that are cheaply made and, more importantly, don't have any legitimate consumer demand anywhere else in the world," attorney David Harris, Jr., one of the lawyers handling the Pstikyan lawsuit, told NBC News.
DealDash fires back
DealDash denies all of the allegations by made in his suit and by TINA.
An attorney representing the company said in an emailed statement that DealDash is highly rated by its customers on Facebook (4.3 out of 5 stars), TrustPilot (9.1 out of 10 stars) and SiteJabber (84 percent positive).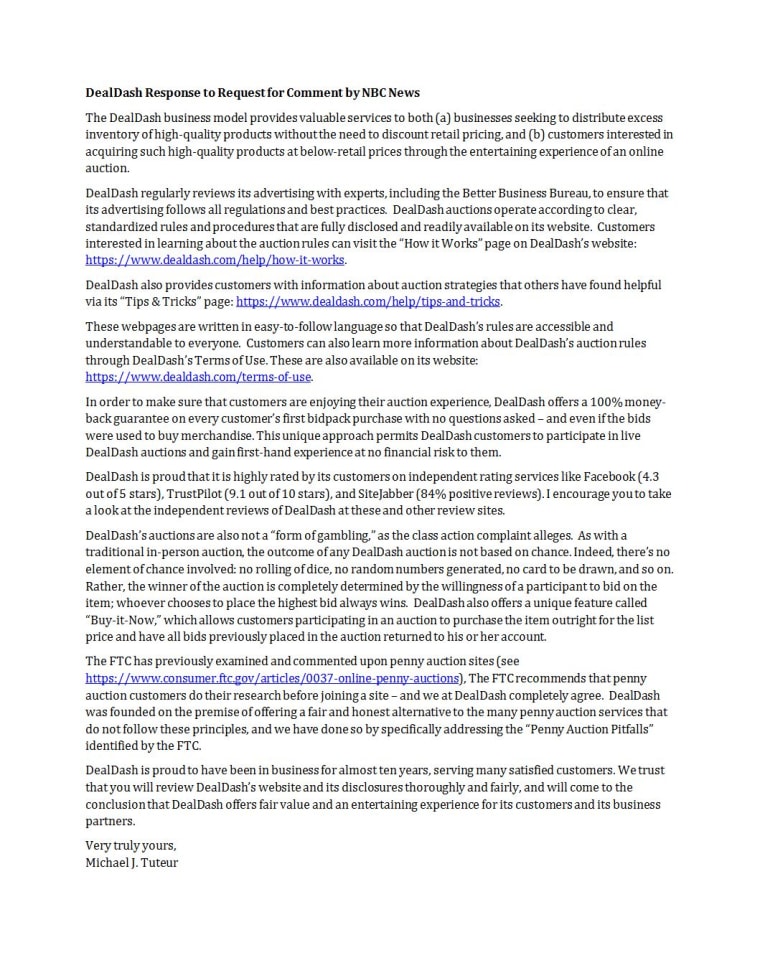 "DealDash offers fair value and an entertaining experience for its customers and its business partners," attorney Michael Tuteur said in an email. "DealDash's auctions are also not a 'form of gambling' as the class action complaint alleges. As with a traditional in-person auction, the outcome of any DealDash auction is not based on chance."
"Indeed, there's no element of chance involved: no rolling of dice, no random numbers generated, no card to be drawn, and so on. Rather, the winner of the auction is completely determined by the willingness of a participant to bid on the item; whoever chooses to place the highest bid always wins."
DealDash has proudly proclaimed that it's a Better Business Bureau accredited business with an A+ rating. But the BBB website currently shows DealDash is NR or Not Rated because information on the company is being updated.
What's Next?
In its complaint letter to the Federal Trade Commission and the six attorneys general, TINA.org noted that the FTC's Consumer Sentinel Network received 642 consumer complaints against DealDash since March 2011. Nearly two-thirds of these complaints deal with refund issues.
In its ads, DealDash promises a "100 percent money-back guarantee. No questions asked." But this no-risk offer only applies to the first bid pack purchased and there are a number of other exceptions.
The FTC would not comment on TINA.org's petition. The agency did acknowledge receiving it.
Attorney Harris hopes the lawsuit his client filed in federal court against DealDash will eventually be certified as a class action suit.
"Based on our investigation, it appears that consumers have lost probably millions of dollars on DealDash," Harris told NBC News. "We're going to try to get something done for the victims of this company."
Herb Weisbaum is The ConsumerMan. Follow him on Facebook and Twitter or visit The ConsumerMan website.