Martha Stewart, the queen of homemade, will be preparing her Thanksgiving dinner from a box this year — and she'd like you to do the same.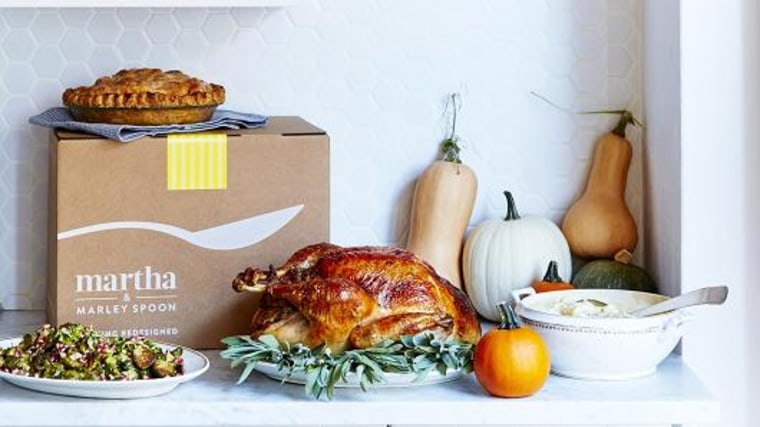 Meal kit delivery service Martha & Marley Spoon announced Monday that it will be offering a Thanksgiving box featuring Stewart's favorite Thanksgiving recipes. The kit includes all the ingredients needed to make a holiday dinner for eight to 10 people, including a 12- to 14-pound free-range turkey. (Stewart is a partner in the delivery service, which uses her recipes for its weekly menus.)
"Like any big dinner party, which is basically what Thanksgiving is, you have to sort out 'What am I making?'" Jennifer Aaronson, culinary director of Martha & Marley Spoon," told CNBC. "So you are probably pulling recipes from places [and] trying to sort out the menu. So, we've solved that."
Customers can expect to receive step-by-step recipes and preportioned ingredients for Stewart's classic stuffing with dried cherries, cream cheese mashed potatoes, roasted Brussels sprouts and brown butter apple pie.
But don't expect shortcuts like cubed stuffing mix or premade pie crust. The Martha & Marley Spoon box is shipping out loaves of bread and fresh vegetables that you'll have to dice, saute and bake yourself.
"It will certainly simplify the preparation of Thanksgiving dinner for the family or for the family and guests," Stewart told reporters at a press event last month.
"I usually have about 40 people for Thanksgiving, so I'm going to buy six kits," Stewart said at the event. "I'm going to be cooking from the kit this year."
The full meal kit with the turkey is priced at $179; customers can also opt to just purchase the side dishes for $119. Consumers do not need to subscribe to the ongoing Martha & Marley Spoon service to purchase the Thanksgiving box.
"Most people spend at least $50 on the turkey itself," Aaronson said of the meal kit's cost.
Last year, the American Farm Bureau Federation said the average Thanksgiving dinner for 10 cost about $50.11. The organization noted that the average cost of a 16-pound turkey was about $23 in 2015. The AFBF has yet to release this year's figures.
Customers can order the Thanksgiving box from Martha & Marley Spoon until November 15. The turkey is expected to arrive frozen on the Saturday before Thanksgiving and the rest of the box is slated to be delivered on Tuesday or Wednesday of that week to ensure freshness.