Different dates for different states? That's what new research from the mobile dating app Clover would suggest.
The Toronto-based service analyzed data based on its 1.5 million users and discovered that dating trends vary from place to place, with certain regions showing a strong bent toward very specific interests. For example, based on the findings, Oklahoma has more "socially awkward singles" than any other state, while New York has the largest amount of daters seeking interracial relationships, and Seattle has the most "nerds into nerds."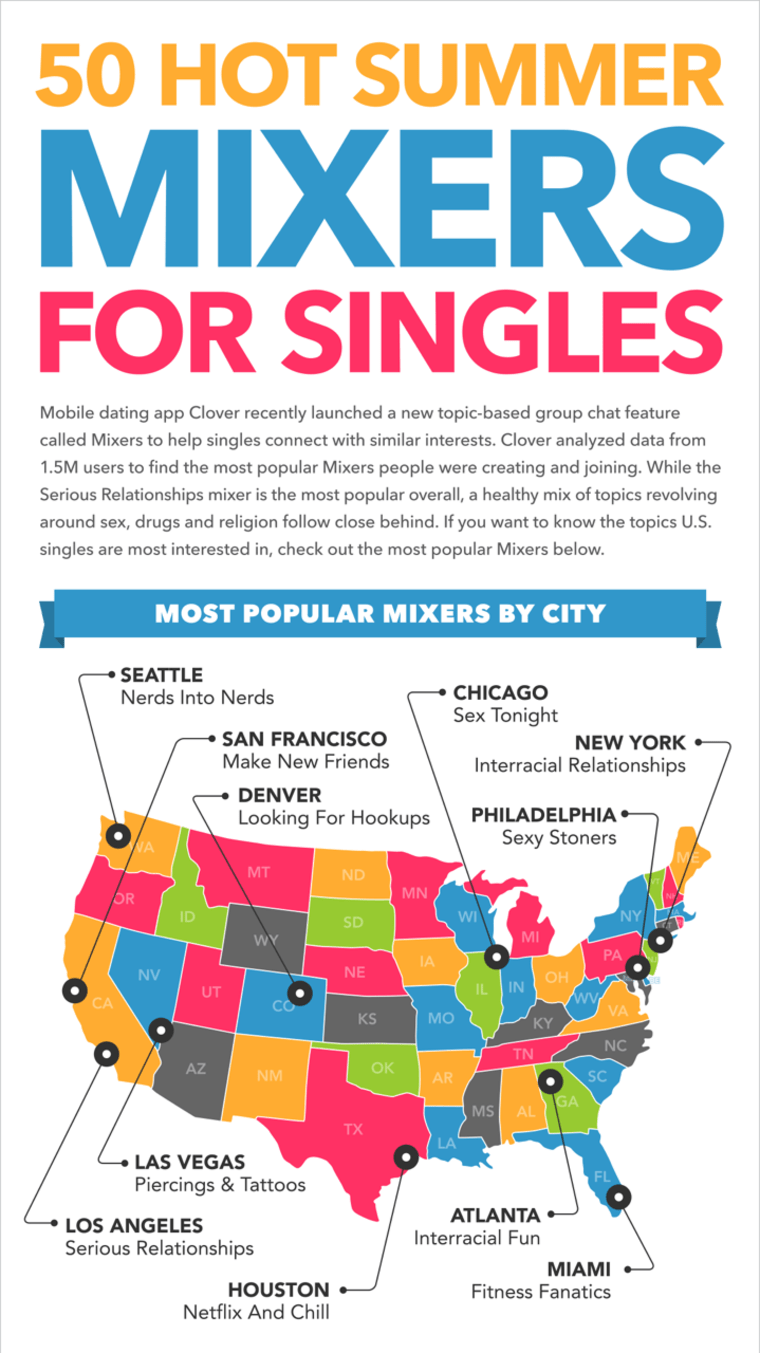 Clover analyzed data from its Mixers service, a feature that enables users to form and join groups based on interests, and to set up real life mixers, aka in-person hangouts. Isaac Raichyk, CEO of Clover, came up with the concept of mixers as a way to motivate people to mingle, and to bring back some of what he missed about the dating world before the rise of the Internet.
"I'm a bit older and I used to go to mixers where you could meet people," said Raichyk. "It's not a direct date, it's more like a party, and if you hit it off with someone, you can take the conversation elsewhere and leave. That was the vision, but like everything else [involving] social media, it took on a life of its own. All of a sudden you have people chatting, it became more topic-based."
Mixers has about 600,000 active users total, Raichyk said, and they're forming all kinds of fun groups, with location proving to be a key factor.
"We looked at all the mixers state by state to see what was popular where — and made some interesting discoveries," said Raichyk. "In Alabama, we found that the top mixer was 'White Men For Black Women,' and in New York we found the [most popular] was 'Netflix and Chill.'"
"We looked at all the mixers state by state to see what was popular where — and made some interesting discoveries..."
In some states, the most popular mixers appear not to be centered around romance so much as the prospect of making new friends. In Mississippi, the most popular mixer is 'Tall Girl Problems;' in Minnesota, it's 'Snapchat Buddies.' Then you've got the states that are dominated by more explicitly intimate interests, like Montana with 'BDSM' as its top mixer and Texas with 'Sex Tonight.'
"I've got no idea where any of the ideas for these come from, or why [certain mixers] are popular in a place," said Raichyk. Experts in psychology and dating fields, on the other hand, may find some rhyme and reason to the regional trends.
"According to studies, Oklahoma comes up at the top of the worst states in the country for overall mental health including rates of anxiety disorders," said clinical psychologist Dr. Kim Chronister, referring to the city whose most popular mixer is 'Socially Awkward Singles.' "Social Anxiety is a mental health condition and although it is treatable, unfortunately, the majority of Oklahoma residents receive no treatment due to lack of access of help."
Shawnda Patterson, dating coach, Youtube vlogger, and author of "The Dating Game: How to Find Yourself While Looking For Mr. Right," wasn't surprised by most of Clover's findings.
"Minnesota may not have the nightlife and social scene to present daters with viable options for finding companionship," Patterson said, noting that Minnesota's most popular mixer is 'Snapchat Buddies.' "Daters may look to social media in an effort to create more opportunities for themselves to socialize with other available daters. It's attempting to widen their dating pool. Such is the case for Alabama men being open to dating black women when Alabama is more noted for discouraging interracial dating than promoting it."
While interests tend to differ by region, there are some mixers that are gaining popularity across the map.
"In two days the Pokemon mixer went up to 3,000 people," said Raichyk. "Some mixers have been at the top for a long time, and the most successful one has been 'Serious Relationships Only,' which has a picture of a diamond engagement ring, and is close to 50,000 participants. 'Netflix and Chill' has been popular for a while but is slowing down recently."