In Bell, Calif., residents of the relatively poor, mostly Hispanic city nearly rioted after discovering that their city manager was earning about $800,000 a year. And he wasn't the only overpaid worker on the city's payroll.
This week, as eight Bell employees and officials were arrested and a nearby town fell under scrutiny for the same excesses, California Attorney General and gubernatorial candidate Jerry Brown demanded a list of every state and local government employee earning more than $110,000 annually -- or about twice the median household income in L.A. County during 2008.
So we got to thinking: What about the rest of the country? At a time when the world of private sector employment is dominated by layoffs, wage freezes and uncertainty, shouldn't taxpayers know which public employees in their communities earn more than $110,000? Or at least know who's earning taxpayer-funded salaries of more than double or triple the median household income in their region, and why?
Maybe your town has an $800,000 city manager too. If so, we want you to tell us about him or her. Below, we'll give you a few tools to get you started.  But first, here's what I found when spinning around various government pay databases available online.
Not surprisingly, government worker pay has become a politically charged issue during this extended recession.  With most states facing dire budget crunches, and collectively facing a mind-boggling $2 trillion obligation for future pension benefits, many elected officials have trained their eyes on public employees' salaries. In New Jersey, which has the highest property taxes in the nation, Gov. Chris Christie rode into office last November in part by tapping into this frustration.
 "(There are) two classes of people in New Jersey: Public employees who receive rich benefits and those who pay for them," he said earlier this year at a gathering of city mayors.
Government workers do generally have it better than private-sector workers at the moment.  Studies disagree about the size of the advantage – some claim government workers earn 50 percent more than their private-sector counterparts when benefits like pensions and health-care coverage are included.  And even conservative estimates show government workers on the lower end of the wage scale earn 5 percent to 10 percent more than similarly qualified private-sector workers.
But perhaps most important, while the economy has shed some 8.4 million private-sector jobs during the recession, public sector jobs have increased by 2 percent in the past three years, according to the Manhattan Institute for Policy Research, in part thanks to the Obama administration's stimulus plan. Clearly the burden of economic anxiety during the recession has not been evenly spread.
That makes government workers an easy target for a frustrated populace. There's even a blog for the topic now, called overpaidgov.blogspot.com, not a bad place to start when looking for examples of outsized government paychecks.
It's relatively easy to discover federal workers' salaries, and in fact, that's a popular sport among the dating set in Washington D.C. ("Ooh, and the guy I went on the blind date with makes $89,000 at the Department of Commerce!"). Data on state and local government workers is much harder to come by, and that's part of the reason local officials, such as City Council members in Bell, manage to pay themselves $100,000 for part-time jobs. So we will focus on state and local government workers in this project.
Bell's story, however  dramatic, is hardly typical.  Local and state salary databases I scoured reveal a hidden army of teachers, child welfare workers and health professionals who earn salaries that are barely livable. 
In Missouri, where median income is $46,000,it's easy to find a youth facility manager earning $28,000, a state trooper earning $35,000, a firefighter earning $40,000, a public defender earning $42,000. Perhaps not surprising, the hardest jobs sometimes return the least compensation: The maximum salary for a mental retardation assistant in Texas is $26,700. The median salary is $20,000, and there are nearly 5,000 of them in Texas.  Plenty of public servants do an amazing job for fair -- or less than fair -- pay. 
Happy cops, prison doctors, and psychiatrists
But the flip side of this story -- the Bell side -- is dramatic. Online salary look-up tools revealplenty of surprises.  For example, it's good to be an experienced firefighter or cop in Yonkers, N.Y. – 19 of the 20 most-highly-paid workers in New York state's 62 cities are Yonkers' uniformed men and women.  Well, men. (Note "cities" do not include municipalities designated as towns or villages in New York. There are another 33 municipal workers earning more than $200,000, and one earning more than $300,000, in the smaller New York hamlets).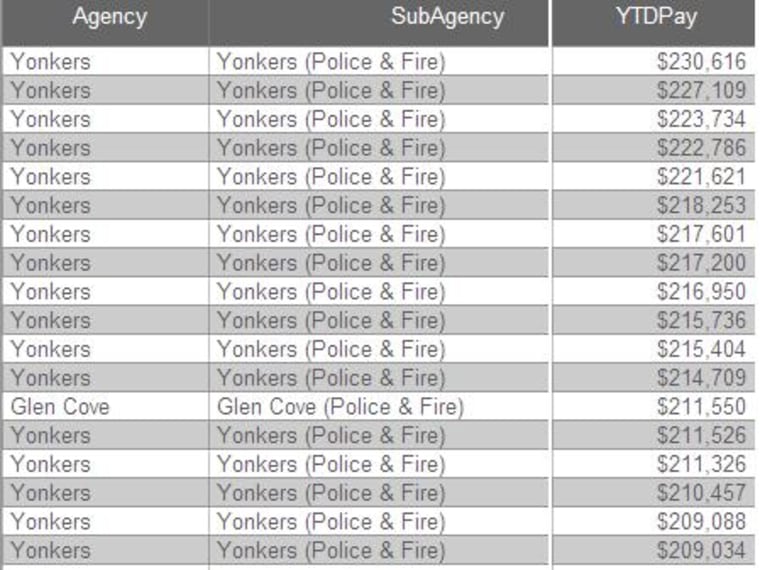 It's also good to be a prison doctor in Oregon. No doubt it's hard to find qualified doctors who want to work with incarcerated patients. But here's a list of people earning four or five times the median household income in Oregon (about $60,000).
!-- vine-media type="pad" id="17" -->
In Ohio, mental health professionals and IT workers are among the most highly paid. One IT manager in "administration services" earned $125,000, plus $19,000 in overtime. Ohio's median family income, which has been dropping, is around $46,000. Meanwhile, there are 182 employees earning more than $100,000 in Ohio's Mental Health Department, including one who earned $234,000 and $83,000 in overtime pay.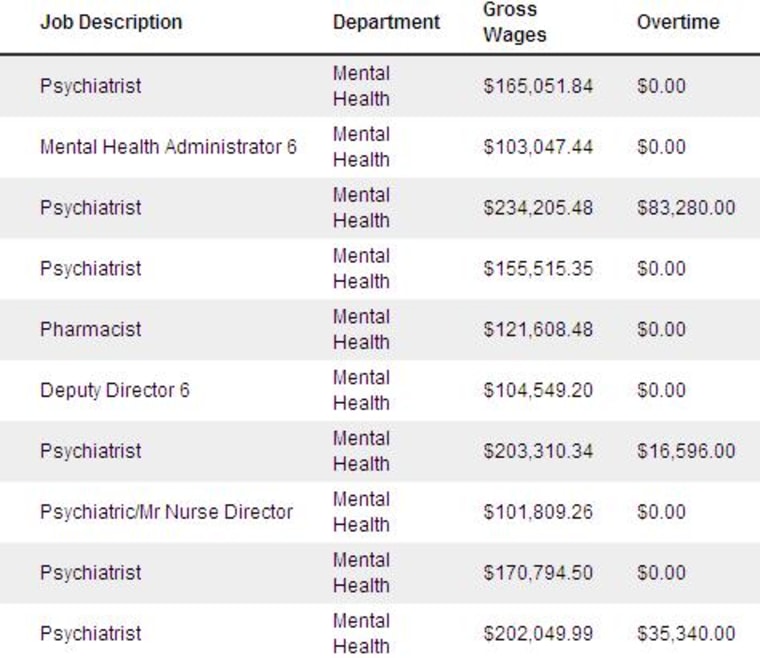 Of course, in many states, it's good to be a university professor – particularly, of medicine. UCLA has at least five med school professors earning more than $750,000. But it's even better to be a college sports coach. In Texas, the five most highly paid state employees are all coaches, each earning more than $1 million a year. (First is University of Texas' football coach Mack Brown, at $5.1 million annually; Gail A Goestenkors, the UT woman's basketball coach, earns just more than $1 million). But here's an irony: Among the best paid employees in every state is someone with a title like "Chief Investment Officer," who manages pension investing. In South Carolina, that job is worth $350,000 a year, for example. In Oregon, where the investment officer's salary is tops in the state, it's $318,000.
In aggregate, some salary numbers are staggering. Texas has 12,000 state workers earning between $100,000 and $200,000. California has 400 employees with salaries over $400,000 (an attempt to find out how many earned more than $100,000 crashed the look-up site). In New Jersey, where police officers earn the top salaries in the nation, 6,100 of the 20,000 cops earn more than $100,000 per year. In Texas, meanwhile, cops who actually have to live with criminals – correctional officers – earn about $35,000 per year.
Stories like these led the conservative Heritage Foundation to host a symposium this week called "Are Government Workers Overpaid" , where the organization argued that "government workers have experienced little of the economic downturn."
One simple demonstration that government workers are overpaid is the number of applicants for new openings – and the low rate of turnover, or quit rate, among government workers, said James Sherk, a labor economist at Heritage.
"Federal employees leave their jobs at one-third the rate of the private sector," he said. "By their own actions, they are saying they think they are getting an amazing deal."
Of course, the truth is far more subtle, particularly among state and local government employees. It's untrue that they haven't felt the recession.  Secretary of Education Arne Duncan said earlier this year that between 100,000 and 300,000 teachers around the country faced layoffs this year. And the Economic Policy Institute says state and local governments have shed 282,000 jobs since April 2008.
Last week, the institute – a labor-friendly, liberal think tank -- released a report designed to tamp down outrage over public payrolls titled "Debunking the Myth of the Overcompensated Public Employee." It argued that government workers are more experienced and more highly skilled than their equivalent workers in the private sector, so they deserve higher pay. And when controlling for that difference, the report concluded, government workers are slightly underpaid.  
How can that be, with databases full of six-figure-salaried government workers?
Think back to Oregon's prison doctors, or Ohio's psychiatrists and IT consultants.  In many cases, it's obvious that government pay can't keep up with pay scales at high-paying jobs.  Physician specialists, for example, forgo private sector salaries which could easily reach $500,000 or more to work in those Oregon prisons.  On the other hand, lower-skill workers tend to do very well in government jobs, the Economic Policy Institute's report conceded.
"The public/private earnings differential is greatest for doctors, lawyers and professional employees," it said. "… (But) high school-educated public workers are more highly compensated than private sector employees, because the public sector sets a floor on compensation. The earnings floor has collapsed in the private sector."
It's that collapse which has led to increased scrutiny of government worker pay, and to the extreme politicization of the compensation issue.
So what's the truth? Are government workers overpaid or underpaid?  It's wrong to even attempt an aggregate apples-to-apples comparison. Local and state government workers earn about $1.1 trillion in wages and benefits each year, according to Heritage. Mapping that to $1 trillion in earning power at private companies is a nearly impossible task.
That's why individual anecdotes are so powerful, and why we are turning to you. Maybe you live in a Bell, too?  Do a little digging, and tell us what you find.  We've decided to focus on state and local government employees, since egregious salaries at that level of government can go unnoticed for a long time. Bell's city manager, for example, was earning nearly $500,000 annually back in 2005, according the the Los Angeles Times.
Look up your state.  Find your county officials. Keep in mind, you may have to use different tools to find state, county and local salary information.  Include some context – a $100,000 salary is far from upper class in New York, but would do quite nicely in rural Mississippi.  The more context, the better.
Here's an example: The good folks at Southern California Public Radio recently published a list of the highest-paid city managers in California, divided by population to make comparisons easier. The results were fascinating. The city manager of San Jose, with 1 million residents, holds a $273,000 salary, for instance, while the manager of tiny Vernon, with a population of 96 people, earns $211,000.
E-mail me your findings at BobSullivan@feedback.msnbc.com. You can post comments below, too, but we won't publish comments on specific individuals until we've had the chance to do some follow-up, but general comments are welcome.
Better yet, Tweet about this story by clicking here and ask your friends to join you in your search.
You can also recommend this story, and this quest, to friends on Facebook.