Move over Crate & Barrel, the piping hot new place to register for your wedding is Domino's Pizza.
The budget-friendly pizza chain has launched a wedding registry site. Couples can enter their names and info and their friends and family can buy them pizza for before, during, or anytime after their wedding.
There are options for bachelor and bachelorette parties, wedding receptions, or a "low-key date night" down the road.
"Valentine's Day is right around the corner, so we wanted to give recently engaged couples who are passionate about pizza the chance to register for something they both truly love as much as their partner," said Domino's spokeswoman Jenny Fouracre.
"Choosing wedding gifts can be a daunting process, especially if couples can't agree on what to register for. Our registry aims to bring couples together over their shared love of pizza."
All the pizza gifts will come in the form of e-gift cards than can be used to order food on Domino's website.
One of the agencies working on the project was CP + B, previously known for creating those creepy "Wake up with the King" Burger King ads.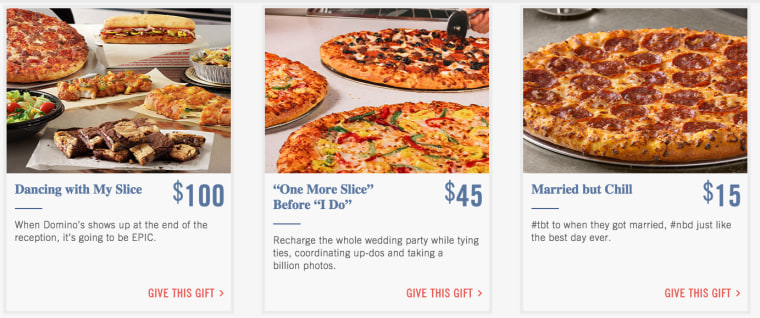 The resulting marketing stunt may sound a little weird, or awesome, depending on your taste. But it actually just creates a formal process around a behavior the chain already saw happening with its customers.
"We hear often from customers that Domino's was a part of their big day, from proposals to after-hours meals at their wedding," said Fouracre. "We wanted to make it easier for people to ask for and receive something that they'll really use." Unlike that hideous crystal goblet from Aunt Carol.