Oh, deer.
In celebration of the start of hunting season, the Arby's restaurant chain will start selling a venison sandwich.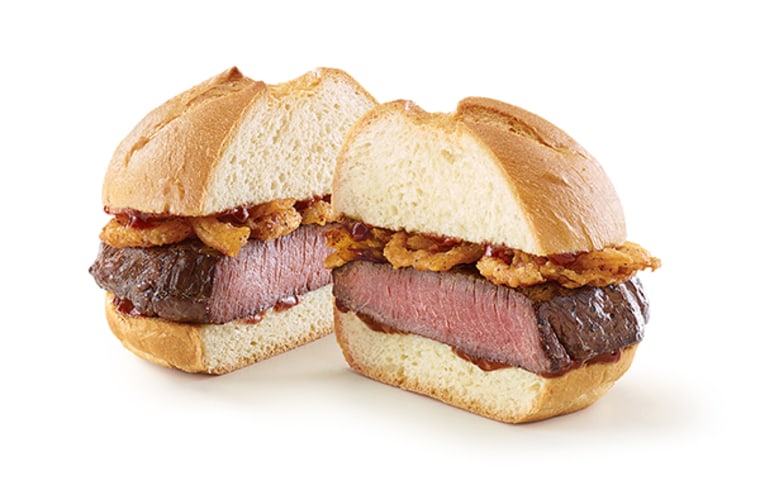 The new menu item is made from premium cut top and bottom round steaks from the hind quarters of free-range farmed deer, the company said this week. The meat is marinated and then cooked for three hours before being served atop a toasted specialty roll with crispy onions and topped with a "Cabernet steak sauce infused with juniper berries."
"Hunters hunt the meats, and we have the meats, so it makes sense for us to connect with them and offer a sandwich that they can't get at any other restaurant chain," said Rob Lynch, Arby's Brand President and Chief Marketing Officer, in a statement.
Although it's part of a national "It's Meats Season" advertising campaign, the deer sandwiches will only be sold in 17 restaurants in six states located within deer hunting areas.
But branding experts say that doesn't matter. "Whether or not a customer lives in a market where the venison sandwich is available, hearing about this campaign will reinforce favorable attitudes among those who appreciate Arby's 'We Have the Meats' slogan," Vanderbilt University marketing professor, Steven Posavac, told NBC News.
For the past few years that carnivorous campaign has included videos thatpretty much just show a giant slab of uncooked flesh.
"Arby's new venison sandwich does do two things," said Posavac. "It builds on Arby's positioning as the best place for hard-core carnivores, and drives brand awareness."
The venison sandwich is also a response to increasing consumer demand for higher-protein offerings. In the past few years, companies have been amping up their snacks, bars, shakes, Cheerios, water, and even beer, by adding extra protein.
"Bringing venison to our menu also allows us to continue to set ourselves apart from the competition when it comes to proteins," Lynch told USA Today. "You simply can't find this at other restaurant chains."
Just don't expect any Bambi toys to come in the kiddie meals.