Are basic automotive know-hows like changing a flat tire and changing the oil becoming a thing of the past?
A new survey by CheapCarInsurance.net suggests that knowledge once considered commonplace by drivers is...not so commonplace anymore.
"America's Automotive IQ: Analyzing Automotive Knowledge in the U.S" surveyed 2,000 car owners and found that quite a few people, especially in younger demographics, aren't too savvy in basic car-related tasks.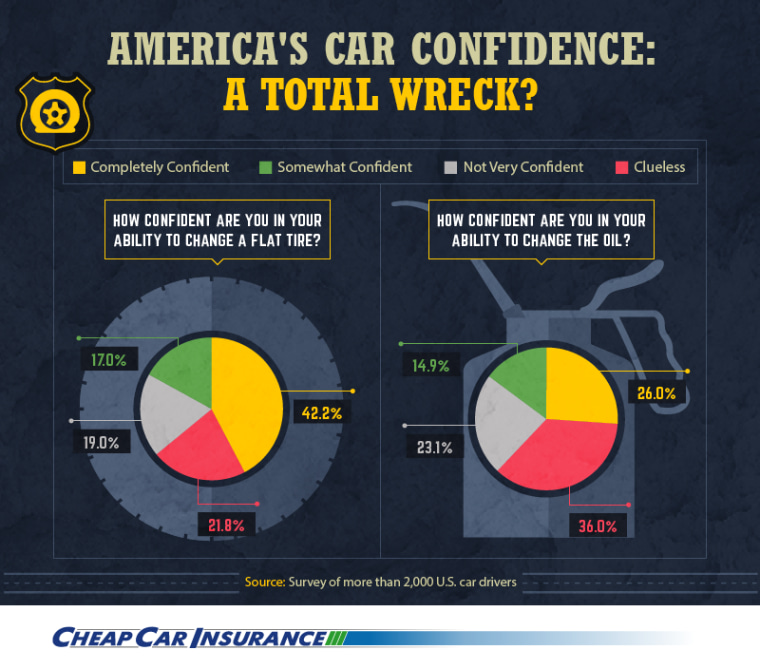 Of those polled, 42.2 percent said they felt confident that they could change a flat tire, 17 percent claimed they were somewhat confident, 19 percent said they were not very confident, and 21.8 percent stated they were "clueless."
Even fewer drivers know how to change their car's oil: 26 percent stated that they were confident, 14.9 percent felt somewhat confident, 23.1 percent felt not very confident, and 36 percent identified as clueless.
Jamie Lin, project manager at CheapCarInsurance said the survey was conducted as a means for the company to gain insights into how popular basic mechanical skills are nowadays. But there was a deeper curiosity for Lin, who had been reading various articles suggesting that millennials weren't as savvy about auto mechanics as previous generations. He wondered if perhaps fewer young people are becoming mechanics now than in the past.
"I was driving down the street listening to the radio and an ad came on seeking car mechanics," said Lin. "It's interesting. I thought, 'Is there a gap in jobs there?'"
The study didn't examine that question specifically, Lin noted, but it did confirm that those millennials surveyed had less hands-on knowledge about car mechanics than Gen Xers and baby boomers.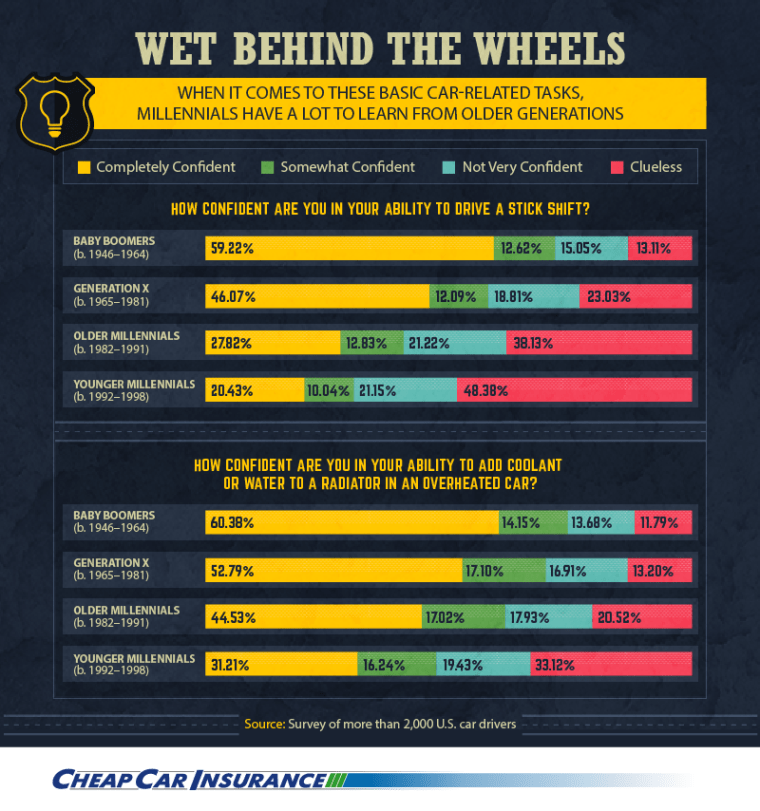 Of the Baby Boomers queried, 59.22 percent felt confident driving stick, while only 27.82 percent of older millennials felt confident doing so, and just 20.43 percent of young millennials did.
This stat doesn't so much speak to the incompetency of millennials as it does to the evolution of automobiles. Stick shift cars aren't nearly as common as they were in the boomer heyday, so it makes sense that a fair amount of millennials would be clueless as to how to operate a stick shift.
Another aspect of the study where boomers came up as not so capable was in-car technology.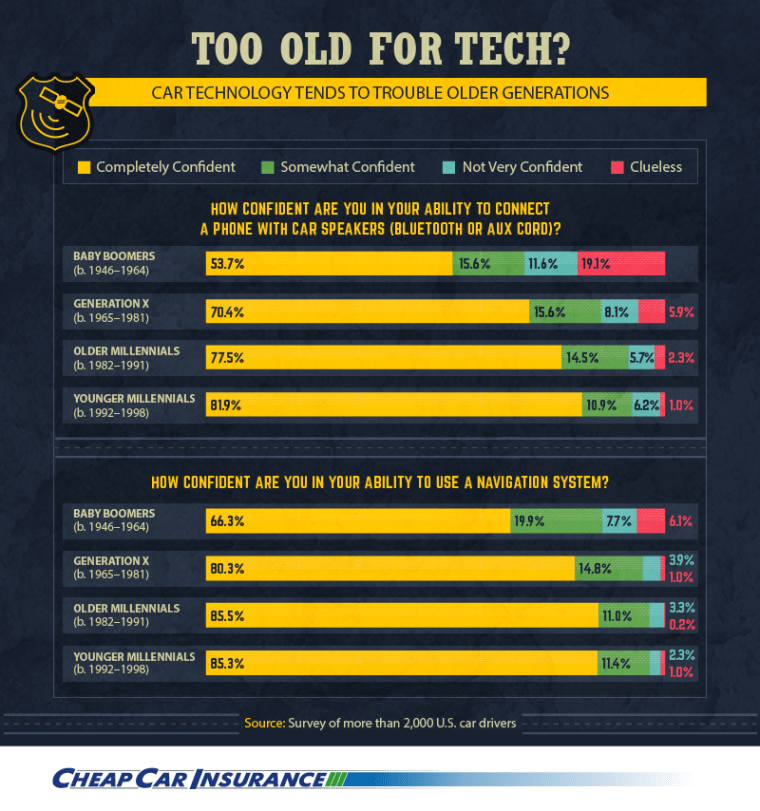 When asked how confident they were in their ability to connect a phone with car speakers using Bluetooth or an AUX cord, 53.7 percent of boomers stated they felt very confident; 77.5 percent of older millennials felt very confident, as did 81.9 percent of younger millennials. When it comes to operating an in-car navigation system, the millennials also surpass older folks in confidence.
Millennials may not generally have the same degree of manual knowledge about cars as their parents, but on average they have a stronger grip on technological knowledge, one that can actually help them change a tire and so on.
"Millennials can just Google or YouTube 'how to change a tire' if they need to," said Lin. "My opinion is that they don't feel that same need to know that their parents did, because they can easily look up the answer online or on the phones."
Knowledge is still power
Easy access to online tutorials are certainly helpful, but there's something to be said for having a basic understanding of car-related tasks.
"Motorists [are paying] less attention to vehicle maintenance than it deserves," said Michael Calkins, manager, technical services at AAA, adding that while most modern vehicles are typically very reliable and require servicing much less frequently than in the past, having some DIY knowledge about your automobile can help drivers avoid problems and stay safe — especially if you're off the grid.
"Every driver should read the owner's manual and familiarize themselves with these simple do-it-yourself checks that help ensure safe driving," said Calkins. "For those who live in urban and suburban areas, [perhaps] it's not that important. On the other hand, the more one travels off the beaten path, the greater the value in being able to change a tire or perform minor repairs — you might find yourself out of cell phone range and help could be a long time coming, depending on the location, time of day and amount of other traffic."
Are you car smart?
The study also found some geographical discrepancies. People in New England tend to be the most confident about car-related tasks and repairs, while people in the West Northern Central region of the U.S are the most clueless.
But confidence doesn't equal intelligence. The study found that 79.1 percent of New Englanders answered car-related questions correctly, and that those who answered the most erroneously were drivers in the Pacific with a whopping 75.7 percent stating the wrong answer. The Eastern Southern Central region of the U.S scored the highest, with a score of 82.8 percent.