Just as Starbucks was feeling the burn from pastors, social media users and even Donald Trump over its plain red holiday cup, Dunkin' Donuts turned up the heat — apparently inadvertently — with a seasonal vessel filled to the brim with Christmas cheer.
As it does every year, the doughnut and coffeehouse chain recently released its own holiday cup. Like the Starbucks cup, it doesn't explicitly say "Merry Christmas," but the white Styrofoam cup does feature symbols associated with the holiday, including green snowflakes and the word "JOY" written in red cursive.
Some of those offended by Starbucks' simple, agnostic holiday design, which has been branded by some critics as part of a "war on Christmas," have embraced Dunkin's more festive approach and lauded the brand on social media.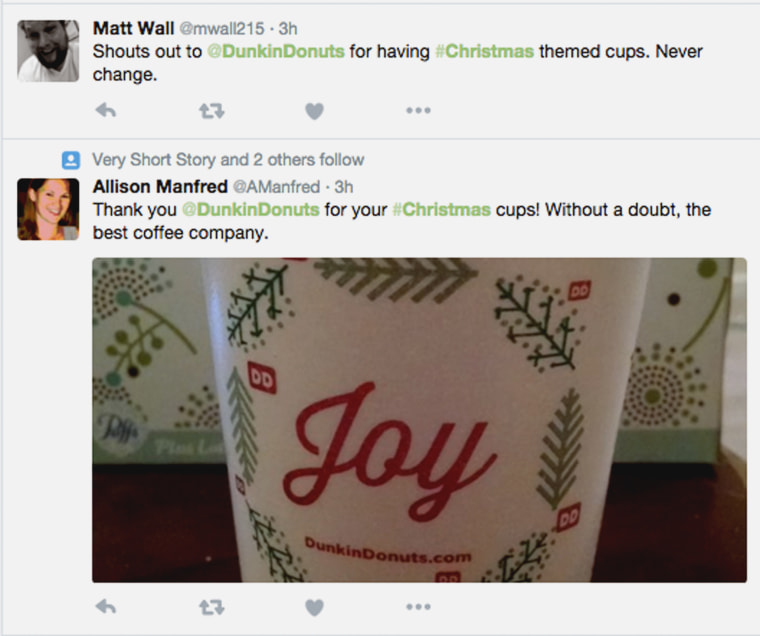 There was speculation on Wednesday that Dunkin' Donuts designed its holiday cups in direct response to the Starbucks controversy and to win over consumers miffed by Starbucks' blank slate approach.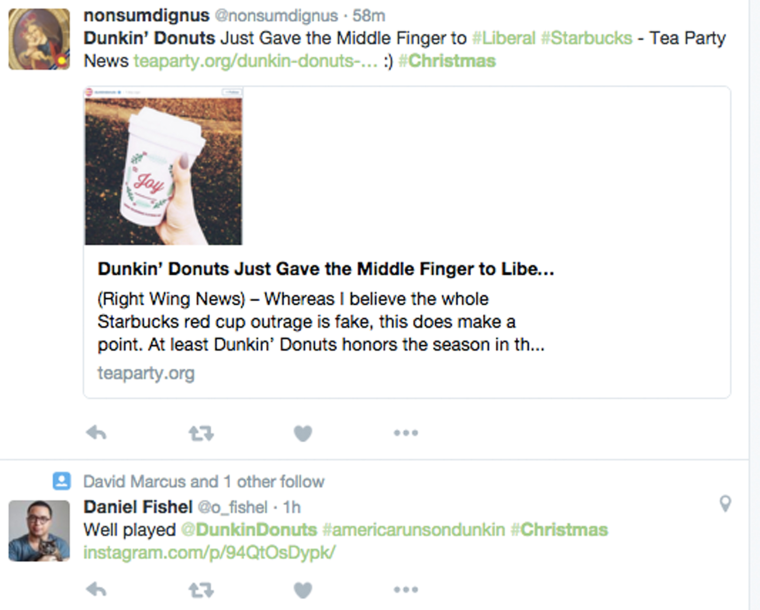 Dunkin' Donuts insists the cups are a part of its holiday tradition and were not a response to the Starbucks' controversy.
"For many years Dunkin' Donuts has served coffee in festive cups featuring the word 'joy' as part of our annual celebration of the season and holiday offerings," Dunkin' Donuts said in an e-mail statement to NBC. "We believe this conveys the happiness and spirit of the holiday season in a way that resonates with our guests."
Starbucks declined to comment on the controversy or Dunkin's entry into it.
But isn't the timing just too perfect? And the opportunity to win over newly converted Starbucks haters just too big? Isn't this the kind of move marketing mavens dream of?
Is Starbucks Waging 'War on Christmas'? Red Cup Stirs Controversy
The answer to all those questions is "yes," but it seems clear that Dunkin Donuts was simply going about holiday business as usual and lucked into this marketing victory.
Dave Tupper, creative director at the Brooklyn-based design agency, Huge, says that there's no way that Dunkin' Donuts, or any company working at that level of mass production, could have engineered such an involved product release so quickly.
"Even if you had zero approval and the design was finished, it would still take at least a month or two months to get it printed and distributed," Tupper told NBC. "Even local manufacturers take a couple months to produce something (like this) and Dunkin Donuts is certainly printing its cups in China."