When it comes to clicks versus bricks, a new report shows customer satisfaction with online shopping is actually down from last year — while supermarket customers report an increase in satisfaction. But the war isn't won yet.
The internet remains the most satisfying place to shop, though online retailers showed "signs of strain" and dropped 1.2 percent to score an 82, according to the new American Customer Satisfaction Index (ACSI) Retail Report.
This suggests that "despite its place atop all retail industries, there are still improvements to be made," the report noted.
While supermarkets and drugstores have figured out how to keep their customers satisfied — at least for now — department stores, discount stores and specialty retailers are slipping. The retail sector as a whole scored 78.1 out of 100 points, down slightly from an all-time high of 78.3 a year ago.
"As the volume of internet sales grows, we're seeing some challenges to keep up with the demand," said ACSI Managing Director David VanAmburg. "Online retail still has much better satisfaction than brick-and-mortar, so there's nothing for internet retailers to be overly concerned about, but it's certainly something they will need to be watchful about as we move forward."
The ACSI Retail Report 2017 is based on interviews with more than 50,000 customers chosen at random and contacted by email from Jan. 5 to Dec. 13, 2017.
Department and discount stores continue to struggle
Customer satisfaction with department and discount stores dropped 1.3 percent since last year for an ACSI score of 77. Faced with strong online competition and dwindling foot traffic at shopping malls around the country, nearly every large retailer in this category saw weaker customer satisfaction.
"We're seeing a drop in convenience of store locations and hours, which is not surprising because many of these big retailers have been closing stores," VanAmburg told NBC News. "We're also seeing a decline in the speed of checkout, store cleanliness, and less frequent sales and promotions — which definitely upset consumers."
Costco tops the list with a score of 83 (unchanged), followed by Nordstrom at 81 (up 1 percent). Three superstores tie at 80 for third place: BJ's Wholesale Club, Sam's Club, and Fred Meyer (Kroger). Dillard's, which took first place last year, dropped 5 percent to 79. That puts it on par with JCPenney, Kohl's and Meijer.
Related: Walmart announces raises and bonuses — and store closures
Macy's and Target both dropped 3 percent to score a 77, but Target still trounced Walmart — which once again was at the bottom of the list at 71, down 1 percent from last year. Walmart is working to build its online business, "but according to customers, it still lags competitors in many aspects," the ACSI report noted.
Sears, which closed about 400 stores in 2017, saw satisfaction fall 5 percent to 73. To boost revenue, Sears is now selling its popular Kenmore home appliances on Amazon.
Dollar Tree (77, down 4 percent) beat Dollar General (73) which landed in second-to-last position after falling 6 percent from last year.
Specialty retail stores also suffer
This category also dropped 1.3 percent from last year, with an ACSI score of 79. However, staff at specialty stores outperformed every other retail category. Customers said they provide excellent service — helpful and courteous — and have a deeper knowledge of the products. The biggest complaints about these stores: items that are out-of-stock and the scarcity of sales and discounts.
L Brands (Victoria's Secret, Bath & Body Works, PINK) led the pack with a score of 85, a jump of 5 percent. It was also the most improved specialty retailer. The report noted that L Brands has been reinvigorating its brick-and-mortar stores, devoting 70 percent of its investments to renovations and expansions.
Cabela's made its debut in this year's ACSI report. The outdoor recreation store came in second with a score of 82. O'Reilly Auto Parts, another new ACSI entrant, tied Barnes & Noble (81) for third place. O'Reilly beat Advanced Auto Parts (79) and AutoZone (78).
Bed Bath & Beyond, Menards and TJX tied at 80.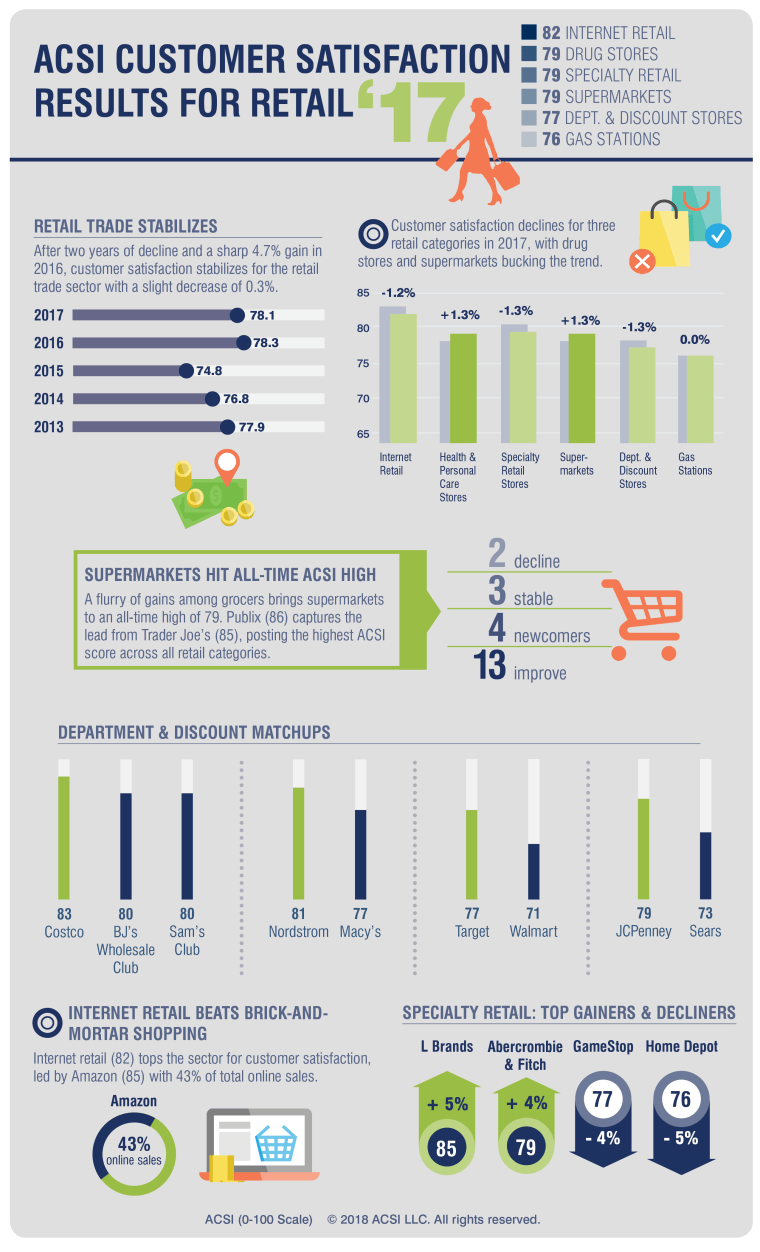 Abercrombie and Fitch jumped 4 percent to 79. This is due in part "to a strategic brand overhaul that appears to be more inclusive, with updated designs for a broader range of body types," the report said.
In other categories: PetSmart (79) moved ahead of Petco (77), Footlocker and Dick's Sporting Goods tied at 78, and Lowe's (78) pulled ahead of Home Depot (76), which dropped by 5 percent. Both Staples (78) and Office Depot (77) saw customer satisfaction drop 3 percent. Toys R Us gained 1 percent to score a 78.
Supermarkets up their game
Nearly every food retailer did better this year, as customer satisfaction with supermarkets rose 1.3 percent to 79. Supermarkets have expanded the variety and selection of their merchandise — including higher quality products and prepared food — and most now offer more organic products. Better customer service and frequent sales and promotions also drove up the scores.
"Supermarkets clearly understand that they have to step up their game," VanAmburg said. "They need to make sure they have all the brands anybody could reasonably want — and actually have inventory on the shelves — and then offer the sales and promotions to get people into the store."
Trader Joe's matches Amazon's score in the internet retail category.
Publix with an ACSI score of 86 (up 2 percent) took the lead this year from Trader Joe's (85, down 1 percent). This makes Publix, the employee-owned grocery chain, the top-scoring company in the entire retail category.
Even though Trader Joe's could not sustain its record high from last year, the ACSI report said customer satisfaction with the store is still "extremely high for a brick-and-mortar retailer." In fact, Trader Joe's matches Amazon's score in the internet retail category.
Aldi and Wegmans (84) tied for third place, just ahead of Costco and Texas-based H-E-B (both 83) and Sam's Club (82). Midwestern chain Hy-Vee and Kroger both gained 3 percent to score an 81 and tie Whole Foods (unchanged). It's too soon to gauge the impact of Amazon's purchase of Whole Foods. BJ's Wholesale Club had an 80.
Walmart takes the bottom position in this category again this year, dropping 1 percent to 73.
Internet retailers
A bit of a surprise here, as customer satisfaction with internet retailers dipped 1.2 percent to 82. Even so, online is by far the most satisfying way to shop. The ACSI report says the decline is the result of weaker scores with the biggest and smallest online retailers, many of them run by brick-and-mortar stores. Amazon, which controlled 38 percent of the online holiday shopping season, according to Slice Intelligence, saw its ACSI score drop by 1 percent to 85. Newegg (83) and eBay (81) were unchanged from last year. Overstock jumped 3 percent to tie eBay at 81.
Customers said the variety and availability of merchandise at online stores is down, checkout and payment isn't as easy as it was a year ago, customer support was seen as declining, and buyers aren't as happy with shipping options. Product images and customer reviews were seen as less useful.
The survey showed that the least appreciated aspect of shopping online is the site-generated product recommendations. There's "ample room for improvement," the report said.
Herb Weisbaum is The ConsumerMan. Follow him on Facebook and Twitter or visit The ConsumerMan website.