The Washington State Attorney General's Office last week filed a most unusual consumer protection lawsuit — charging a Seattle man with running a scheme for nearly a decade where he set up a fake talent agency for adult entertainers in order to trick women into posing nude and having sex with him.
Michael-Jon Matthew Hickey is accused of creating a fictitious business and using deceptive ads with bogus employment offers to find his victims. The lawsuit alleges Hickey offered and advertised commercial services solely for his "own personal gain" and to "satisfy his sexual desires" with no intention of following through on the promised services to help these women find jobs.
Hickey, a 40-year old technology blogger and aspiring photographer, is charged with numerous violations of the Washington Consumer Protection Act and the Commercial Electronic Mail Act.
"This is one of the most egregious scams I've seen as Attorney General," said Washington AG Bob Ferguson in a statement. "Beyond the monetary damage his victims suffered pursuing the defendant's fictional job opportunities, they endured emotional trauma and unconscionable loss of privacy through his deception."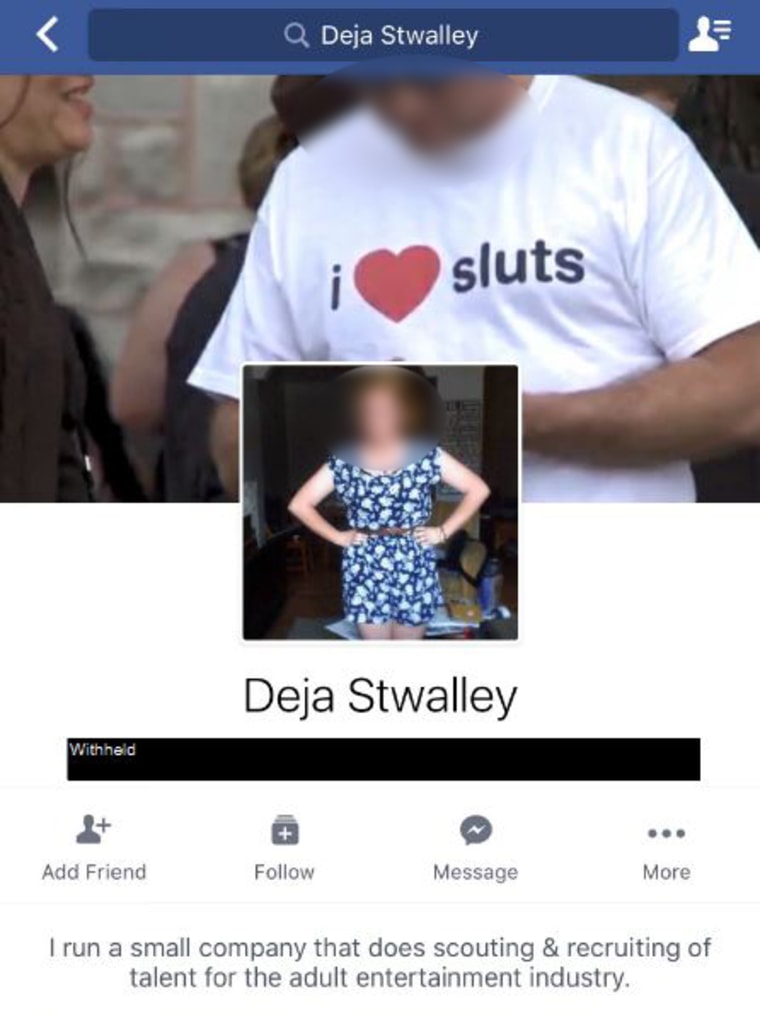 In October, Hickey was charged with three counts of rape. He's currently behind bars in the King County Jail in Seattle. One of those cases involves a woman who said she had an audition and photo shoot with Hickey for a role in an adult movie.
NBC News left phone and email messages for Hickey's lawyer, but did not hear back from him.
Assistant Attorney General Andrea Alegrett, who is handling the consumer protection case, told NBC News Hickey had developed "a sophisticated scam" which involved fake business websites, fictional people, and bogus contact information.
The lawsuit alleges Hickey pretended to be a woman named Deja Stwalley, who claimed to live in Las Vegas where she ran a number of talent companies, including New Seattle Talent, West Coast Talent and FMH Modeling.
The New SeattleTalent website stated: "We work as recruiters and scouts for some of the top studios in the Northwest. Our goal is to be the top recruiting group for girls in America. We're woman-founded and woman-owned, and take the talent's safety and welfare seriously."
Hickey, posing as Stwalley, would contact women between the ages of 17 and 25 via Facebook and offer them a chance to audition for an adult film studio. Stwalley assured each woman that they "TOTALLY have the look they're going for" and could earn between $1,200 and $3,500 a day, the AG's complaint alleges.
"Stwalley" would even give specific details about why a woman was qualified for a high-paying role. The correspondence told one woman that she has the "tats and piercing and a 'smart punk nerd' vibe" that a studio wanted.
The "Audition" Process
To be considered for an upcoming opportunity the women were told they should contact Stwalley's trusted photographer, Matt Hickey, and "audition with one of or our specially chosen hunks."
According to the lawsuit, those "auditions" were a three-step process. It started with a job interview and the signing of legal papers. Next, there was a nude photo shoot by Hickey to get what the company called "mug shots" to send to studio producers. Finally, if the woman agreed, a videotaped "attitude test" — sex with Hickey — that was said to be necessary to secure jobs and verify their willingness to perform sex acts with a stranger.
But it didn't end there. The Attorney General's lawsuit claims Hickey, posing as Stwalley, would stay in contact with the women for months or years. He would write about upcoming roles and potential job offers. Women were told things like, "I got a bite for you" or "I have a ton of producers for you to meet."
Stwalley often would name specific studios that were supposedly looking at the woman's photos. Sometimes, she would propose additional photo shoots, telling them the producers needed newer or better shots.
New Seattle Talent advertised that it was on a monthly retainer with numerous adult film studios, but the Attorney General says Hickey did not have any contacts in the adult film industry. The complaint claims Hickey fabricated the job opportunities advertised and never secured or attempted to secure employment for these women.
Everything Was Fake
"These women did not know that Matt Hickey was the one who was running the business," Alegrett said. "I think it's important to remember that he created a fake profile of a woman online in order to provide that added security."
For the fake profile picture on his Facebook page (deja.casting), Hickey used a photo of a young woman he met while living in Washington, D.C. — without her permission, the lawsuit alleges.
Hickey also created a second fake online profile, Chrissy Baaten, to endorse Stwalley's business. Baaten wrote to one woman: "I'm in the industry. [D]eja hooked me up last year AND I LOVE IT!" Baaten reassured women that they could make money working with Stwalley. According to the lawsuit, Baaten told one woman, "I've made $3,500 already this month and barely got out of bed." All of Baaten's communications were sent by Hickey.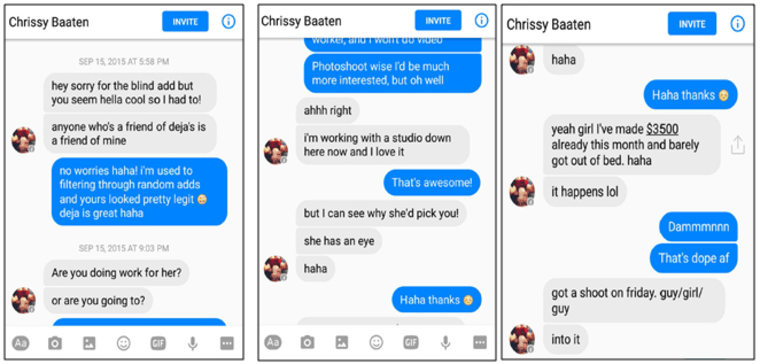 Court Asked to Help These Women
The Attorney General's lawsuit asks the court to order Hickey to stop his allegedly deceptive business practices and fine him up to $2,000 per violation. The state also wants Hickey to give the photos he took, potentially in the thousands, back to the women he conned.
Attorney General Ferguson does not know how many women were contacted by Hickey or how many actually followed through with some portion of the "audition" process. He hopes women who hear about this case will come forward — even if they were only contacted on social media. Use this link to contact the AG's office.
Lessons Learned
Wendy Patrick is an attorney and expert on sexual assault. She also lectures on business ethics at San Diego State University. Patrick told NBC News she was struck by the way these women were targeted — via Facebook.
"It's a sign of the times that he recognized how to solicit these women," Patrick said. "It was easy for him to identify women over Facebook between the ages he wanted. What that tells me is the proliferation of women who have made themselves readily available for contact through Facebook which is the very first place a lot of scammers look because that's the venue where women post their most intimate information."
Digital Security expert Adam Levin, Chairman and founder of Identity Theft 911, said this case shows just how easy it is for someone to use social media for fraudulent purposes.
"For some inexplicable reason, people are often more inclined to give greater initial credence to what they see online than what they are told face-to-face," Levin said. "In this case, the online fantasy was further reinforced by personal physical interactions and on-going communications, all in furtherance of the scam."
Herb Weisbaum is The ConsumerMan. Follow him on Facebook and Twitter or visit The ConsumerMan website.