It's easy to make a mistake when you book a hotel reservation online. In fact, scammers and dishonest businesses are counting on it.
"Just because a webpage looks like the official site of your favorite hotel chain doesn't mean it is," the Federal Trade Commission warned in a recent blog post.
Unlike legitimate resellers such as Expedia, Orbitz, Travelocity and the like, these fake sites use the logos and pictures from the hotel – without permission – to trick travelers into thinking they are on the hotel's website. As bait, they often advertise very low prices, but then add hidden fees that inflate the cost of a stay or take the deposit for a room they never book. And they also could abuse the credit card number and personal information that you provide them.
And those are just some of the problems that consumers who use these sites may face.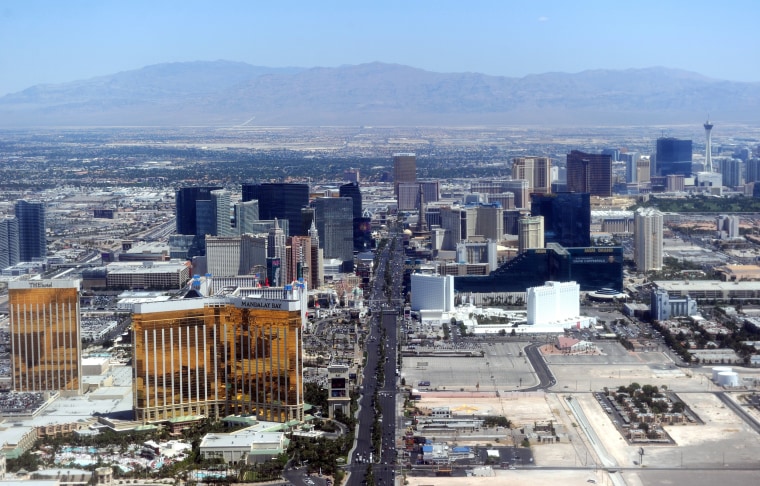 "We've had complaints from people who booked with these sites and had trouble canceling or modifying these reservations or they were charged booking fees that they didn't expect," said FTC attorney Serena Viswanathan. "And some of these are scams where they don't even have rooms."
This is not a new problem. But it's getting renewed attention after Sen. Charles Grassley, R-Iowa, chairman of the Senate Judiciary Committee, wrote a letter to the FTC in May asking it to investigate. This was followed by a similar request last month from the Florida delegation in the House of Representatives.
The FTC does not disclose when it launches an investigation, but Viswanathan told NBC News the agency is monitoring complaints "and if there is a problem, we may start an investigation."
A lose-lose situation
The American Hotel and Lodging Association welcomed the FTC alert, calling it "a sign of progress" that this problem is being taken seriously.
"This is an issue that needs to be addressed," said Vanessa Sinders, the industry group's head of government affairs.
The association estimates that 2.5 million bookings are done via "rogue, third-party businesses" each year, costing consumers an estimated $220 million. These bad bookings can disrupt a business trip or ruin a vacation. Imagine having reserved a wheelchair-accessible room and none is available.
"Sometimes people show up and there's no room, sometimes they see extra charges on their credit card, sometimes they book a room with certain amenities and when they show up at the hotel, those amenities or rooms are not available because they booked on a third-party site," Sinders explained.
That can leave management at the hotel, which had nothing to do with the reservation, in a difficult position. They can't return a deposit they didn't get. And they can't give loyalty points for a reservation they didn't book.
Matthew Kent, general manager of the Best Western Ocean Beach Hotel & Suites in Cocoa Beach, Florida, had to deal with this problem last summer, when people who had booked with a third-party site showed up at his hotel.
"Sometimes it was as simple as they thought they were getting a room on the ocean and they weren't. Sometimes it was more complicated, like a family of five is booked in a room with one king bed," Kent said.
This unauthorized site offered rooms at Kent's hotel at a steep discount. It used the Best Western name and logo without permission, copied photos from the real hotel website, used "Best Western" in its URL and answered the phones "Best Western reservations," he said.
"It puts me in a horrible situation. It's hard to convince them that they didn't book with us."
"We had people show up looking for specific accommodations that we didn't have for them and there wasn't really much I could do except cram them in and make them as comfortable as possible or try to move them around," Kent told NBC News. "They save for months and months to get to the beach in Florida and then it was a nightmare for them."
Kent said he tried to explain that they had booked through an unauthorized reseller, but these unhappy guests didn't always believe him.
Japan Robot Hotel Ready to Welcome First Human Guests
"It puts me in a horrible situation. It's hard to convince them that they didn't book with us," he said. "And these days, when someone is unhappy, they go on Trip Advisor and tell the whole world."
It can happen to anyone
Debbie Greenspan of Bethesda, Maryland, travels a lot for work. She spent 20 years in the hotel business, so she's very comfortable booking a room online. But even she got burned.
Greenspan wanted a room at the Marriott hotel in Westchester, Pennsylvania. She pulled up what she thought was the hotel's website – it had the Marriott logo and picture of the hotel – so she called the number listed.
"They answered the phone, 'Can I help you?'" Greenspan recalled. "And I specifically asked if this was the Marriott and she said, 'This is reservations, I can help you.' I had no idea I was booking through a third-party company. I thought I had contacted the Marriott reservations center."
Greenspan booked the room, but later needed to cancel. She called the hotel and was told they couldn't help her; she needed to contact the company that booked the reservation. That's when she realized she had been snookered.
"They did nothing to help me and could(n't) have cared less. 'You booked and you're screwed; it's your problem,'" she told NBC News. "I was furious. I felt betrayed and embarrassed. If this can happen to me, then the average person doesn't stand a chance, and that really infuriates me."
Even though it wasn't responsible for the problem, Marriott compensated Greenspan for her lost deposit, around $100.
Protect Yourself
There are plenty of legitimate websites that are authorized to book hotel rooms – familiar names that we all know and trust. It's when you do a random search such as "hotels in downtown Boston" that you can get into trouble.
"Your best bet to avoid surprises — look closely at your search results. If you know you want to deal directly with a hotel, take the time to look for signs you might be on a third-party site, like another company's logo. It's also a good idea to find the hotel phone number yourself, rather than rely on what's listed on the site."
Of course, the safest way to make sure you get what you want and don't get burned is to book with the hotel directly.
Remember: Most major hotel chains offer lowest-price guarantees – they promise that you won't find a lower price anywhere else on the Internet. So, be skeptical of any site that advertises unreasonably low prices.
If you fall victim to one of these fake hotel websites, contact your credit card company to dispute the charge and file a complaint with the FTC.
Herb Weisbaum is The ConsumerMan. Follow him on Facebook and Twitter or visit The ConsumerMan website.