Call it a chain reaction.
With the release of the latest "Fifty Shades" movie, lingerie stores and erotic websites are racing to capture consumers' interest in bondage — but are finding stiff competition.
While Main Street stores are taking advantage of the spike in interest in bondage, online sites still dominate when it comes to capturing fans and whipping up sales in the already lucrative industry.
British lingerie brand Coco de Mer collaborated with the Fifty Shades trilogy's author, E.L.James, to create an official Fifty Shades Darker collection, complete with suspender dresses and masks to symbolize lead character Anastasia Steele's sexual awakening.
"E.L. James took inspiration from the Coco de Mer boutique when writing the books, including inspiration for Christian Grey's Red Room," Lucy Litwack, Coco de Mer Managing Director, told NBC News. "The collection has been very popular since it launched, and I'm sure the film's release will boost interest in the collection, [although] it was popular with customers for its colors, silhouettes and the book before."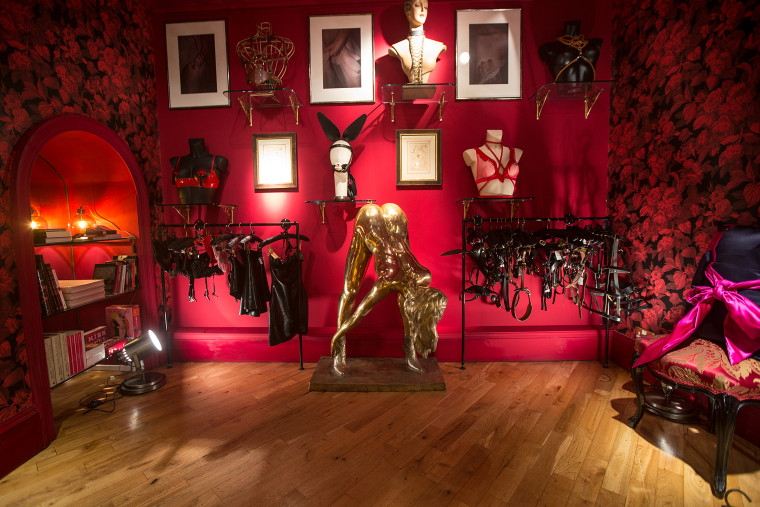 Globally, it would appear that bondage is coming out of the dungeon and onto Main Street: Legendary British lingerie line Ann Summers just released a racy S&M-inspired cinema ad — its first ever — as part of a Valentine's Day 2017 campaign.
"Our Valentine's 2017 campaign celebrates our heritage, but also shows that we know just what the customer wants from us," Ann Summers' brand director Jane Eskriett told NBC News.
Even squeaky-clean Taylor Swift has submitted to the trend, sporting a lingerie-styled outfit in her new video, "I Don't Wanna Live Forever," taken from the Fifty Shades Darker movie.
And sex is selling: After the first Fifty Shades movie was released in 2015, Ann Summers saw a year-on-year boost of over 42 percent for its online bondage products, and other sites like Bondara saw an average spike of 30 percent across the board.
According to Webgains data, overall online sales of sex toy, bondage, and lingerie products have increased year on year by 62 percent since 2014.
"The global sex toy and lingerie market is predicted to reach a value of £24 billion ($30 billion) by 2020, said WebGains CEO Richard Dennys. "When comparing the top 50 products year on year it's incredible to see the influence that the Fifty Shades franchise has had on what is already a lucrative industry."