When 18-year-old Luke Fergie dropped out of high school, he had no idea what sort of career he'd pursue. All he knew was that he really loved playing "Rules of Survival," then a relatively new online, multiplayer battle game from NetEase Games.
Forward to now, six months later: The Irish teen, who goes by the username iFerg, has more than 150,000 subscribers on his YouTube channel, and has turned a hobby into a job, making sponsored videos for developers looking to promote their content to his followers.
"Sponsored videos seem to be the most financially beneficial for me," Fergie told NBC News. "A YouTuber of my size with the average views I get receives something in the region of $300-$500 per integrated [video] and somewhere around $1,000-$1,500 for a dedicated video."
Fergie notes that he's not only comfortable financially, he's spending less time working than he would at a regular 9-5 job.
"I usually stream for two hours a day and then spend like 30 minutes to an hour recording/editing a video," he said. "[For practice] I just play when I want to with friends to maintain gun skills and not become rusty. I know players that play 10 hours plus a day, but if you have a spare three hours a day that should be a good enough investment of time to grow."
Fergie's path isn't the only one for gamers looking to monetize their passion, especially not if they are playing eSports, a burgeoning category that sees publishers forming official leagues (as well as attracting independent teams), hosting tournaments, live-streaming events, and partnering with major brands.
Research firm NewZoo predicts the esports industry will be worth $905 million this year. SuperData, a marketing intelligence firm focused predominantly on gaming, suggests that this number is too conservative, with a report appraising esports at $1.5 billion in 2017.
Some put that figure even higher.
"We've seen industry projections that estimate eSports revenue will grow to as much as $40 billion by 2025," said Andrew Paradise, CEO and founder of Skillz, a mobile gaming platform.
The discrepancy in valuations, according to Chris Hopper, head of North American Esports at Riot Games, maker of the monumental hit "League of Legends" (LoL), is partly due to the fact that esports is "tough to contextualize" within the broader gaming scope. It all comes down to the question: When does a game qualify as a sport?
"At some point these big [financial] numbers become kind of meaningless for us," said Hopper. "We know what we have to spend and what we are committed to doing with esports, so for us it's more about securing our revenue to keep our leagues sustainable."
A privately held company, Riot doesn't share its earnings and Hopper declined to disclose how much money will go into its sports leagues and events this year, but it's safe to say the investment will be considerable.
"The [annual League of Legends Championship Series], (LCS) is really big and really expensive," said Hopper. "We now have 14 pro leagues globally and [roughly] 1,000 players on some form of salary."
It's money well spent, evidently. "Last year the championships had over 80 million live unique viewers in a single day, across a number of platforms including Twitch and YouTube," Hopper noted.
How a game succeeds: popularity and a competitive hook
While esports borrows from traditional sports in terms of forming teams and championships, it doesn't play by the same rules as major organizations like the NFL. Part of this is because the category is still extremely young, as Jihan Sheriff-Crichlow, CEO of Play All Gaming, a consultancy and marketing firm with a focus on building live gaming-related experiences, noted.
"There are still no rules and regulations that apply across the board," he told NBC News.
But there are definite qualities esports games need to succeed.
"Games have to be broadly popular among folks who play games and they need to have a distinct player vs. player competitive style," said Mike Vorhaus, president of Magid Advisors. "The publisher/developer needs to encourage teams and early level competitions. Many publishers and developers then support later competitions at the regional, national, and international level."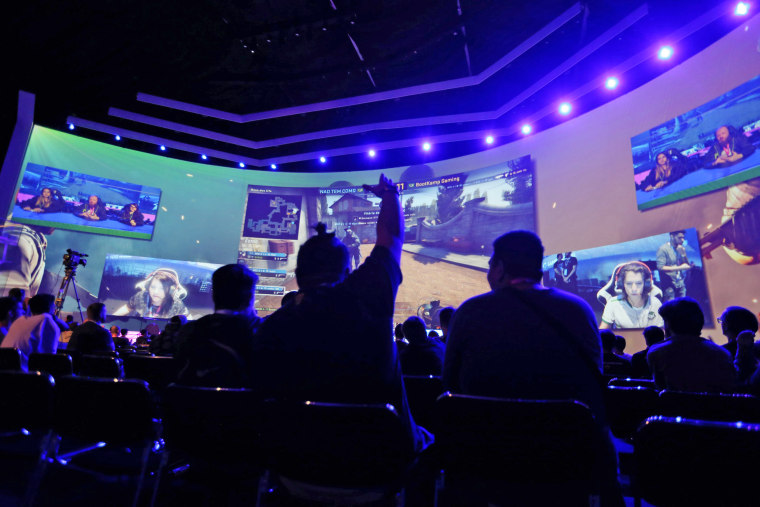 Gamers are no longer a tough audience to reach
Esports advertisers and sponsors aren't necessarily looking to cash in on so-called mainstream audiences. They're appealing to "a demographic of people that are generally more elusive; people who are not spending much time or money on music or movies and can be hard for brands to reach," said Paul Brewer, SVP Brand Partnerships, ESL.
Gaming platforms provide access to this growing cohort of consumers, and brands are seizing the opportunity to engage. "We've seen a 30-50 percent growth in sponsorship growth alone [in 2018 over 2017], and brands like AT&T and Sour Patch Kids seize eSports as a powerful marketing platform to get out their messages," said Brewer.
Doron Nir, CEO and co-founder of StreamElements, a production platform for livestreamers, says that in this nascent space, "advertising is dirt cheap, and you get a huge bang for your buck."
But professionalized esports isn't a category lacking in risks.
"As with any emerging market, this is a risky investment space. It is the Wild West, in many respects," said Glenn Platt, a professor of marketing and interactive media and director of the Armstrong Institute for Interactive Media Studies at Miami University in Ohio. "There is no consistent market leader, no coordination, no clear regulatory structure, no aggregating organizations like networks, leagues, etc. We can't even settle on what is 'doping,' let alone who can play pro and who cannot. Prize pools are variable and endorsements are risky. Games emerge quickly (like 'Fortnite') and can disappear just as fast. Investing in any market at this early stage is high risk, high reward, to be certain."
However, these early-stage kinks don't seem to be much more than that. "The industry has a momentum and fundamentals that no investor can deny," said Platt. "For the investor, the devil is in the details. The question is not whether esports is worth investing in — it is. The question is what part of the esports ecosystem do you want to bet on?"
Aspiring pros are incentivized by salaries, benefits
So where does the player come in and how do they make cash from competing? It truly depends on the team and its contract, but while players like "Fortnite" legend Tyler "Ninja" Blevins top $500,000 a month, most contracted esports players won't make anywhere near that.
"The Overwatch league [by Activision Blizzard], has a mandatory minimum salary of $50,000 a year with health insurance, and teams often also pay for lodging and general expenses," Nicole Carpenter, a reporter at Dot Esports who specializes in Overwatch, told NBC News. "They've been really good about that — and salaries could be going higher."
"League of Legends'" official pro players make a yearly minimum salary of $75,000.
A steady salary with benefits is undoubtedly a big incentive for aspiring pros, and they can feed their ambitions simply by learning and practicing the game from their own home.
"['LoL'] is a great esport because it's an easy video game to play in an aspirational way," said Hopper. "I watch the NFL and I enjoy it but I can't go throw a 50-yard pass. But with 'LoL,' you can feasibly do these things pros are doing. That's why it's successful as an esports game — and making updates to the game every two weeks keeps it fresh for players."
How the Madden 19 shooting may affect live events
As Vorhaus noted, live competitions are an integral component to the growth of esports, and the shooting last month at the Madden 19 Tournament in Jacksonville, Florida, could thwart the interest of prospective investors in the budding space.
"I just met with a major client today who deals with accounts for an [international hotel chain]," said Sheriff-Crichlow. "Their major concern was the shooting. Everyone is asking me about it, worried it could happen again."
To eliminate concerns, Sheriff-Crichlow suggests that venues could implement security measures like metal detectors.
Still, focusing on the mass shooting rather than the blossoming opportunities of esports doesn't make much sense to Sheriff-Crichlow. "Mass shootings happen in concerts, movie theaters, schools — anywhere. The problem isn't the [space it occurs in], and ultimately I think making gaming more social is a good and healthy thing. You have a lot of introverted, shy people in gaming who really benefit from the interaction and excitement."
Fergie, in his home of Belfast, Ireland when the gun violence broke out in Florida, was rattled by the news. "That was just crazy," he said.
As for the future, he thinks venues outside of the states won't experience similar horrors, but added, "I'm not so sure about America."