Consumer fireworks sales this Fourth of July are projected to hit a record $800 million as states relax laws and the industry delivers more bang for the buck.
Now, a growing number of "backyard heroes" are creating their own shows that have effects you would expect to see at a city or commercial extravaganza. The scale is smaller, but no less spectacular.
Every year for the past 15 years, Dave Rudyk, a 67-year-old manager of an auto parts supply office, has put on a private fireworks show for his guests at neighbors at his lakehouse outside Cleveland, Ohio.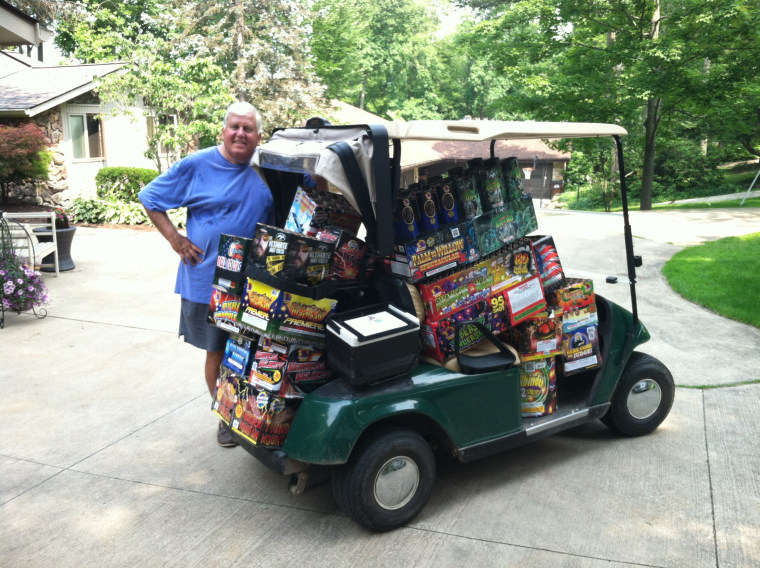 What started as shooting off a few odd fireworks for family and friends has grown to include 99 guests, a custom soundtrack, and a pig roast.
"The show has become pretty elaborate," he said, estimating he spends about $1,000 each year to create a multi-stage, seamless 25-minute display, complete with a grand finale.
After several years of flat growth in the fireworks industry, sales have grown 24 percent since 2011, when seven states began relaxing laws: Kentucky, Utah, New Hampshire, Michigan, New York, Georgia and West Virginia.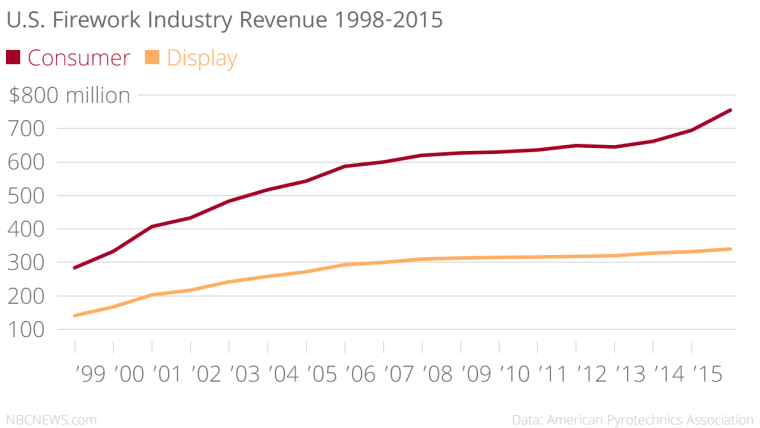 Read More: Drought-Stricken California Handles Fourth of July Fireworks With Care
The moves brought the fireworks that consumers were already shooting off under new safety regulations, and also opened up tax revenue that before had been lost to other states where the fireworks were legal. Before relaxing its 1900's-era laws in 2015, New York estimated it stood to gain $2 million.
"It made the fireworks that everyone wanted available, and all the law-abiding ones didn't have to drive to other states," said Greg Clawson, the 28-year-old manager of a Jake's Fireworks store in Kentwood, Michigan.
Prior to the state's ban being lifted in 2012, Jake's had no stores in the state. Now it has 66, including tent locations.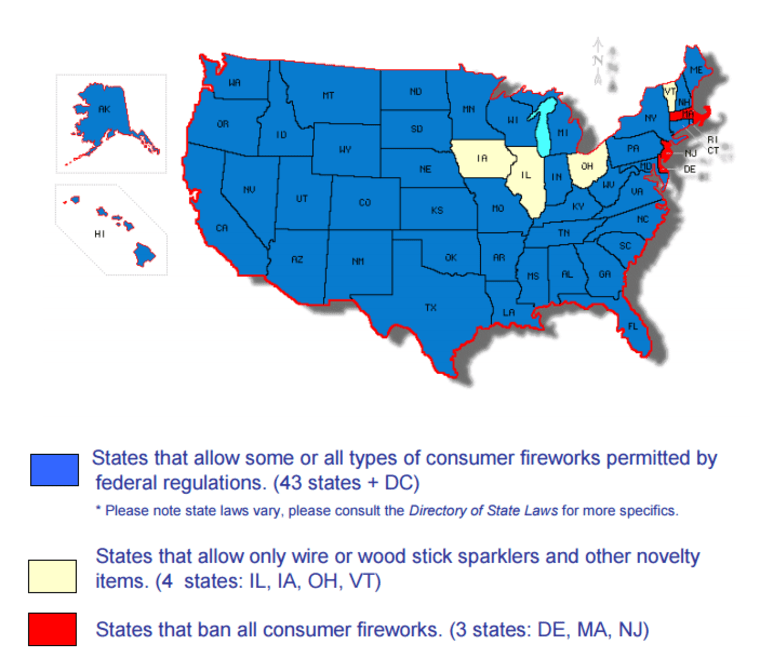 West Virginia joined the fireworks club this May. Only three states still completely ban fireworks: Delaware, Massachusetts, and New Jersey.
In the 47 states where fireworks are legal, customers like Rudyk are helping shoot sales to new heights.
Phantom Fireworks, one of the country's largest fireworks retailers, is seeing sales 30 to 40 percent higher than at the same time last year, said CEO Bruce Zoldan. This week one order came in for $17,000.
"We're anticipating maybe the best finish in the history our business," he said.
The three-day weekend is expected to give a further boost to sales. Shoppers buy on Friday for the Fourth, but often can't wait to light up their purchases. They shoot them off early, and then come back and buy some more.
And in some communities neighbors are pooling their resources and spending $4,000 to $5,000 to put on a show for the entire area, said American Pyrotechnic Association spokesperson Julie Heckman.
"It's affordable, family-friendly entertainment," she said.
The most popular kind of firework is called a "cake."
These multiple-tube devices fire off a sequence of up to the legal limit of 500 grams of pyrotechnic material lit by a single fuse. Cakes can cost from $15 to $200 and contain up to six colors, including a small finale, and even a "fan" of colors that shoot from side to side, lasting anywhere from 12 seconds to almost two minutes.
The names of the cakes are a spectacle unto themselves. There's the intense, "Blast Master," "Bone Breaker" and "Full Metal Jacket (II)." Others are humorous, like "Fast Food" with a picture of a cow on a bicycle, or "One Bad Mother," whose package features a mom smoking and chatting on a phone while her house falls apart around her. Another naming approach tries to evoke the mood of their display, like "Witchcraft," which shoots off red and green comets with three subsequent volleys, including a crackling finale.

Combine several cakes together and "you're painting the skies" said Zoldan.
The growth in the fireworks industry is viewed with apprehension by those in the safety industry.
"There is no safe way to use consumer fireworks," said National Fire Prevention Association (NFPA) spokesperson Lorraine Carli.
The American Pyrotechnic Association said that all its members' products meet or exceed CPSC standards. And industry executives spend "significant time" visiting and inspecting the factories in China, where 99 percent of American consumer fireworks are made.
Read More: A Fireworks Dynasty Shoots for Redemption After One Bad Blowup
In 2014, fireworks were involved in an estimated 10,500 injuries treated in hospital emergency rooms, according to the CPSC's 2015 annual report. Nearly half of the fires reported on the Fourth of July are from fireworks, according to an NFPA survey of municipal fire departments.
As states have relaxed fireworks laws and opened up sales, "that makes our work in terms of getting the message out there more difficult," said the NFPA's Carli.
The group recommends that consumers interested in fireworks should instead go see a public display put on by a trained professional.
Amateur firework igniter Rudyk, though, says the traffic to a city or commercial fireworks show can be "horrendous." Watching it on TV isn't the same, either.
He prefers to continue the tradition he enjoyed growing up in his own backyard. Now he's passing the torch to the next generation. These days he buys all the fireworks and sets them on the beach, and his 28-year-old son does the honors of lighting them off. Across the lake, he sees others celebrate the country's birth with their own displays launched from their yards and boats.
As Rudyk sits back in his folding chair and enjoys the show with his friends, family, and neighbors, "It brings out the little kid in me," he said.