Front-loading washing machines are popular among customers who want to "go green" by using less water than a traditional top-loader. However, in a recent class action lawsuit, some people said their Whirlpool, Maytag, and Kenmore washing machines were a little too "green" — with foul-smelling mold building up after every cycle.
Sears customers who purchased the front-loaders first filed the lawsuit in 2006, citing moldy front gaskets and a mildew smell so intense it spoiled freshly laundered clothes and pervaded other parts of consumers' homes.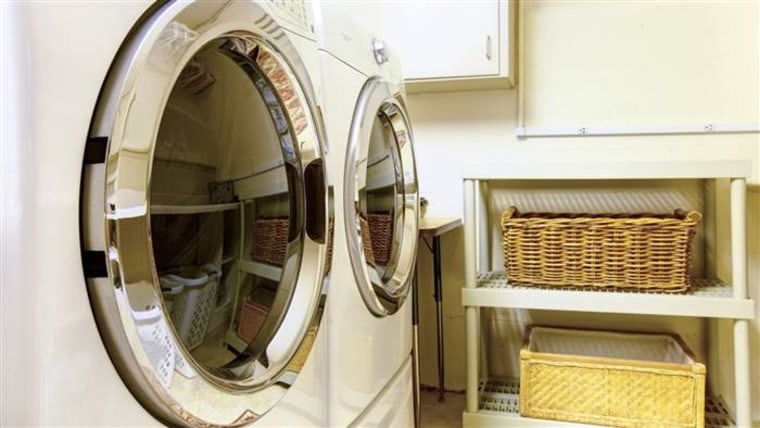 The suit claimed that this was the result of a defective design: The washers failed to self-clean, which allowed bacteria and mold to grow; and Whirlpool and Sears failed to adequately warn buyers about the issue and the ways to try to deal with it.
"We believe the evidence shows that they knew they had a problem before they ever rolled out the first machines and they didn't adequately resolve it," said Jonathan Selbin, whose New York law firm was the court-appointed lead counsel on this case.
After a nine-year legal spin cycle, the lawsuit was finally settled this April, and notices were just sent out to almost 5.5 million people to advise that they may be eligible for a refund or rebate.
Neither Whirlpool (which made all of the machines covered in the lawsuit) nor Sears admitted to any problem with their washers as part of this settlement.
Kristine Sherman with Whirlpool communications told NBC News in a statement, "The company chose to settle to allow us to remove the continued distraction and expense of litigation. The washers included in the settlement were made during the 2000s, and only a small percentage of consumers ─ less than 4 percent ─ ever had a complaint about their washers. Whirlpool feels strongly that this type of litigation is not good for consumers and distracts U.S. manufacturers, like Whirlpool, from providing consumers with innovative, energy-efficient products."
Read More: Supreme Court Sniffs at Smelly Washer Case
Howard Riefs, director of corporate communications for Sears Holdings, sent NBC News this statement, "Only a small percentage of Sears members and customers ever had a complaint about their washers. Nonetheless, Sears, which was defended by Whirlpool in the case, settled to avoid the continued distraction and expense of litigation. Sears is confident that these washers, which were made during the 2000s, perform well and provide a good value to members and customers."
If you bought a front-loading Whirlpool, Maytag or Kenmore washer manufactured between 2001 and 2010 that's on the settlement list, you may qualify for a cash payment or a rebate on a future purchase.
Under the settlement:
Customers who had a mold or odor problem within five years of purchase can claim $50 cash or a 20 percent cash rebate on the best-negotiated retail purchase price of certain washers or dryers made by Whirlpool.
Those who did not have a mold problem within five years can still receive a cash rebate of five percent off their next purchase of a washer, dryer or laundry pair.
Anyone who paid to have a moldy machine repaired within the first five years of purchase is entitled to reimbursement of those documented expenses, up to $500.
"I think it's a terrific settlement," Selbin told NBC News. "We are very pleased with the result. We're happy that the manufacturers decided to take care of the problem at long last."
The deadline for filing a claim is October 11, 2016. No money will go out until the judge gives final approval to the settlement. That "fairness hearing" is scheduled for September 7.
Read More: Is Your Washing Machine Growing Hidden Mold?
So What Was All the Stink About?
For years, Sears and Whirlpool told consumers they could prevent mold growth by doing a regular cleaning cycle, wiping the door gasket and glass after every load, and keeping the door ajar between loads. But many people who did this said it didn't work — and complained loudly on social media.
"The defect was in the crevices in back of the tub where water would splash, but there wasn't enough water to clean it out. Water and dirt and soap would get up into those crevices and there was no process that would adequately clean them out," attorney Selbin said.
Selbin told NBC News that the design problem was eliminated about five years ago when Whirlpool replaced the creviced surface at the back of the tub with a smooth one, similar to what was sold in Europe.
Another Settlement Just Announced
Notice of a proposed settlement of a much smaller class action case involving LG front-loaders was just posted last month. LG denies the claim that certain models had an "undisclosed propensity" to develop mold that created an odor problem.
The settlement includes LG washers purchased between 2002 and 2006. As many as 800,000 washers are covered under the settlement, according to Consumer Reports.
Consumers who experienced a mold or related odor issue can claim a $35 cash payment or $105 rebate certificate redeemable after the purchase of a new LG washer. The deadline for filing a claim is October 10, 2016.
Read More: Man Gets Head Stuck in Washing Machine
Is a Front-Loader the Way to Go?
The mold issue may not be limited be to the washers covered by these two settlements.
We found recent posts on the Consumer Reports website from people who have front-loaders made by other well-known manufacturers who say they are having similar issues with mold and odor.
Because of what appears to be an ongoing problem with front-loaders, some people are choosing to buy high-efficiency (HE) top-loaders rather than front-loaders. Consumer Reports offers recommendations on its site for a number of HE top-loaders, (ratings available to subscribers) even though in their tests, these top-loaders don't achieve the same level of performance as front-loaders.
Herb Weisbaum is The ConsumerMan. Follow him on Facebook and Twitter or visit The ConsumerMan website.