It may be the "most comfortable pillow you'll ever own," but MyPillow can't help with snoring, fibromyalgia, migraines or any other medical conditions.
The company behind the legendary infomercial got a wake-up call this week when it was fined $1 million for deceptive advertising practices, charges brought by prosecutors in nine California counties.
Ads for MyPillow are everywhere: The company spends $1.4 million a week on advertising, and more than 18 million pillows have been sold since the company was started 10 years ago, according to a story in the Boston Herald.
But the Minnesota-based company can no longer claim its products can cure, prevent or treat any diseases — without reliable scientific proof. It will pay civil penalties of $995,000 and donate $100,000 to shelters for the homeless and domestic violence victims.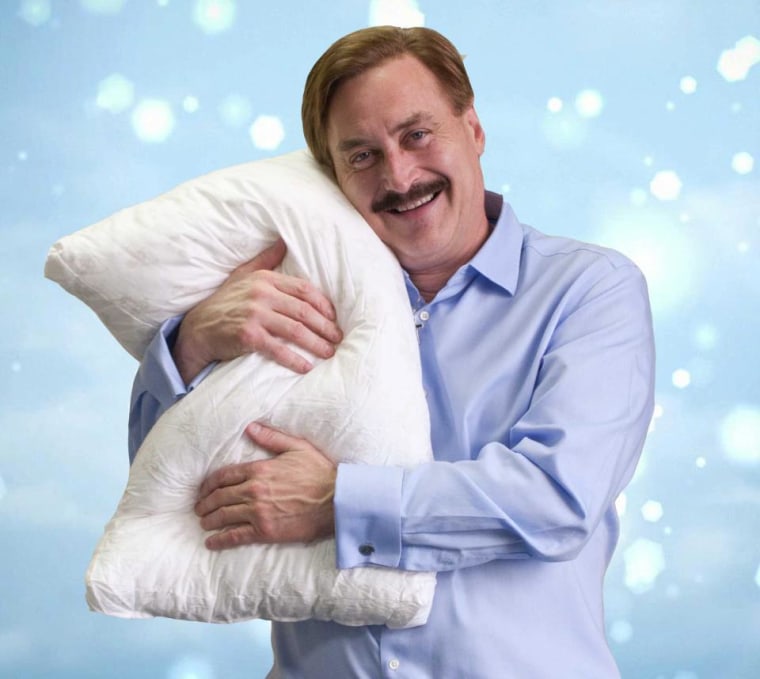 "We will hold accountable companies that makes false claims to get consumers to buy their products," Jeff Rosen, Santa Clara County District Attorney, said in a statement.
The California lawsuit alleged that when MyPillow said it could help with certain medical conditions, the company "knew or reasonably should have known" these statements "were untrue or misleading."
"We did nothing wrong. We did not make any misleading claims," MyPillow CEO Michael Lindell told NBC News. "Rather than fight this, I made a business decision to prevent long and costly litigation, pay this and move on."
The consumer watchdog group truthinadvertising.org (TINA.org) sounded the alarm about MyPillow back in February and provided its findings to prosecutors in California.
TINA.org's investigation concluded that the company made unsubstantiated claims that its pillow could treat or cure a variety of sleep disorders, including insomnia, sleep apnea, and restless leg syndrome.
Customer testimonials posted on the website, and later taken down, raved about the pillow's ability to alleviate the symptoms of anxiety, migraines, acid reflux, menopause, multiple sclerosis, cerebral palsy and post-traumatic stress disorder, among other conditions, the TINA.org report noted.
"MyPillow was deceiving consumers into buying these expensive pillows thinking that it was going to help their health conditions when he [Mike Lindell] had no science to back up these claims," said Bonnie Patten, executive director of TINA.org. "We're happy health claims can no longer be made on the site. He can say he has the most comfortable pillow in the world, but he can't make health claims anymore."
Lindell insists he did not make any medical claims for his pillows, but merely posted testimonials from customers on his website.
"We had thousands of testimonials. They're all real people and real testimonials," he said. "I get thousands of them every week. I'm just not going to put them up anymore."
A disclaimer at the bottom of MyPillow.com reads: "Claims for MyPillow are based on medical opinion and user experience and not on actual clinical studies. My Pillow is not a medical device and is not intended to diagnose, treat, mitigate or cure any disease."
As part of the settlement, MyPillow has until the end of January next year to stop calling its products the "Official Bed Pillow" of the National Sleep Foundation. The California complaint alleged MyPillow did not disclose that there was a material financial connection between the company and the foundation.
Lindell told NBC News he did not buy the NSF's endorsement. He said he did give them money and planned to continue doing that.
MyPillow's legal problems are far from over. Three class-action lawsuits have been filed against the company. A preliminary settlement has been reached in one of these cases. It would require the company to refund $5 to people who bought the pillow and prohibits MyPillow from making unsubstantiated health claims in the future.
Herb Weisbaum is The ConsumerMan. Follow him on Facebook and Twitter or visit The ConsumerMan website.