Jeff Bewkes, chief executive of Time Warner, on Thursday laid out the case for why AT&T's $85 billion acquisition of his company would be good for consumers.
"We want to give them better programming at lower prices," he said.
Bewkes was speaking at the first day of opening statements in the high-profile court case between the companies and the U.S. Justice Department, which is attempting to block AT&T and Time Warner from becoming a media behemoth.
The core question is what impact the deal will have on regular Americans. Time Warner and AT&T have argued that together they can offer content — such as "Game of Thrones," which Time Warner owns through HBO — to people for less money.
Government lawyers have argued the exact opposite.
On Thursday, government attorney Craig Conrath called the merger a "weapon of competition," explaining that bills could rise by as much as $400 million annually, or 45 cents per month, per consumer. Justice Department attorneys also fear AT&T could withhold Time Warner TV channels, which include CNN, TNT and TBS, among others, from competitor's video packages.
Opening arguments, presented by both sides on Thursday, left Federal Judge Richard Leon with the difficult task of predicting potential harms of an acquisition that would put 141 million phone subscribers under the same corporate umbrella as one of the biggest content companies in the U.S.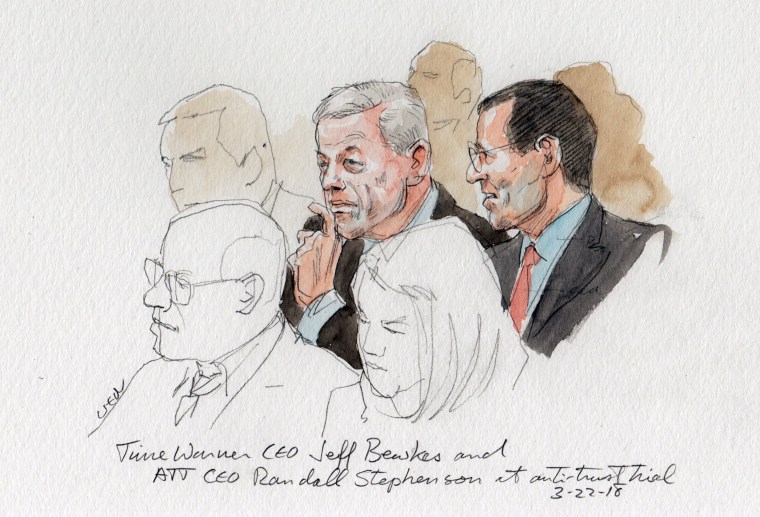 The combined company would be worth around $290 billion, almost double the size of Disney, which is valued at $151 billion. Judge Leon joked he might try to buy a crystal ball to understand which side had the better handle on the future competitive landscape.
Matt Wood, policy director at Free Press, a consumer advocacy group, said large acquisitions rarely result in better prices for people.
"Mergers create cost savings, but they don't have to pass them along to consumers unless there's competitive pressure," Wood said.
AT&T has claimed that the competitive pressure necessary to lower prices is coming from tech giants including Facebook, Google and Netflix, each of which has billions of dollars at their disposal and are investing in their own content.
Randall Stephenson, AT&T chief executive, has said that the company's plan is to combine the kind of data-intensive advertising that tech companies offer with high-quality content in hopes of attracting both advertising money and subscriber payments for cheaper, internet-delivered services such as AT&T's DirecTV Now, which has grown even as its DirecTV satellite service has lost customers.