An epic audience brings all sorts of opportunities to make epic cash. And HBO is aggressively tapping the licensing pipeline to do just that.
As its fourth season comes to an end, the cable network announced that "Game of Thrones" is the most successful show in its history. With each episode averaging a gross audience of 18.4 million, including repeat showings, video-on-demand and mobile streaming, the series has now earned its true "throne" title, displacing "The Sopranos" as HBO's most popular. The Time Warner-owned network has already committed to making seasons five and six.
HBO currently has more than 60 different licensees creating "Game of Thrones" products, accounting for the majority of the network's current licensing agreements.
Tony Lisanti, global editorial director of License! Global, says the popularity of the series makes it the ideal licensing product. "Whenever you have an incredibly popular show, it really gives you the scale and audience that you need to effectively build a brand extensions program," Lisanti told CNBC.
As the characters evolve and the show's popularity grows, more brands are finding unique ways to cash in.
"What's happening now is that as the fan base becomes more sophisticated and different, the creators of the show and those doing brand extensions are focusing on elements of the show that the audiences can connect with," Lisanti said.
Here are some of the licensees now capitalizing on "Game of Thrones":
Beer drinkers and "Throne" fans can combine two of their passions with New York-based Ommegang's offerings. The varieties include Iron Throne, Take The Black Stout and Fire and Blood. For its fourth beer, a recent Facebook poll recently allowed fans to choose a name. The winning brew is called Valar Morghulis, which in "Game of Thrones"-speak means "All men must die."
"The fan base for 'Game of Thrones' keeps growing larger as each new season debuts, and the popularity of the beers is growing right along with the show," Josh Goodstadt, vice president of HBO Global Licensing, told CNBC.
Got $900 in your jewelry budget? Perhaps some "Game of Thrones"-inspired pieces would be a nice fit. HBO and Pyrrha launched a collection of unisex talisman necklaces and rings handcrafted from sterling silver and bronze. Each talisman features Pyrrha's design of the sigils of the powerful houses of Westeros—Targaryen, Stark, Baratheon, Tyrell, Lannister and Greyjoy. The wearable conversation pieces range in price from $98 to $900.
"Game of Thrones Ascent" is a social game available on iPad. First released in 2013 through Facebook, it was later adapted for iPad. Players can lead the life of a noble Westeros during a time of upheaval.
The gaming platform allows players to develop their own lands and reputation by getting into diplomatic agreements, pacts, marriages and betrothals.
"We recognize that tablets are actually where so many 'Game of Thrones' fans are either reading the books or watching the TV show," Jon Radoff, CEO and founder of Disruptor Beam said. "So, it makes perfect sense that we bring this great game, which 2 million players have already enjoyed online, to the iPad, giving 'Game of Thrones' fans even more of a chance to immerse themselves in Westeros."
In 2013, HBO partnered with Eleni's Bakery retail locations to sell "Throne" cookies through Elenis.com and HBO's online store. Eleni's partnerships with HBO originally started out with "Sex and the City"-themed cookies.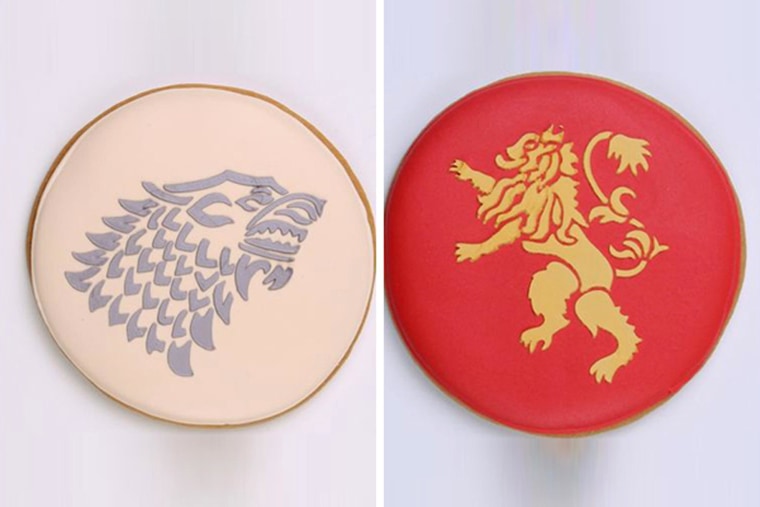 Starting at $9 per cookie, you'll want to savor every crumb.
You don't have to wait until Halloween to dress up as your favorite "Thrones" character. Museum Replicas has created a line of costume and prop replicas. The first cycle will include Jon Snow, Ned Stark and Robb Stark.
The outfits will not be found at your local Party City store, with some pieces made from genuine leather.
The "Thrones" storyline goes so deep that Living Language is making a language book in hopes fans will want to learn Dothraki, the fictional language from Game of Thrones.
The beginner's course book will have lessons from the language creator, David J. Peterson.
The 500 words and phrases book will equip fans to join Daenerys on her journey toward King's Landing to reclaim the Iron Throne.
"I'm thrilled to be working with Living Language to produce the first official Dothraki text," said Peterson.
Like a traditional language course, students of Dothraki will study vocabulary, grammar, pronunciation and even cultural norms. One such example, given that horses are so central to Dothraki culture, is that many phrases have equestrian roots. Therefore, you would never want to call a Dothraki warrior an "ifak" (walker), as it would be the ultimate insult—implying he can no longer ride his horse.
"This book will take you from 'arakh to zhavvorsa' in no time, and the audio samples will help you perfect your pronunciation," Peterson claims.