Gasoline prices have clocked a 7 percent jump over the past six weeks, but chin up drivers: The national average is expected to start hitting the brakes in the next few weeks and stay low even during summer driving season.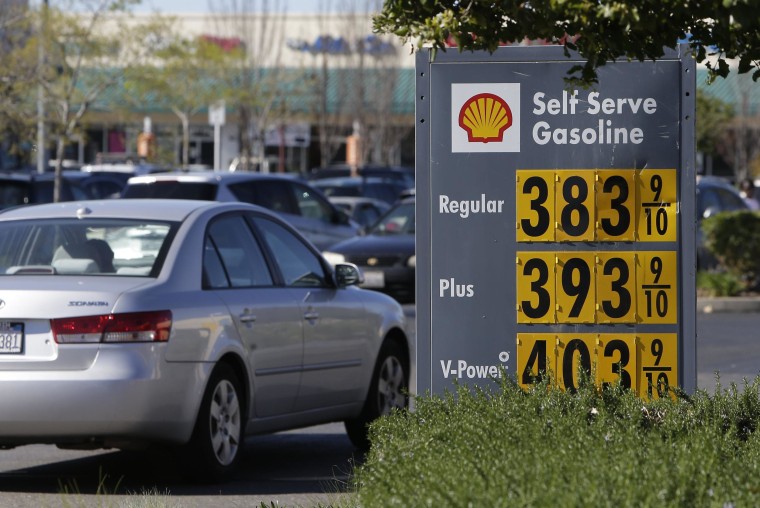 Driven in part by a surge in ethanol prices, the average price of gasoline, currently at $3.54 per gallon, is expected to reach its peak between $3.55 and $3.75 per gallon by early April, according to AAA spokesman Michael Green.
Green said gas prices have inched higher since early February. At their current rate of increase, the national average may stop rising at $3.65 per gallon — less than last year's $3.79 record.
Some experts have attributed this year's gas price rise in part to the recent surge in ethanol prices, caused by a tight supply of the corn-based fuel because of railroad delays. U.S. gasoline is blended with ethanol, which accounts for about 10 percent of the mixture that drivers pump at the gas station.
The rise in ethanol has added about 7 to 15 cents a gallon to gasoline this week, said Patrick DeHaan, a senior petroleum analyst at GasBuddy.com. But Jordan Godwin, biofuels editor at energy and commodity data firm Platts, said the fuel's supply picture has started to look up, and he expects ethanol stocks to replenish themselves in the next few weeks.
DeHaan said that refinery maintenance and the seasonal switch from winter blend to summer blend also have pushed up gas prices. Gas prices generally head north in spring as refiners enter maintenance season and switch from winter blend to summer blend. The upward trend typically lasts until late April or early May.
Drivers probably can expect gas to remain cheaper than last year for the rest of 2014, according to AAA, with prices reaching their lowest in late June at $3.30 to $3.40 per gallon and dropping again in autumn.
-Jaewon Kang, special to CNBC