It's a sale that would make King Midas — and likely President Donald Trump — proud.
Sotheby's auction house is holding its first all-gold auction on Wednesday in London and there is, quite literally, something to suit the tastes of every member of the 1 percent.
The star of the show is a 1977 gold painted Ferrari, one of four in the world. Bidding will start at $450,000 for the car, which boasts a chestnut brown — not gold — interior.
And why not celebrate a successful bid on the car with a six liter gold bottle of Dom Pérignon champagne? Bidding for the 2002 bubbly starts at $19,278. Or perhaps you'd prefer the less expensive option: A gold three liter bottle of Louis Roederer 2002 Cristal Brut will start at $6,426.
Whichever sparkling beverage the winning bidder chooses can be poured into a set of eight wine goblets, which have a starting bid of $9,000.
Perhaps the most unusual item on the block is an 18-karat gold bust of supermodel Kate Moss, starting at $300,000. Called "Song of the Siren," the sculpture "boldly articulates the artist's characteristic investigation into ideas of beauty and celebrity," according to Sotheby's.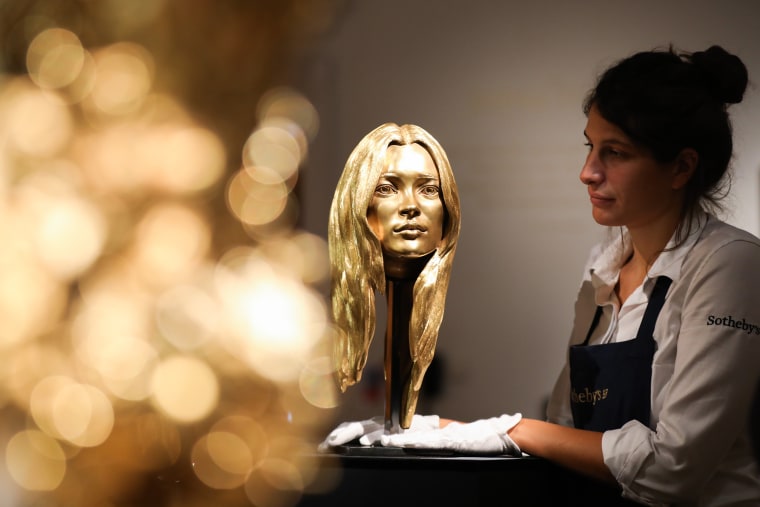 The most expensive item is a 1961 painting from French artist Yves Klein, titled "Monogold Sans Titre." The small gold panel starts at just over $1 million and articulates "the artist's life-long preoccupation with the transcendental medium of gold," according to Sotheby's.
After all the excitement of Wednesday's auction is over, one lucky deep-pocketed buyer can look forward to climbing into bed and getting some rest on a surprisingly soft king-sized set of bed sheets made of 24-karat gold and silk.
At just $38,000, they're unlikely to keep the 1 percent up at night.