The House Republican border adjustment proposal to tax imports is "insane," said media mogul and two-time GOP presidential candidate Steve Forbes.
"The Republicans are proposing this crazy tax. They're going to punish American consumers over $100 billion a year" over 10 years by making goods coming into the U.S. more expensive, Forbes told CNBC's"Squawk Box" on Wednesday. "And these are Republicans doing it."
The people who would be hurt most by the border tax would be middle-class workers who elected Donald Trump as president, Forbes said. "Economically it's wrong. Politically it's wrong."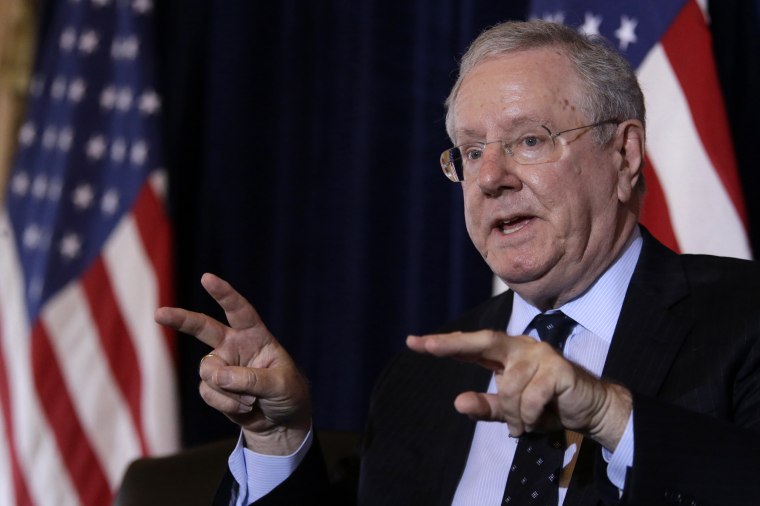 Efforts by Republicans to reduce taxes should not include a new tax, he added.
The chairman and editor-in-chief of Forbes Media unsuccessfully sought the GOP presidential nomination in 1996 and 2000. He ran on a platform for a flat tax to apply consistent rates across all brackets.
Just implement a "straight vanilla tax cut," Forbes said. "We've done that before. It works."
Advocates of the border tax, which is part of an overall Republican package to reform corporate taxes, argue that any burden on companies that rely heavily on imports would be offset by an increase in the dollar's value due to the policy, thus negating the need for importers to hike prices for consumers.
"So now these Washington politicians are becoming currency swap traders and experts. It's preposterous," said Forbes. "[Also] people forget in Washington we have these elaborate global supply chains. You're going to disrupt all of that and you don't know what the consequences are."
Last week, top Trump economics adviser Gary Cohn told CNBC the president considers all options for corporate tax reform on the table, including the border adjustment. But Cohn, director of the White House National Economic Council, stressed no decisions have been made on any particular ways to overhaul taxes.
Forbes predicted the GOP will eventually drop the border tax idea due to what he said were increasing doubts about it in the Senate.
This story originally appeared on CNBC.com