You don't need to appreciate mathematic symbols to feel the love on Pi Day. Retailers all over are serving up deals in honor of the ancient number 3.14.
"March 14 also happens to be Albert Einstein's Birthday (go figure), so social media is having a moment with a lot of punny memes and jokes, and retail is participating by offering deals on merchandise featuring the Pi symbol and deals on food — especially pies or pizza pies with some reducing pricing to coincide with Pi at $3.14," said Brent Shelton, online shopping expert at FatWallet. "Some of the deals are a stretch, but the effort is appreciated by mathematical nerds globally."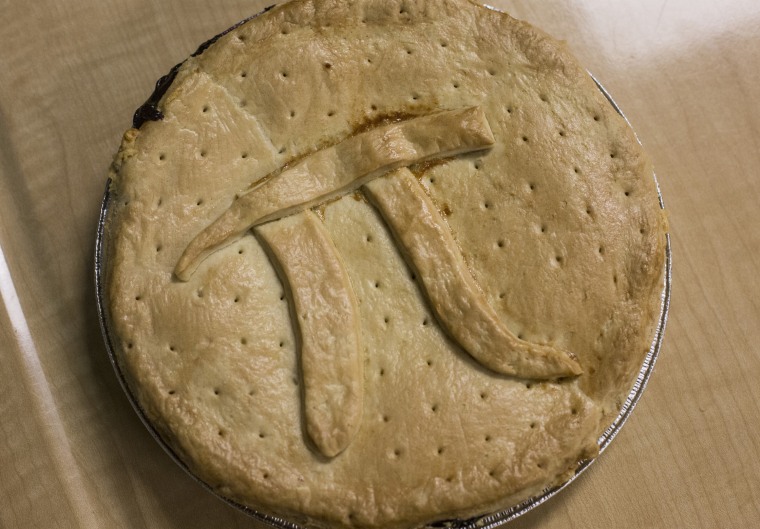 Keep in mind that your local pizza parlor or bakery may be participating — or snowed in — so definitely check your fave neighborhood spot's website and social media pages.
Pizza Deals
Sara Skirboll, shopping and trends expert at RetailMeNot, points to the following pizza deals available this Tuesday on the coupon platform: The national chain Blaze Pizza is selling any pie for $3.14. Founded in NYC, but now sporting over 300 locations, Villa Italian Kitchen is offering full-size cheese pizzas for $3.14 each.
While not exactly honoring the number of the day, major players Domino's, Papa John's, and Pizza Hut are celebrating Pi Day with their own respective deals. Domino's is giving away a pizza when you buy one at menu price; at Pizza Hut, you can get a medium three-topping pizza for $6, and at Papa John's you can save 25 percent off your regular menu price order.
Mike Catania of PromotionCode noted that Whole Foods is offering $3.14 off of any large pizza, and that Boston Market is offering a free chicken pot pie with a meal and drink purchase with this printable coupon.
Hungry Howie's, which has over 550 locations, is offering buyers a medium one-topping pizza for $3.14 with any purchase of its Howie pie. Order online using the promo code 314DAY.
Stevi B's Pizza Buffet is offering its unlimited pizza buffet for $3.14, down from its usual buffet prices that range from $5.29 to $7.99 for adults and $4.49 for kids. The chain has around 30 locations, primarily in Southeastern regions.
Shelton noted that Pieology Pizza is offering unlimited toppings for $3.14.
The fast casual and craft pizza and beer chain Your Pie is touting one of the stronger deals: pizzas, craft beer, and combos for $3.14, a spokesperson for the company confirmed to NBC News.
Dessert Pie Deals
Shelton points to Marie Callender's partnership with Andy Cohen and the rolled ice cream experts at 10Below for a "Pi"ce Cream Sundae. Combining Marie Callender's new chocolate chip cookie dough pie with English breakfast tea-rolled ice cream, this original dessert is available exclusively on March 14.
Grand Traverse Pie Company is serving a free slice of Michigan ABC Pie (made of apples, blueberries, and cherries) with any purchase. The Michigan-based shop with an online store is also inviting fans too submit a video of themselves reciting Pi on the company's Facebook for a chance to win free pie for a year.
At the Southeastern regional chain Bojangles, buy three sweet potato pies for $3.14.
Starbucks is giving out free samples of the artisanal hand pies Megpies, and selling them for $3.14, a Megpies spokesperson confirmed.
Geeky Tees
Quirky online retailer ThinkGeek is giving away this supremely nerdy Pi shirt for those who spend $31.41 or more. Shelton adds that if you take advantage of this offer, you can get 3.5 percent cash back through Ebates.
Over at Zazzle, get 14 percent off your oder using the coupon code 314159265358. Hey, some retailers are getting really precise!
At Spreadshirt, you can find a ton of Pi shirts, and possible markdowns once the day arrives!