Mattel's new talking Hello Barbie doll encountered a fresh wave of hostility on Monday with the launch of a "#HellnoBarbie" social media campaign that contends its artificial intelligence capabilities pose a threat to children's privacy and creativity.
The Campaign for a Commercial-Free Childhood (CCFC), a group opposed to marketing aimed at children, launched the campaign to discourage parents from buying Hello Barbie, the first Internet-connected doll that can carry on a seemingly real conversation by recording what the child says and sending it via Wi-Fi to the cloud for Barbie's computer-generated response.
Here's what has privacy experts in a tizzy: These conversations are stored and analyzed by ToyTalk, the San Francisco software company that makes this interaction possible.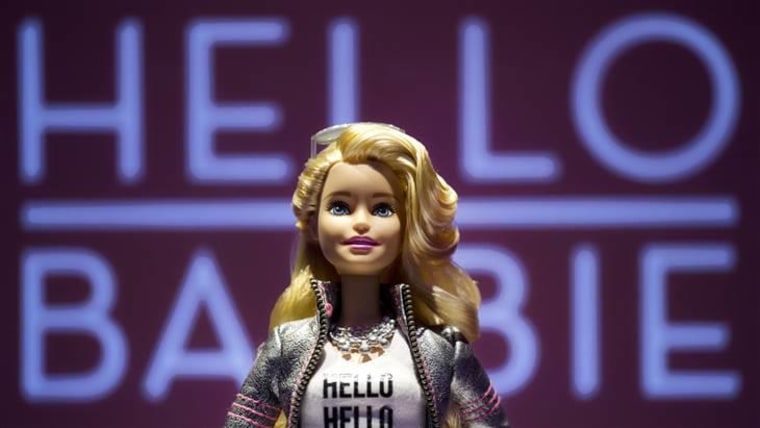 "Hello Barbie is a terrible toy that threatens children's privacy, well-being and creativity," said Josh Golin, CCFC's executive director. "We must stop Mattel and ToyTalk from spying on children's private play and spawning a whole host of eavesdropping imitators."
Mattel would not talk to NBC News about the controversy over the doll. In a statement, the company said it is committed to safety and security" when bringing new products to market. "Mattel and its partners, such as ToyTalk, take a number of steps to ensure all of our products conform with applicable laws and standards, including the Children's Online Privacy Protection Act."
Mattel and ToyTalk promise there will not be any advertising content in what Barbie says and that the recorded conversations will not be used to advertise to children. Both companies stress that parental consent is required to activate the doll's connectivity and recording capability.
"We are extremely concerned with the privacy, security and safety of the kids' data," said Martin Reddy, ToyTalk's Chief Technical Officer "We don't share any of those (audio) clips with Mattel and we certainly don't use any of that content to advertise or market to kids. In fact, we would be breaking the law if we did that, so we won't do that."
The Hello Barbie Privacy FAQ on the ToyTalk website states that ToyTalk "may share certain transcripts of recordings with Mattel, which will be used solely for the purpose of enabling Mattel to assist us in improving the scripting of Hello Barbie." Those FAQs also state that the audio recordings are shared with third-party vendors who assist with speech recognition, artificial intelligence and conducting research and development.
Privacy Quiz: How Do You Stop Schools From Sharing Kids' Data
Angela Campbell, director of the Communications and Technology Clinic at Georgetown Law in Washington, D.C., worries that busy parents "aren't really equipped to fully understand the implications of the privacy statement." And the company can always change its policy later, she noted.
"I worry that they would use this information to market things to kids," Campbell said.
How Hello Barbie works
Mattel's new doll won't be on store shelves until the end of the month, but in an extensive conversation with NBC News, Reddy explained how it works.
After a parent opens the box, they will use a companion app to connect Hello Barbie to the Internet. Before they can do that, they'll see a screen that outlines how the doll works, what information is collected and how it will be used.
Reddy said the information is presented in plain understandable English. The parent must consent to this data collection in order to proceed with the setup.
"This is so the parent knows exactly what's happening. We're very transparent and very open about what is stored," Reddy said.
Data Privacy: Laws Lag Behind Tech as Kids Learn Online
Hello Barbie is not on all the time. She only listens and records when the child holds down her belt buckle.
Parents are in control of what is stored by the company, Reddy said. They can go to their account at any time and listen to the recorded clips, deleting specific clips or all of the recordings.
Reddy also took issue with critics' claims that the toy undermines development of creativity.
"We hope that encouraging kids to engage in conversation is actually a very creative thing for them to do and doesn't stunt creativity at all," he said. "It's encouraging conversation, it's encouraging imaginative play and it's encouraging thought."
While some advance promotion indicated that the doll would ask for the child's name, ToyTalk assured NBC News that is no longer the case.
"The doll does not ask the child's name or any other personally identifiable information from the child who is using it, said Tom Sarris, ToyTalk's head of communications.
Why store a child's conversations?
Because Barbie uses speech recognition technology to respond, the child's conversations need to go ToyTalk's server. But why does that conversation need to be stored?
Speech recognition with children is difficult, Reddy told NBC News. ToyTalk employees who write Barbie's scripts will listen to a "very small amount" of what the kids say to create better responses.
He gave this example: If a child asks Barbie her favorite color and she only says red, blue or green – and it turns out the kids are always saying purple – they could add that to Barbie's list of responses.
"We're looking at a tiny minority of the data. No one is listening to every piece of audio," Reddy said.
Facebook Patent Reveals Possible Plans for Kids
But privacy advocates warn that anything stored in the cloud can potentially be inappropriately accessed.
Jeremy Hansen, an assistant professor of computer science at Vermont's Norwich University, said Hello Barbie is "a horrible idea" and he would never consider buying the doll for his children.
"Whenever we have data go out into the cloud, you never really know where it's going to land and who is going to use it," Hansen said.
Parental consent does not solve all of the privacy issues
Informed parental consent is important, but that doesn't solve all the thorny issues created by Hello Barbie.
For example, what about other children who play with Barbie and have their conversations picked up by the doll without their parent's knowledge or permission? Those conversations will be recorded and stored, too.
"Even if I consent to let my daughter's conversations be listened to and shared, what right do I have to listen to the conversations of my daughter's friends," said the CCFC's Golin. "There's the potential for all sorts of abuse of this private information."
For example, what the doll hears could wind up in court.
Pam Dixon, executive director of the World Privacy Forum and an internationally respected expert on privacy, said she fears recordings could be used in divorce cases or custody battles.
"I worry about children who are saying things about their parents that they would never tell anyone else." Dixon said. "It's just a toy, but this toy is really a sophisticated recording device and if it's recorded, they'll go after it. That's how it works. I promise you, Hello Barbie would be a huge source of really private personal data about a child that could be used in litigation."
ToyTalk's Reddy says the pushback to Hello Barbie is "understandable," but more than the company expected and "not really warranted."
He said the company released a Thomas and Friends Talk to You app earlier this year, based on the popular Thomas the Train character, that uses the same voice-recognition technology to communicate with children and it's been a big hit with parents. The company basically took that app and put it into a doll.
"Parents who've gone through the process with Thomas and looked at the data we've stored have unanimously told us they love it," Reddy said.
Herb Weisbaum is The ConsumerMan. Follow him on Facebook and Twitter or visit The ConsumerMan website.